Better Buy: Zoes Kitchen vs. Noodles & Company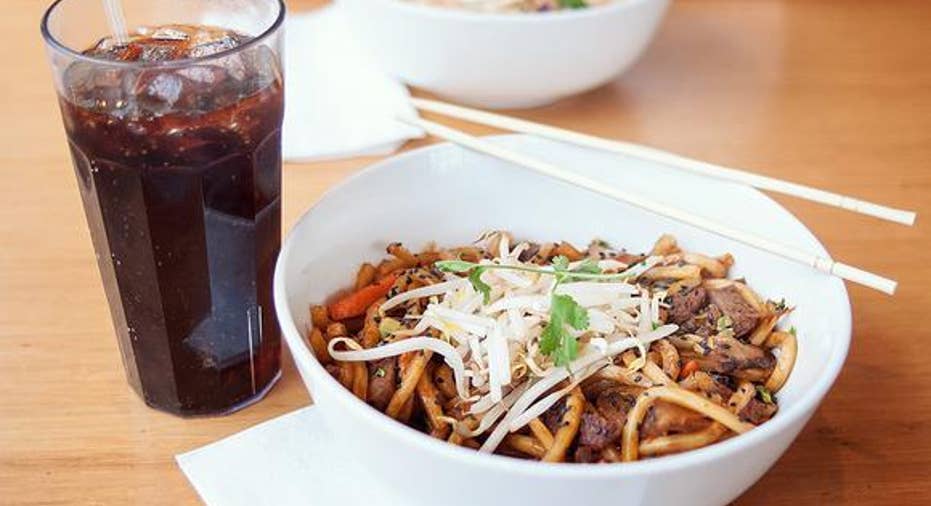 Image Source: Zoe's Kitchen.
Zoe's Kitchen and Noodles & Company both operate in the growing "fast casual" space and both companies opened their first restaurants in 1995. While Zoe's Kitchen continues to execute strong business growth plans, Noodles & Company has been stuck coping with slowing growth and decreasing profit margins. Zoe's represents an investment in a small but fast-growing business riding strong momentum, and Noodles represents a value investment in a company looking for a turnaround. Which company is the better buy?
Breaking down the business modelsNoodles has built its business as a split between company-owned and franchised restaurants, whereas Zoe's operates almost exclusively company-owned restaurants. In the year to come, Zoe's is anticipating a more than 20% increase in new restaurants, to about a 10% increase for Noodles.Noodles plans to continue with the split in business, although it has been increasingly favoring the company-owned and -operated model over franchising. Zoe's has no planned franchising deals in the coming year. Here is a breakdown of the businesses as of the end of the 2015 fiscal year and anticipated growth plans for 2016:
| Metric | Zoe's | Noodles |
| --- | --- | --- |
| Number of company-owned restaurants | 163 | 422 |
| Revenue from company-owned restaurants | $226.4 million | $450.5 million |
| Planned new company-owned restaurants in 2016 | 34 to 36 | 40 to 45 |
| Number of franchised restaurants | 3 | 70 |
| Revenue from franchised restaurants | $0.2 million | $5.0 million |
| Planned new franchised restaurants in 2016 | 0 | 5 to 10 |
Chart data source: Zoe's Kitchen and Noodles & Company fourth-quarter 2015 earnings results.
There are a couple of important takeaways from this information. First, Zoe's is beating Noodles in revenue per location at $1.39 million in annual revenue per company-owned restaurant. That figure compares with Noodles' $1.07 million per location, although the company did generate about $71,000 per franchised location in the past year. In addition, Zoe's is also beating Noodles in same-restaurant sales over the past year, increasing 6.3%, driven primarily by new menu offerings. This figure compares with a full-year 2015decrease of 0.2% for company-owned and a decrease of 0.9% for franchised restaurants for Noodles, as the company looks to reconnect with customers and increase customer experiencesatisfaction. What is driving results for each company?
What Zoe's is doing rightHow is Zoe's seeing strong growth at existing restaurants while still able to support so many new locations each year? During the last earnings call, I took away a couple of key points that CEO Kevin Miles cited: innovating new menu items and investing in management.
Zoe's strives to build a connection with customers through offering fresh and healthy Mediterranean cuisine paired with "Southern hospitality." The company rolled out new hummus flavors and chicken entrees early last year, and it also hired a new head of culinary strategy and innovation. The new menu items are working, as more than half of the 6.3% increase in same-restaurant sales last year were attributed to those new additions, leading to larger customer tickets.
Closely related to the food investments are the investments in management. With projected new restaurant growth exceeding 20%, keeping management and restaurant teams up to speed with processes will be key. As an example, Zoe's opened a new test kitchen and training facility last year, doubling as both a way to train employees and grow menu item ideas. Keeping management well trained and involved in growth initiatives will also help the company deliver on its "Southern hospitality" description.
The investment into management has been a drag on margins in the past year, increasing by 34%, which far outpaced new store openings in 2015. Despite that increase, though, bottom-line profit swung to 0.5%, up from a loss of 5.8% the previous year. The strong same-restaurant sales growth and new restaurant expansion arising from these investments is well worth it, as the company expects another 4% to 5.5% same-restaurant sales growthin 2016, and management training will be key to sustaining the new restaurant openings rate of 20%.
What Noodles is doing to recoverNoodles & Company is in a very different situation. The company is trying to increase profit margins while still slowly growing the number of locations. During the full-year 2015 earnings release back in February, CEO Kevin Reddy talked about planned changes through brand transitioning and new growth initiatives from kids meals, catering, and online ordering. As a result, Reddy said that the company is "seeing a corresponding improvement in guest satisfaction scores."Are thosesatisfaction scorestranslating into a turnaround?
Image source: Noodles & Company.
Despite the improving scores referenced, the company's style of family friendly customizable noodle bowls has been losing traction, and a rebranding effort is under way. In the last quarter of 2015, Noodles launched its "Made. Different." and "REAL Food" tag lines.Thenew marketing campaigns have eaten away at profit, as have the closure of 16 stores last year and a new remodeling effort at older restaurants. Combined with the projected 10% new restaurant opening rate, 2016 is projected by management to be another lackluster year with a bottom-line loss.
However, management sees the new rebranding campaign turning into low-single-digit positive same-restaurant sales by the end of the year. In addition to marketing, the company has also been experimenting with kids' meals to appeal to families, and catering, which contributed 1.5% to revenue during 2015. The company also put online ordering in place last year. Interest in advance ordering and dining out in the food industry in general has gained momentum in recent years, and the company hopes to keep up with the competition with its new ordering option. So far in 2016, the company has reported 15 new restaurants, but another drop in customer traffic over the same period last year. However, the first quarter saw a drop in traffic of only 0.1%, compared with a 1.1% drop in the fourth quarter of 2015, so management feels that its efforts are starting to yield positive results.
And the winner is ...With a strong pipeline of growth and a track record of successful restaurant openings, I like Zoe's Kitchen over Noodles & Company. While the turnaround efforts at Noodles appear to be catching on, Zoe's has found a niche within the fast-casual food market that consumers are loving. I like the mapped-out plan for growth that focuses attention on good training and development of restaurant teams, its simple and fresh menu, and control over business results with company-owned restaurants over franchises. These initiatives should prove to be good catalysts for growth in the years to come.
The article Better Buy: Zoes Kitchen vs. Noodles & Company originally appeared on Fool.com.
Nicholas Rossolillo has no position in any stocks mentioned. The Motley Fool owns shares of and recommends Zoe's Kitchen. Try any of our Foolish newsletter services free for 30 days. We Fools may not all hold the same opinions, but we all believe that considering a diverse range of insights makes us better investors. The Motley Fool has a disclosure policy.
Copyright 1995 - 2016 The Motley Fool, LLC. All rights reserved. The Motley Fool has a disclosure policy.