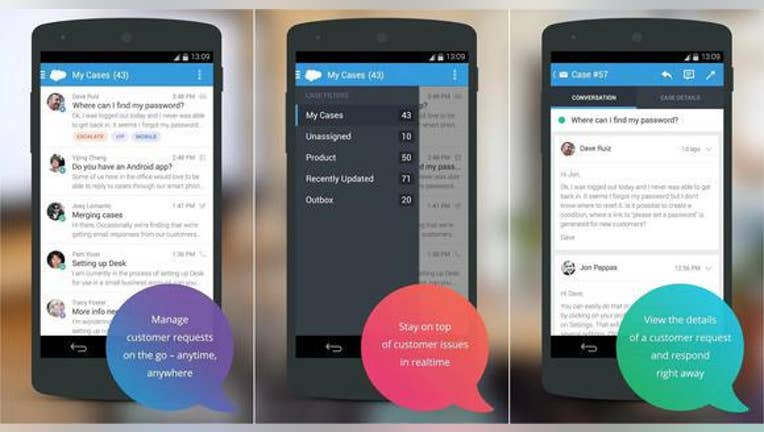 Cloud-based customer service provider Zendesk was one of the most successful tech IPOs of 2014. Since last May, the stock has nearly tripled from its IPO price of $9 to over $25 per share. That growth was fueled by rising demand for the company's cloud-based help desk software, which helps companies manage customer service issues through phone, email, online chat, and social media channels.
Zendesk is, however, much smaller thanSalesforce.com,the 800-pound gorilla in the cloud-based customer relationship management, or CRM, market. Over the past 12 months, Zendesk's stock has risen just 5%, compared to Salesforce's gain of nearly 35%. Let's compare these two CRM stocks as candidates for your portfolio.
Customized Zendesk Help Centers. Source: Zendesk
Zendesk: Solid growth and guidanceLast quarter, Zendesk revenue rose 64.1% annually to $55.7 million, beating expectations by $3.4 million. That growth rate compares favorably to 63.4% growth in the second quarter but represents a slight decline from 76% growth a year earlier. Deferred revenue is up 46% since the beginning of the year, up from 26% growth in the previous quarter, indicating that demand for Zendesk's platform is rising. The company also noted thatcustomers with over 100 agents generated over 30% of its recurring revenue.
Between its IPO and last quarter, Zendesk's total paid accounts rose from 42,000 to 64,000. Its most prolific customers include Airbnb and Uber. In October, Zendesk agreed to buyWe are Cloud SAS, a French business intelligence and analytics company, for $45 million in cash and 480,000 shares of its common stock. That move is expected to widen Zendesk's moat againstSalesforce and other rivals.
For the fourth quarter, Zendesk expects revenues to rise 53% to 58% annually to a range between $59 million and $61 million, which exceeds the consensus estimate of $57.5 million. Zendesk remains unprofitable, but its non-GAAP net loss narrowed from $0.09 a year earlier to $0.05 per share, beating estimates by four cents.
Salesforce.com: surprising growth and profitabilitySalesforce, the largest player in the sector, controlled 18.4% of the global CRM market last year, according to research firmGartner. Salesforce offers a much wider range of CRM services than Zendesk to large companies, but the company has noticed Zendesk's popularity among small to medium-sized businesses (SMBs). To challenge Zendesk in that market, Salesforce launched Desk.com, an SMB alternative to its larger Sales Cloud software suite for large companies.
Salesforce's Desk.com. Source: Salesforce
Last quarter, Salesforce revenue rose 23.9% annually to $1.71 billion and beat estimates by $10 million -- 73% of its revenue came from the Americas, and sales growth was strong across all four core businesses:
Source: Salesforce quarterly earnings
For the current quarter, Salesforce expects revenue to rise around 24% annually to a range between $1.78 billion and $1.79 billion, which is in line with analyst estimates. But Salesforce's real surprise over the past few quarters has been its bottom line growth. Last quarter, non-GAAP net income rose 50% annually to $140.5 million, or $0.21 per share, which beat estimates by two cents. Its GAAP net loss also narrowed from $38.9 million to $25.2 million, thanks to more disciplined spending.
So should you buy David or Goliath?Zendesk and Salesforce have overlapping markets, but there's no evidence that Salesforce's Desk.com is stealing SMB market share from Zendesk. Zendesk is tiny compared to Salesforce, but its popularity among big names like Uber could attract more start-ups and SMBs to the platform. That growth could also make it a takeover target for other tech giants looking to expand in the cloud-based SaaS (software as a service) space.
But as much as I like Zendesk, it's not a cheap stock. The stock trades at 12 times trailing sales, which is considerably higher than Salesforce at eight times sales and the average of four times for the application software industry. This means that Zendesk could stumble very quickly if revenue growth slows down. More speculative investors can pick up a few shares of Zendesk, but I'd still prefer to buy Salesforce as a "best in breed" SaaS play on the growing cloud market.
The article Better Buy: Zendesk Inc or Salesforce.com Inc? originally appeared on Fool.com.
Leo Sun has no position in any stocks mentioned. The Motley Fool recommends Gartner, Salesforce.com, and Zendesk. Try any of our Foolish newsletter services free for 30 days. We Fools may not all hold the same opinions, but we all believe that considering a diverse range of insights makes us better investors. The Motley Fool has a disclosure policy.
Copyright 1995 - 2015 The Motley Fool, LLC. All rights reserved. The Motley Fool has a disclosure policy.