Better Buy: Visa vs. American Express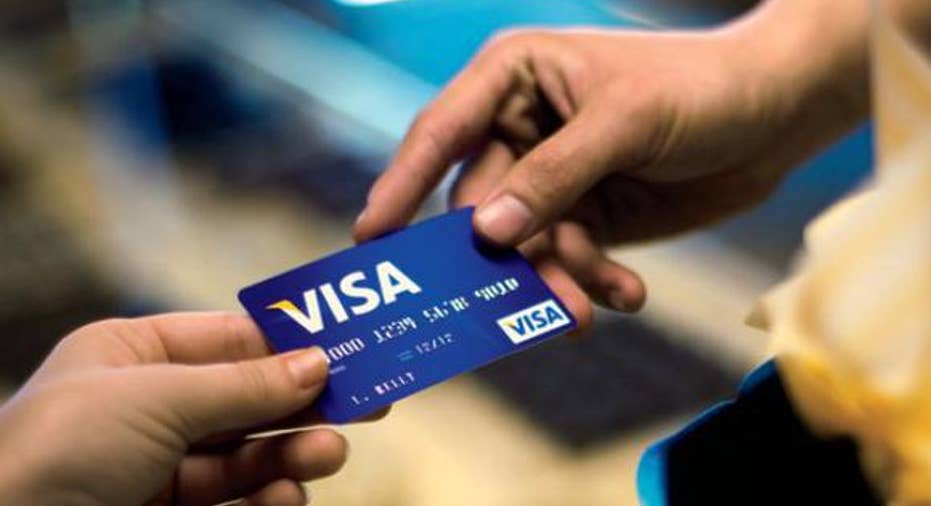 Image source: Visa.
When it comes to the credit cards you use, it's likely that either Visa or American Express has a place in your wallet. Both American Express and Visa have played a vital role in the evolution of the payment-processing industry, taking the global economy away from cash-based transactions and working toward an increasingly electronic payment system. American Express has gone through some struggles lately that have led its stock to lag Visa, but investors want to know if that means that AmEx is now a bargain or if Visa is still a smarter play on the space. Let's take a look at Visa and American Express using some common metrics to see which looks like the better buy.
Stock performance and valuation Looking at their recent stock returns, Visa has crushed American Express. The stock behind the card that's everywhere you want to be has risen 23% over the past year. That compares to a 22% loss for shareholders in American Express.
Looking at simple valuation metrics, the differences in the fundamental performance of the two businesses don't seem nearly as wide as the share-price performance. Investors have rewarded Visa shares with a rich earnings multiple of 28 based on trailing earnings. American Express only manages to trade at about 12 times its trailing earnings, reflecting more than just the recent discontent among investors.
A small portion of the gap fades when you look at forward projections for earnings over the next year. Yet Visa's forward earnings multiple is still more than double that of American Express, weighing in at almost 25 for Visa compared to 11 for AmEx. Looking at valuation, American Express looks more attractive right now, especially for value-based investors who like earnings-based valuation methods.
DividendsAnother area where American Express looks better than Visa is in its dividend policy. American Express' dividend yield approaches 2%, having been helped by the recent decline in the stock price. By contrast, Visa pays a dividend yield of only 0.7%.
Dividend policy doesn't really explain the disparity in yields. The earnings payout ratios for both Visa and American Express are around 20%, and so most of the difference stems again from the wide gap in valuation. Visa has the more recent dividend increase, having boosted its payout to its current quarterly level of $0.14 per share last fall. American Express has made a practice recently of increasing its dividend around mid-year, making it likely that its current payment of $0.29 per share each quarter will rise in the near future. American Express is the more attractive of the two card stocks for dividend investors.
GrowthThe reason why investors are willing to pay up for Visa shares is that they see immense growth prospects for the global card giant. Visa itself is optimistic about its future, projecting full-year 2016 revenue growth in the high-single-digit to low-double-digit percentage range in constant currency terms. The strength of the U.S. dollar has held back Visa's results on a GAAP basis, but the local-currency numbers show the inherent strength of its business model and the fairly fast adoption rates within faster-growing emerging economies outside the U.S. and the other major countries that make up the bulk of world economic activity. Double-digit percentage growth in earnings should keep Visa shareholders satisfied as well.
By contrast, American Express has a much more uncertain future. The high-profile loss of business from big-box retailer Costco has hurt American Express' reputation, even though it now appears to have been a smart financial decision for the card giant. Nevertheless, AmEx will struggle to try to make up lost revenue and profits, and most investors expect to see flat to lower revenue in both 2016 and 2017 that will put a ceiling on the company's ability to produce substantial earnings growth. American Express has a valuable brand, but adverse trends at the luxury end of the retail spectrum could put pressure on AmEx's traditional command of the high-end space.
Different investors will find both of these stocks compelling, and which you pick depends on what you value most in a stock. Visa's growth prospects make it a natural pick for risk-taking investors despite its higher valuation and lower dividend. Value investors will see plenty to like about American Express' shares right now, given the general lack of short-term confidence that has the stock out of favor. Overall, American Express carries a slight edge, but either would make a good pick.
The article Better Buy: Visa Inc. vs. American Express originally appeared on Fool.com.
Dan Caplinger has no position in any stocks mentioned. The Motley Fool owns shares of and recommends Costco Wholesale and Visa. The Motley Fool recommends American Express. Try any of our Foolish newsletter services free for 30 days. We Fools may not all hold the same opinions, but we all believe that considering a diverse range of insights makes us better investors. The Motley Fool has a disclosure policy.
Copyright 1995 - 2016 The Motley Fool, LLC. All rights reserved. The Motley Fool has a disclosure policy.