Better Buy: United Parcel Service, Inc. Vs. FedEx Corporation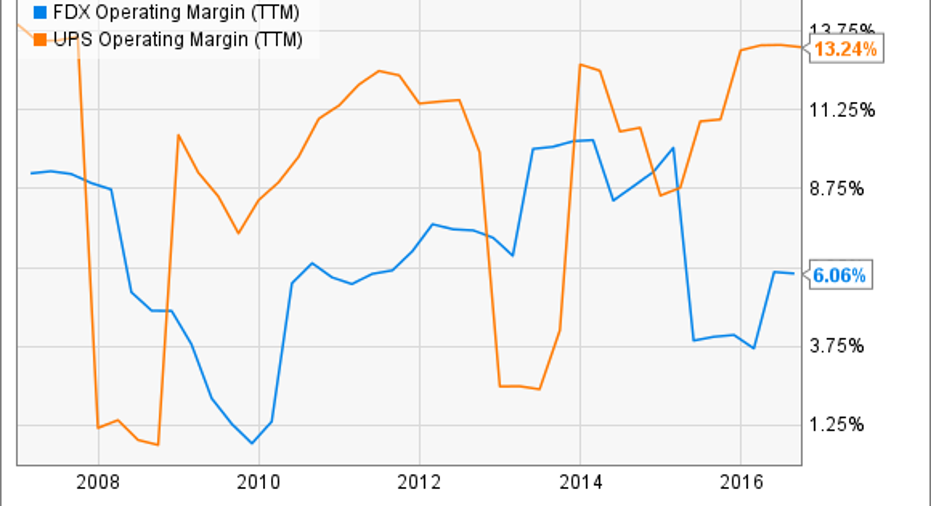 Image source: Getty Images.
Many investors would agree with the proposition that United Parcel Service, Inc. (NYSE: UPS) and FedEx Corporation (NYSE: FDX)represent relatively safe investments within the shipping and logistics sector. But in this edition of our "better buy" series, let's go one step further and try to determine which might constitute the more fruitful investment in the coming years.
FedEx has a long history as a public company, having debuted on the New York Stock Exchange in April 1978, while UPS entered the public market about 21 years later, in November 1999. Between the fiscal years 1999 and 2015, UPS has improved revenue at a compounded annual growth rate, or CAGR, of 4.9%.FedEx has achieved a CAGR over the same period of 6.7%.
Almost two percentage points of variance in growth rate may not seem all that significant, but it translates into roughly one-third faster growth, and over a 16 year period the difference becomes appreciable.
In 1999, FedEx recorded $15.6 billion in revenue, just over half of the $27.1 billion UPS booked that year. Slowly, but inexorably, FedEx has closed the gap through its more vigorous top line. Over the last trailing 12 months, FedEx posted revenue of $52.7 billion, about 88% of UPS' $60 billion total.
UPS is currently more profitable than FedEx on an operating basis, but the vagaries of the shipping and logistics business makes it difficult for either company to maintain consistent margins. By stretching the comparison period out to 10 years, we can see how volatile the profit trends are for both companies:
FDX Operating Margin (TTM) data by YCharts
UPS holds the operating margin edge, one that has jumped to more than seven percentage points over the last 12 months, but we should heed message of the chart: Don't consider this a permanent advantage.
Will fortunes diverge in the near future?
FedEx's $4.8 billion acquisition of Netherlands-based TNT Express, N.V., a major European courier, mail, freight, and logistics company, in May 2016 will undergird its operating margin and acclerate revenue growth over the next several years.
TNT's European road network of 19 hubs and 540 depots spread across 40 countriesboosts FedEx's parcel and freight presence, and opens up opportunities for cost synergies given FedEx's own extensive ground capabilities in Europe.
Once completed, the merger will also vault the combined entity past UPS and Deuschte Post AG's(NASDAQOTH: DPSGY)DHL subsidiary in the U.S. and Canadian air export markets. Folding in TNT represents the biggest acquisition in FedEx's history, and the following graphic gives us a visual representation of the Dutch organization's impressive scale:
Image source: FedEx.com.
The combination is bitter for UPS to contemplate. "Big Brown" attempted to buy TNT in 2013, only to be stymied by the European Commission, which voiced antitrust concerns over what was then reported to be an almost $7 billion merger.As my Foolish colleague Adam Levine-Weinberg recently noted, the EU Commission apparently had no qualms about the potential for FedEx to gain an unfair competitive advantage.
In the years since it walked away from TNT, UPS has actively honed its own business model. These efforts presently center around capacity expansion, organic growth, and efficiency. The company plans to take delivery of 14 Boeing 787s between 2017 and 2020.It also anticipates spending between 4.5% and 5% of revenue on hub modernization and automation between now and 2019.
Finally, UPS is actively seeking to expand market share in country-specific online retail and cross-border online retail, markets that it projects will grow at twice the rate of the larger retail industry between now and 2020.
Still, it's hard to see an event on UPS' horizon that will carry the equivalent impact of the FedEx/TNT tie-up. In FedEx's most recently reported quarter, inclusion of TNT results helped push year-over-year revenue growth to an enviable 19.5%. Though the integration of the two companies will take almost four years, FedEx expects final synergies to reach $750 million annually, expanding the company's operating leverage.
The case for FedEx
There's much truth in this pithy adage, "Past performance is no guarantee of future results," but, at the same time, past performance can be an awfully good indicator of what the future might look like. Below is a chart of both companies' total return since Nov. 10, 1999, the day UPS went public:
FDX Total Return Price data by YCharts
UPS' long, steady, positive price trend is admirable. The stock carries a current beta of near 1.0, meaning that its volatility correlates almost exactly to that of the broader market.
FedEx owns a much more jagged trend line, and with a beta of 1.5, exhibits 50% more volatility than UPS. Nonetheless, it's dusted UPS in the most important metric: total return.
Surprisingly, even with its superior appreciation, FedEx isn't the more expensive stock. Investors seem willing to pony up for UPS' relatively stable and predictable price movement. On almost any valuation metric you choose, UPS costs more per share than its rival:
Data: Ycharts and Morningstar.com.
Valuation notwithstanding, FedEx stock has appreciated more significantly than the "UPS" ticker over the years because the shipment specialist is perceived as having higher growth opportunities -- a perception that gets proven yearly in the revenue CAGR discussed above. And FedEx's acquisition of TNT will push its CAGR advantage even higher, at least in the near term. Being that it trades at a discount to UPS only reinforces the argument that of these two superlative industrial companies, FedEx should be thought of as the better buy.
10 stocks we like better than FedEx When investing geniuses David and Tom Gardner have a stock tip, it can pay to listen. After all, the newsletter they have run for over a decade, Motley Fool Stock Advisor, has tripled the market.*
David and Tom just revealed what they believe are the 10 best stocks for investors to buy right now... and FedEx wasn't one of them! That's right -- they think these 10 stocks are even better buys.
Click here to learn about these picks!
*Stock Advisor returns as of Nov. 7, 2016
Asit Sharma has no position in any stocks mentioned. The Motley Fool owns shares of and recommends FedEx. The Motley Fool recommends United Parcel Service. Try any of our Foolish newsletter services free for 30 days. We Fools may not all hold the same opinions, but we all believe that considering a diverse range of insights makes us better investors. The Motley Fool has a disclosure policy.