Better Buy: Under Armour vs. Fitbit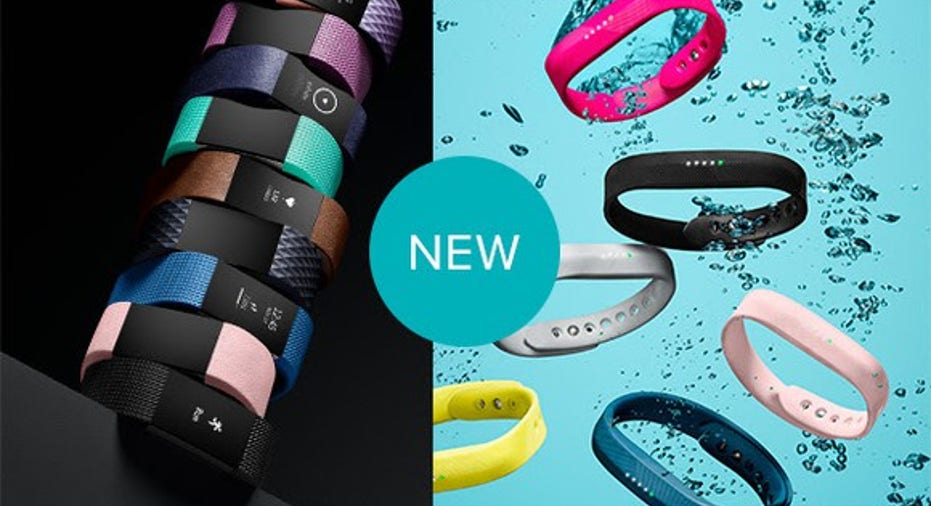 Under Armour (NYSE: UA)(NYSE: UA-C)and Fitbit (NYSE: FIT)are both going after the same health and sport-focused market, each has had impressive sales growth but declining income in the recent quarter, and each has seen their stock price decline over the last year. With interesting product overlap but very different visions of the future, which stock is abetter buy now?
Can Fitbit's new products make up for falling market share?
Fitbit announced new tracking devices and features this week including the new Charge 2 that comes with continuous heart rate monitoring and is priced at $150, and a remake of its more basic Flex model, which is now fully waterproof.This comes after the company announced new trackers earlier this year such as the Blaze, a smartwatch look alike that connects to a smartphone via bluetooth to receive notifications like text and email.
New products announced by Fitbit on Aug. 29. Image source: Fitbit
Regardless of new product releases in the last year, Fitbit's market share is falling.Fitbit still commands 25% of the global wearables market, according to the International Data Corporation, orIDC, but that'sdown from 32.5% during the same period last year.
Fitbit's second largest competitor, Xiaomi from China, which makes trackers for as little as $15, is quickly gaining and now at 19% market share worldwide.To be fair, Xiaomi's growth has been almost exclusively in China where Fitbit has only a small presence, but it shows the ability for low price trackers to fill consumer needs and that Fitbit's competitive moat is small. Xiaomi isn't the only one taking market share. Apple (NASDAQ: AAPL) is growing sales of its Apple Watch and is expected to announce a new version later this year that could further pressure Fitbit's market position.
Blame it on market share pressure, pricing pressure, or saturation, but Fitbit's sales growth is slowing.While the company reported an impressive 49% sales growth in the most recent quarter year over year, that's the slowest growth it has had since going public in early 2015, and full-year sales growth is expected to come in at 36% year over year, compared to nearly 100% in 2015 year over year.
Net income actually fell more than 60% year over year to $6.7 million in the quarter. Much of that decline is because of the surge in research and development costs, something that investors would normally be excited about, but we've yet to see Fitbit announce anything game-changing other than incremental increases to its traditional products. Based on the IDC numbers, that hasn't been enough to hold off competitors from taking Fitbit's market share.
Under Armour becomes a competitor -- sort of
Under Armour jump-started its digital strategy with the 2013 acquisition of fitness app MayMyFitness, followed by similar acquisitions in 2015. Under Armour also made its own fitness tracking app called Record in 2015 that provides a platform to incorporate data from the other apps as well as from wearable devices, such as Fitbit trackers. At that point Fitbit was a partner, providing a data collecting wearable for Under Armour app users.Then in early 2016, Under Armour and Fitbitwent from partners to competitors when Under Armour released its own line of wearable technology including a wrist tracker, connected scale, run-tracking shoes, and more.
Image source: Under Armour
Under Armour's new hardware hasn't taken over a large share of the market, and is not in the top six market share leaders according to the IDC. At least not yet -- the January launch was the first generation of these products and we can probably expect new versions and updates to come out later this year and in 2017, which could help Under Armour grow market share.Under Armour has even announced plans for connected clothing that would include sensors in its garments closer to 2020, something that could put it in a whole other category than Fitbit.
Under Armour's Record app on an Apple Watch. Image Source: Under Armour
While wearables are an interesting market with seemingly plenty of growth potential, Under Armour seems to be more interested in the application of the data that wearables gather, rather than sales of the physical trackers themselves. Under Armour has said that "data is the new oil" meaning that once you gather these large swaths of raw data, there must be a way to refine it into usable outputs that drive actions and sales.
Under Armour has made its apps work on theApplewatch as well, proving their prioritisation on data over the specific wearable device.Whether or not Under Armour's wearables take off and actually become a competitor to Fitbit will remain to be seen, but more important is Under Armour's digital growth, with new apps and now over 170 million users, to drive sales of clothes and shoes.
Why Under Armour is the better buy
Under Armour seems to have a more solid long-term growth trajectory than Fitbit, considering it isn't focused on one type of product. This is not to say that Fitbit can't diversify further, or that there aren't applications for its own huge amounts of data that could drive future business opportunities, but as of now we've only seen new iterations of the same trackers regardless of its high research and development costs. Unfortunately the competitive moat on those trackers is small, as shown by the ability for new market entrants to gain market share so quickly.
Under Armour is not without its own pressures, especially recent earnings pressure as the company reported an income loss similar to that of Fitbit becauseof an impairment taken due to the unexpected bankruptcy of athletic retailer Sports Authority. Still, that one time event should be a small bump in Under Armour's growth trajectory as sales growth has held steadily above 20% year over year each of the last 26 quarters, and full year operating income is expected to still grow 8% to 9% in 2016 year over year.
From a valuation perspective, Fitbit stock is far cheaper. After its stock price has fallen more than 50% in the last year, Fitbit is trading around 32 times earnings. Under Armour is trading at over 100 times earnings -- a high price even if you believe in the company's investments and ability to execute on them. Still, based on the earnings growth potential in the years to come, that price difference seems to be for good reason, as Under Armour is the more compelling growth prospect going forward.
A secret billion-dollar stock opportunity The world's biggest tech company forgot to show you something, but a few Wall Street analysts and the Fool didn't miss a beat: There's a small company that's powering their brand-new gadgets and the coming revolution in technology. And we think its stock price has nearly unlimited room to run for early in-the-know investors! To be one of them, just click here.
Seth McNew owns shares of Under Armour (A Shares) and Under Armour (C Shares). The Motley Fool owns shares of and recommends Fitbit, Under Armour (A Shares), and Under Armour (C Shares). Try any of our Foolish newsletter services free for 30 days. We Fools may not all hold the same opinions, but we all believe that considering a diverse range of insights makes us better investors. The Motley Fool has a disclosure policy.