Better Buy: Time Warner Cable Inc. vs. Dish Network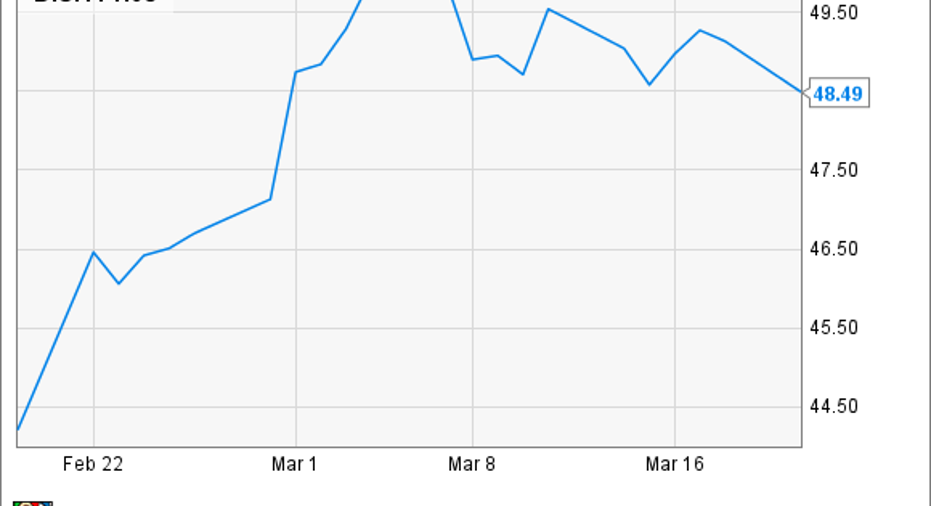 In Time Warner Cable and DISH Network , you have two companies at an interesting time in their histories.
TWC has already agreed to be purchased by Charter Communications , a deal that will move forward as soon as the Federal Communications Commission signs off. Once that happens (and it's expected to, albeit with some conditions) the resulting company will be better positioned to compete with Comcast and AT&T , which now owns DirecTV, for pay-television dominance.
The pending Charter/Time Warner Cable deal and AT&T's recent purchase of DirecTV leave Dish Network as a bit of a outlier: an attractive, somewhat smaller company with a strong subscriber base that's ripe for a takeover or merger, or in a position to buy an even smaller player in the field.
Where does Time Warner Cable stand?TWC is in that weird limbo period between when a deal is announced and when it gets approved. During such times, a stock still trades, but it generally hovers around the price being offered by the prospective acquirer. In this case, that's $195.71 per share, with $100 of it in cash and the rest in Charter stock, according to a press release. Recently though, TWC shares have actually been trading above the deal price.
Source: YCharts.com
But, if you're going to compare Time Warner Cable and Dish, you really need to look at the prospects for New Charter, the entity for which current TWC shareholders will receive stock. That company will become one of the three biggest cable providers by customer numbers, along with Comcast and AT&T (pushing Dish back to No. 4), but it will have some transition work ahead of it.
While no company in the the cable industry scores particularly well on the annual American Consumer Satisfaction Index report, Time Warner Cable rates dead last in pay-TV, scoring a 51, well below Charter's 63, which is also the industry average. Since TWC will be bringing just over 11 million cable subscribers to the table, compared to Charter's 4.4 million, the new company will have a lot of work to do to convince subscribers it's going to be operating differently.
In this case, it will be a not-very-well-liked company's leadership taking over a highly disliked, customer-service-scandal-ridden company and trying to change its culture. That will put a lot on the shoulders of Charter CEO Tom Rutledge, who will run the new company. It might take years for the new company to build a more positive relationship with its users. That could be a critical problem and a drag on the new entity's stock price, because in many markets, consumers will have a choice.
Where does Dish stand?In some ways, the satellite company has become the belle of the ball simply because it has remained unattached. The company not only has nearly 14 million pay-TV subscribers, it also has its innovative Sling TV streaming service, and owns a whole swath of the wireless spectrum.
The first two of those things make the company an attractive merger or acquisition target for Comcast (though the FCC would be unlikely to agree to such a deal) or any other midsize pay-TV player. Dish's wireless spectrum, however, makes the company a very attractive target for any of the carriers in that space (although AT&T's ownership of DirecTV makes it unlikely that it would win FCC approval for a Dish offer).
The premium Dish might command could be higher than TWC's was at the time of the Charter deal simply because the industry has shrunk. As the sole remaining independent satellite player, it's a valuable prize, which gives it extra negotiating leverage in the case of a merger or acquisition.
Source: YCharts.com
Which is a better buy?TWC -- or New Charter, depending how you look at it -- will have its work cut out for it once the deal is approved. The company will have to fight to hold onto its customers and build a new reputation which repairs the damage the Time Warner Cable did to its subscriber relations. The costs involved in that may outweigh any financial gains from the efficiencies created by the two companies becoming one.
On the other hand, there are a number of reasons to think that Dish -- with its better-than-industry-average ACSI score of 67 -- should see its stock rise. If it remains a standalone company, it could make a deal to sell or license its wireless spectrum, which would unlock value in an appreciating asset. It could also see major gains for Sling as more people cut the cord and sign up for cheaper alternatives to pay-TV. Or, Dish could see its shares spike if acquisition or merger talks heat up.
All of that makes the satellite company a stronger growth proposition over the next few years than the cable player. It's a better buy partly because of what it is and what it owns, and partly because it's available when there are so few pieces left on the board that could be acquired.
The article Better Buy: Time Warner Cable Inc. vs. Dish Network originally appeared on Fool.com.
Daniel Kline has no position in any stocks mentioned. He does not have a favorite in the NCAA Men's Basketball Tournament. The Motley Fool has no position in any of the stocks mentioned. Try any of our Foolish newsletter services free for 30 days. We Fools may not all hold the same opinions, but we all believe that considering a diverse range of insights makes us better investors. The Motley Fool has a disclosure policy.
Copyright 1995 - 2016 The Motley Fool, LLC. All rights reserved. The Motley Fool has a disclosure policy.