Better Buy: TASER International, Inc. vs. Sturm, Ruger & Co.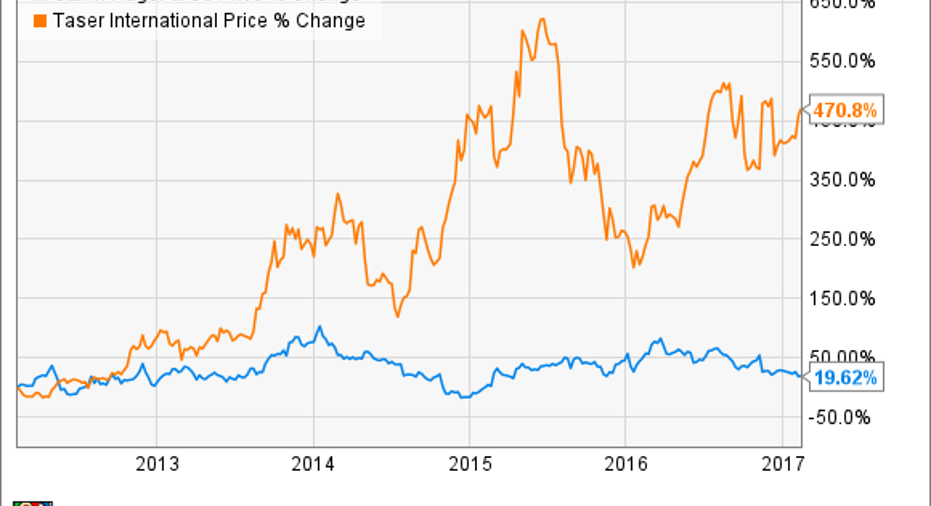 For as much attention as gun control and the NRA has gotten over the past few years, investors in the gun business have been left in the dust. Sturm, Ruger & Co. (NYSE: RGR) has been outperformed by less-lethal weapon and body camera maker TASER International, Inc. (NASDAQ: TASR).
But this outperformance by TASER International may not be a one-time event. Gun sales may be on the decline after FBI background checks hit a record 27.5 million in 2016, driven by the political reality that there's little urgency now to buy a gun.
Why gun sales may be peaking
You can see below that gun sales are very cyclical, but what you can't see is what drives the cycles. In 2013, sales were driven by fear that the Sandy Hook Elementary School shooting would lead to increased gun regulations, something that never materialized. When the fear of regulation subsided, gun sales fell in 2014 and 2015.
RGR Revenue (TTM) data by YCharts.
Over the past year, it was commonly thought that Hillary Clinton would win the White House and Democrats may even take back the Senate, which led to another surge in gun sales. But neither of those scenarios materialized, either, and in 2017 we'll likely see slower sales because of a political climate less hostile to guns.
It may sound counterintuitive, but the best time to be an investor in a company that makes guns is when there's gun regulation on the horizon. Sturm, Ruger doesn't have that tailwind right now, and that could lead to declining sales and earnings over the next year.
Law enforcement's latest trend
While gun sales oscillate, taser and body camera sales have been experiencing steady growth. Below is the same five-year chart of revenue and income for TASER International that you see for Sturm, Ruger above.
TASR Revenue (TTM) data by YCharts.
You can see that revenue has more than doubled while net income has jumped, although it has remained flat over the past few years. That's somewhat intentional as the company invests in new products and sales staff around the world.
Image source: TASER International.
What's most encouraging about the company's path forward is that new products are beginning to augment the company's current market positions. Body cameras were the beginning, then Evidence.com's cloud services were added to the mix, and now the company hasacquired artificial intelligence (AI) capabilities to help law enforcement find the content they need.
We're also only starting to see the potential for body cameras globally. Australia has signed a few contracts and so have agencies in the U.K., but there are thousands of potential customers TASER International can reach to keep its growth going.
The best stock today
Sturm, Ruger is a steady company, but without a clear catalyst to drive sales in the next few years, I think TASER International is the better-positioned stock. It has a lot of growth ahead and is adding high-margin products like the cloud and AI to the mix.
Given law enforcement's move to more accountability and less-lethal weapons, I think TASER International is on the right side of the market while Sturm, Ruger is not.
10 stocks we like better than TASER InternationalWhen investing geniuses David and Tom Gardner have a stock tip, it can pay to listen. After all, the newsletter they have run for over a decade, Motley Fool Stock Advisor, has tripled the market.*
David and Tom just revealed what they believe are the 10 best stocks for investors to buy right now... and TASER International wasn't one of them! That's right -- they think these 10 stocks are even better buys.
Click here to learn about these picks!
*Stock Advisor returns as of February 6, 2017
Travis Hoium owns shares of Taser International. The Motley Fool recommends Taser International. The Motley Fool has a disclosure policy.