Better Buy: Sturm, Ruger & Co. vs. Philip Morris International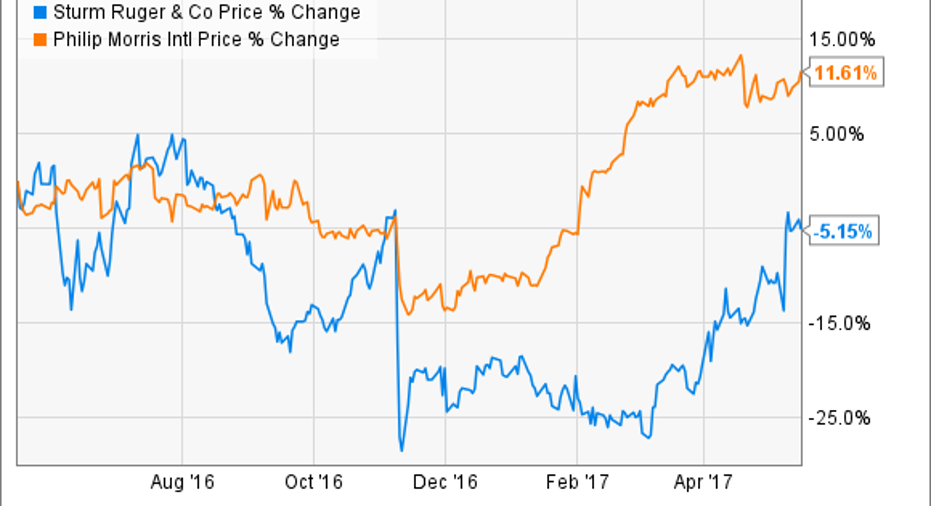 Many investors refer to companies in the alcohol, tobacco, firearms, and gambling industries as "sin stocks," and Sturm, Ruger (NYSE: RGR) and Philip Morris International (NYSE: PM) both qualify as high-profile members of that club of investments. Yet even though some choose to avoid such investments on personal ethical grounds, others see opportunities for profit from companies with dedicated customer bases and the potential for long-term growth. Still, both Philip Morris and Ruger face challenges to their long-run prospects, and investors want to know whether buying shares at current levels offers a good risk-reward trade-off. Let's look more closely at Sturm, Ruger and Philip Morris International to see which looks more attractive right now.
Valuation and stock performance
Ruger and Philip Morris have moved in different directions over the past year. Ruger has fallen 5%, as you can see in the chart below, while Philip Morris has seen its stock climb 12% since May 2016.
From a valuation basis, however, Philip Morris' advance has made it relatively more expensive. The stock now trades at 25 trailing earnings, and even when you take future growth into consideration, a forward earnings multiple of 21 looks fairly pricey. Ruger, on the other hand, trades at between 13 and 14 times earnings on both a trailing and forward basis. Looking at this simple valuation metric, Ruger looks like the more attractively priced stock.
Dividends
Sin stocks often pay healthy dividends to encourage income investors to own shares, and both Ruger and Philip Morris have done a good job on this front. From a yield perspective, Philip Morris has a slight lead over Ruger, paying 3.7% compared to the gun maker's 2.9% payout.
Ruger's dividend policy is different from the more typical payout strategy you'll see with stocks. The gun maker has a variable dividend that's connected to earnings, and over the past year, shareholders have received $1.82 per share. Over the past year, however, dividends have ranged from $0.41 to $0.49 per share quarterly, making it difficult to predict exact cash flow for investors in advance. By contrast, Philip Morris has a steady $1.04 per share quarterly payment.
Image source: Sturm, Ruger.
The big difference, though, is that Ruger only pays out about 40% of its earnings as dividends. Philip Morris' comparable figure is above 90%. For many, that would be enough to push the balance toward Ruger despite its slightly lower yield.
Growth and risk factors
Ruger and Philip Morris are in difficult industries and have had to be smart about strategic thinking. Ruger has benefited from strong demand in the past, especially coming into the 2016 presidential election. Predictions that the White House would become tougher on gun control laws turned out to be completely wrong, however, and the resulting lack of impetus among gun owners to rush shopping decisions made many investors nervous about Ruger's prospects. However, the gun maker hasn't seen much of a slowdown, with recent results including only a very small decline in sales and flat earnings from year-ago levels. Some comments from Ruger suggest decreased demand, but the magnitude of such declines hasn't been as great as anticipated.
Meanwhile, Philip Morris has had to deal with volume declines for a long time. Those pressures were particularly strong in the tobacco company's most recent quarter, including a whopping 11.5% decline in cigarette shipments. Weakness in Europe was particularly evident, and only the success of the iQOS heated tobacco product in Japan managed to prevent what would otherwise have been an unanticipated decline in overall revenue worldwide. The fact that iQOS is doing well is important, but the reduced-risk business isn't big enough yet that Philip Morris can afford to neglect the core part of its tobacco operations.
Based on these metrics, Ruger looks like the better buy, with a more attractive valuation and growth prospects along with solid dividend performance. Philip Morris could have a hit on its hands in the alternative products category, but other concerns could weigh on its relative performance going forward.
10 stocks we like better than Sturm, Ruger & CompanyWhen investing geniuses David and Tom Gardner have a stock tip, it can pay to listen. After all, the newsletter they have run for over a decade, Motley Fool Stock Advisor, has tripled the market.*
David and Tom just revealed what they believe are the 10 best stocks for investors to buy right now... and Sturm, Ruger & Company wasn't one of them! That's right -- they think these 10 stocks are even better buys.
Click here to learn about these picks!
*Stock Advisor returns as of May 1, 2017
Dan Caplinger has no position in any stocks mentioned. The Motley Fool has no position in any of the stocks mentioned. The Motley Fool has a disclosure policy.