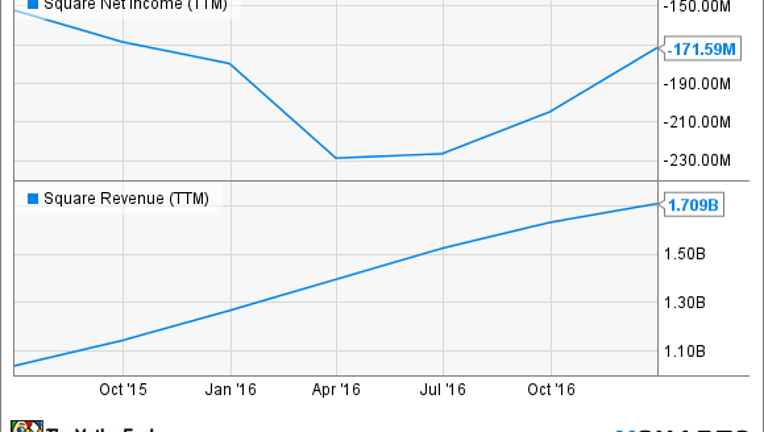 Visa(NYSE: V) and Square, Inc. (NYSE: SQ) are two of the most well-known names in the payment processing business, and as more transactions go digital, they have very bright futures. But for investors, they present very different risks and opportunities.
Visa is the biggest giant in the payment business and is clearly the more profitable and stable of the two companies. But Square is taking a novel approach to the payments business and is growing rapidly as a result. Here's a look at which one I think is the better stock.
Image source: Getty Images.
The big difference between Square and Visa
When looking at Visa and Square, I think it's important to clarify the big differences between the companies. Visa is a payment technology company that provides a platform customers use to make purchases and banks use to issue cards and provide credit. At the core, it's a company that essentially charges a tax on credit card payments, which is an incredibly powerful position to be in.
Square is also a platform company, but it's providing a merchant solution to customers. Its card reader is the center of the business, but the card reader feeds into a platform that includes a point of sale interface, payroll, analytics, and even debt financing for small businesses. It's a platform that makes a small business work.
Visa's money-making machine
The power of Visa's payment machine is undeniable. The chart below shows the company's revenue and net income over the past decade, and it's only trending higher.
V Net Income (TTM) data by YCharts.
What Visa is essentially doing is riding its strong network of cards and retailers, as well as the overall increase in digital transactions, to growth. It's even well-positioned for digital payment solutions like Apple Pay and Samsung Pay if those systems continue to grow.
At 35 times trailing earnings, it's an expensive stock, but with electronic payments on the rise, this is a business poised to profit for decades to come.
The growth platform at Square
The story at Square is very different. The company is in its growth phase and is still losing money. You can see below that since coming public in late 2015, the company has been on a growth tear, but it's come at the expense of the bottom line.
SQ Net Income (TTM) data by YCharts.
That's a trade-off a lot of young companies make, and right now it looks like Square is developing the right products for customers and making partnerships with accounting software and other apps that can help small businesses succeed. As it builds out these capabilities and gets customers using them, it embeds Square into their businesses long-term, which is what shareholders want.
If you need another vote in favor of Square, look no further than Visa. The company holds at least a 1% stake in the Square, although the stake could be as high as 10% depending on when Class B shares are converted, and doesn't show any sign of giving up on the upstart.
And the winner is...
I think both Visa and Square are solid investments long-term, but the combination of profitability and growth that Visa provides is too good to pass up. As I mentioned, Visa's valuation is high, but it's worth paying a premium for a company that will likely grow for decades to come. And with a payment network that's nearly impossible to match, Visa is the better stock for investors today.
10 stocks we like better than VisaWhen investing geniuses David and Tom Gardner have a stock tip, it can pay to listen. After all, the newsletter they have run for over a decade, Motley Fool Stock Advisor, has tripled the market.*
David and Tom just revealed what they believe are the 10 best stocks for investors to buy right now... and Visa wasn't one of them! That's right -- they think these 10 stocks are even better buys.
Click here to learn about these picks!
*Stock Advisor returns as of February 6, 2017
Travis Hoium owns shares of AAPL and Visa. The Motley Fool owns shares of and recommends AAPL and Visa. The Motley Fool has the following options: long January 2018 $90 calls on AAPL and short January 2018 $95 calls on AAPL. The Motley Fool has a disclosure policy.