Better Buy: Silver Standard Resources Inc. vs. Endeavour Silver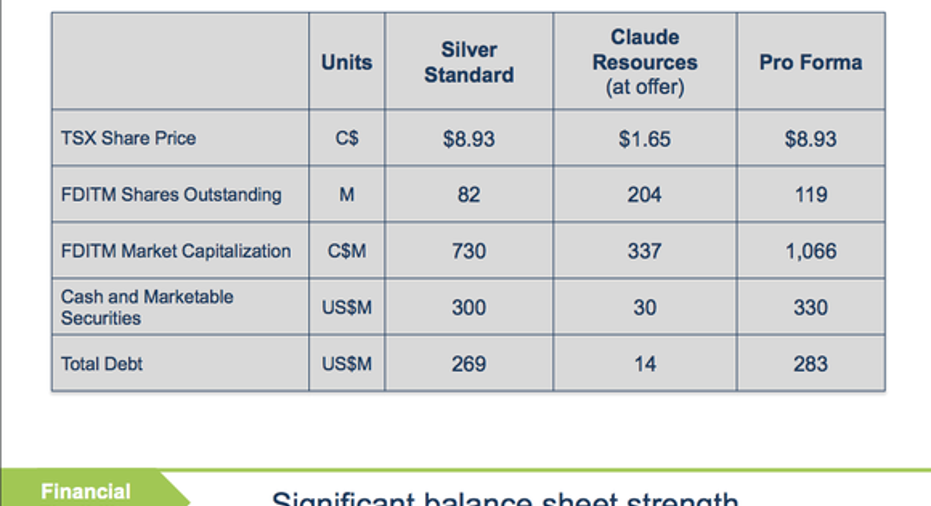 Precious metal miners Silver Standard Resources Inc. (NASDAQ: SSRI) and Endeavour Silver (NYSE: EXK) are both looking to grow. With silver and gold prices stabilizing over the past year, their plans appear attractive. However, these are relatively small industry players, so investors are making an aggressive call with either. Which is why the smaller of the two might be the best option if you have a positive outlook on silver and gold.
Image source: Endeavour Silver.
Focusing on its best
Last year was a year of streamlining for Silver Standard. It made several important moves, the largest of which was the acquisition of Claude Resources in May. This transaction added Claude's SeaBee and Santoy mines in Canada to Silver Standard's portfolio of assets. The move increased its notable operations from two working mines to three. However, the big opportunity here was growth.
Silver Standard improved its business with the Claude acquisition. Image source: Silver Standard Resources Inc.
The miner has already inked a deal with Eagle Plains Resources to explore land contiguous with Silver Standard's SeaBee property. That was the second notable move in 2016 because it highlights the immediate growth potential that the Claude transaction offers. The other transactions were dispositions, so that Silver Standard could refocus on the growth opportunities of its best mines.
And that's where Silver Standard's story and Endeavour Silver's intertwine. Silver Standard "sold" two mines, one of which went to Endeavour. But the transactions didn't really involve much money, what Silver Standard got in return for the assets were stakes in the companies to which it sold the mines, earn-outs based on mine development, and a small royalty interest at each. In other words, these aren't exactly mines it wanted to get rid of -- just ones it didn't have the bandwidth to deal with right now.
Getting back to growth
Endeavour, meanwhile, hit a rough patch over the last few years production-wise. Its silver equivalent production peaked in 2013 and then fell each year through 2016. It was able to trim costs in that span, which is positive, but falling commodity prices and declining production weren't exactly a great selling point for investors.
A rough spell for Endeavour could be nearing an end. Image source: Endeavour Silver.
As 2017 gets under way, however, Endeavour is poised to get back to growth. The mine it "bought" from Silver Standard is a key piece of that equation. However, it also acquired land contiguous with an existing mine that it can tap for growth. And its internal development efforts have led to expansion opportunities within its operating properties. The future for Endeavour's production finally looks like it's heading up.
The foundation
So, both Silver Standard and Endeavour are relatively small industry players appropriate for aggressive investors who believe the precious metals rally since early 2016 has room to run. That's important because all in sustaining costs at the pair are middle of the road at best. For example, Silver Standard's third quarter all in sustaining costs per gold equivalent ounce were nearly $950 an ounce, notably higher than more established peers. And Endeavour's all in sustaining costs per silver equivalent ounce were roughly $11.50 per ounce in the third quarter, again higher than larger peers. The story at each is really about growth.
That said, of these two miners, Endeavour has the stronger financial position and that's why it should get the nod here. To be honest, both look more than capable of handling their near-term costs. For example, Silver Standard's current ratio is around 5 and Endeavour's is roughly 4. Solid numbers on both fronts. But long-term debt made up roughly 20% of Silver Standard's capital structure at the end of the third quarter. That number at Endeavour was around 1%. Silver Standard isn't overleveraged, but for what are high-risk investments, Endeavour appears to be on more solid financial ground.
As safe as possible
Silver Standard Resources and Endeavour Silver have surprising similarities. The biggest being that, after a rough spell in the precious metals industry, they both appear poised for growth via development projects and mine expansions. On that score, either one would be an interesting option for more aggressive investors seeking a growth-minded silver and gold company.
That said, there are some notable differences. The decisive one is that Endeavour Silver has virtually no debt whereas Silver Standard's long-term debt makes up a much higher 20% (or so) of its capital structure. To be honest, it's a tough call between the two. While neither would be appropriate for a conservative investor, Endeavour's mix of a stronger balance sheet and expansion opportunities adds at least a little financial safety to what is an otherwise aggressive investment.
10 stocks we like better than Endeavour Silver When investing geniuses David and Tom Gardner have a stock tip, it can pay to listen. After all, the newsletter they have run for over a decade, Motley Fool Stock Advisor, has tripled the market.*
David and Tom just revealed what they believe are the 10 best stocks for investors to buy right now... and Endeavour Silver wasn't one of them! That's right -- they think these 10 stocks are even better buys.
Click here to learn about these picks!
*Stock Advisor returns as of January 4, 2017
Reuben Brewer has no position in any stocks mentioned. The Motley Fool has no position in any of the stocks mentioned. The Motley Fool has a disclosure policy.