Better Buy: Sierra Wireless vs. NVIDIA Corporation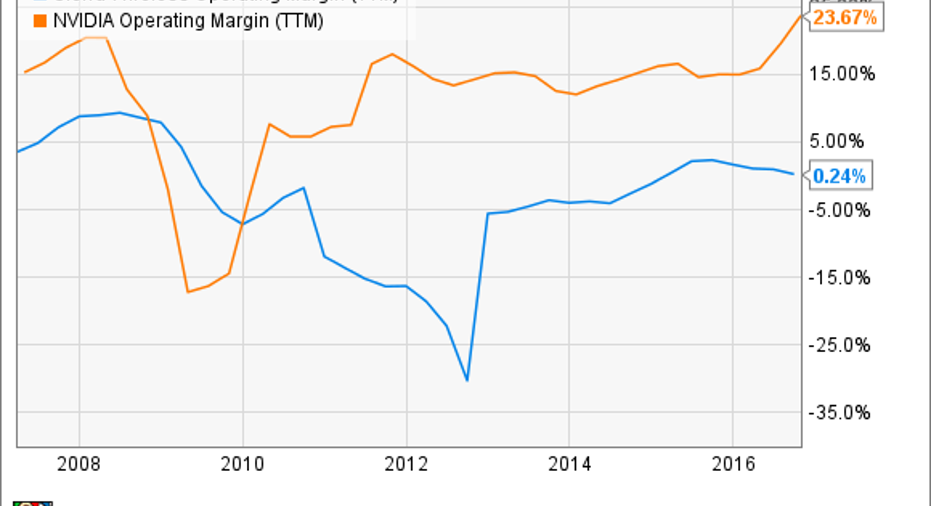 Chipmakers Sierra Wireless (NASDAQ: SWIR) and NVIDIA (NASDAQ: NVDA) both posted massive gains over the past year. Sierra rallied nearly 70% over the past 12 months, while NVIDIA soared about 350%. But should investors expect either stock to continue climbing this year? Let's take a closer look at their core businesses, growth trajectories, and valuations to find out.
What do Sierra Wireless and NVIDIA do?
Sierra Wireless isthe world's top manufacturer of 2G, 3G, and 4G embedded modules and gateways, which integrate into its cloud and connectivity services. Sierra is often called a "pure play" on the growing Internet of Things (IoT) market, since its chips connect IoT objects to the cloud and each other. To broaden its portfolio, Sierra acquired smaller wireless connectivity companies like AnyData, Maingate, Mobiquithings, and GenX Mobile over the past few years.
Image source: Getty Images.
NVIDIA is best known for its discrete GPUs, which control over 70% of the add-in graphics board market, according to research firm JPR. But it also produces high-end GPUs for data centers to assist in machine learning tasks and ARM-based Tegra CPUs for infotainment and navigation systems in connected cars. It's also been developing Tegra-powered onboard "supercomputers" for next-gen autonomous vehicles.
How fast are Sierra and NVIDIA growing?
Sierra Wireless has posted four straight quarters of year-over-year revenue declines due to a slowdown in enterprise spending, macro headwinds in overseas markets, and stiff competition from cheaper Chinese chipmakers. Last quarter, weak revenue growth from its core OEM Solutions business offset decent gainsat its smaller Enterprise Solutions and Cloud & Connectivity businesses.
However, analysts expect Sierra's losing streak to end with 11% sales growth when it reports its fourth quarter earnings on Feb. 9. That boost is expected to help it finish fiscal 2016 with1% sales growth -- which still compares poorly to its 11% growth in2015. But looking further ahead, Sierra's revenue is expected to grow 7% in 2017 on rising demand for connected gadgets and the growing weight of its Enterprise Solutions and Cloud & Connectivity units.
NVIDIA has posted four straight quarters of double-digit annual sales growth. That growth was mainly fueled by robust demand for its gaming GPUs and Tegra CPUs for connected cars. Analysts expect NVIDIA to continue that streak with 50% annual sales growth in its fourth quarter earnings report on Feb. 9.
NVIDIA is expected to finish the year with 37% sales growth, compared to7% growth in the previous year. But looking ahead, NVIDIA's sales growth is expected to drop to 16% next year, partly due to the expiration of a cross-licensing deal with Intel (NASDAQ: INTC), which was generating $66 million in "free" revenue for NVIDIA each quarter.
Profitability and valuations
Sierra's business runs on much lower margins than NVIDIA's, since IoT modules are more commoditized than high-end gaming or data center GPUs. Moreover, Sierra's inorganic growth strategy and climbingSG&A expenses have weighed down its operating margins.
Source:YCharts
When we combine those lower margins with Sierra's revenue slowdown over the past year, we get very rocky earnings growth. Sierra's net earnings fell 45% annually to $0.13 per share last quarter. But for the current quarter, analysts expect its earnings to double annually to $0.16 per share on its top line improvements.
For the full year, Sierra's earnings are expected to drop 28%, but rebound 26% next year. Sierra's trailing P/E is negative due to its uneven profitability, but it trades at 25 times forward earnings -- which suggests that it's fairly valued relative to its growth potential.
NVIDIA's non-GAAP net income rose104% annually to $0.94 per share last quarter, while GAAP earnings grew 89% to $0.83. Analysts expect NVIDIA's strong sales growth and pricing power to boost its non-GAAP earnings by 137% for the fourth quarter and 123% for the full year.
But next year, NVIDIA's earnings are expected to rise just13%, due to higher investments in new chips, rising competition in data centers and cars, and its loss of Intel's licensing revenue. NVIDIA isn't cheap at 78 times trailing earnings and 44 times forward earnings, but those multiples reflect the chipmaker's robust earnings growth.
The verdict: Buy neither (for now)
I personally think that both Sierra and NVIDIA look pricey after their big rallies in 2016. Sierra's rally seems to be have been fueled entirely be expectations for better growth this year, but much of that growth is already priced into its valuation. NVIDIA has been firing on all engines over the past year, but its upcoming slowdown could cause investors to question its long-term growth. Therefore, I'd rather avoid both stocks until they become fundamentally cheaper.
10 stocks we like better than NvidiaWhen investing geniuses David and Tom Gardner have a stock tip, it can pay to listen. After all, the newsletter they have run for over a decade, Motley Fool Stock Advisor, has tripled the market.*
David and Tom just revealed what they believe are the 10 best stocks for investors to buy right now... and Nvidia wasn't one of them! That's right -- they think these 10 stocks are even better buys.
Click here to learn about these picks!
*Stock Advisor returns as of February 6, 2017
Leo Sun has no position in any stocks mentioned. The Motley Fool owns shares of and recommends Nvidia and Sierra Wireless. The Motley Fool recommends Intel. The Motley Fool has a disclosure policy.