Better Buy: Royal Gold, Inc. vs. Barrick Gold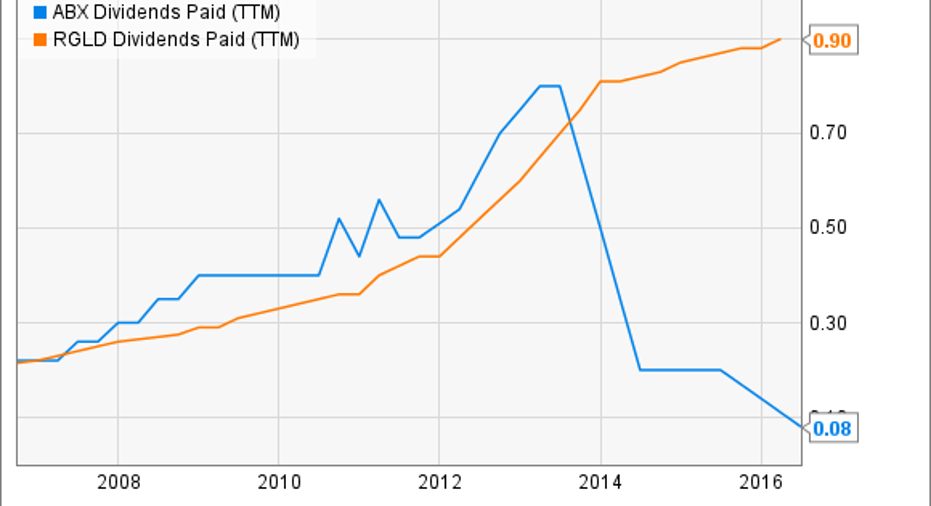 Image source: Barrick Gold.
Gold is a store of wealth, which is one big reason to own the precious metal. However, buying the physical metal can be problematic for various reasons. That's why you might opt to buy a miner, which can be a proxy for owning gold directly. But that's not your only option, so you'll want to ask yourself which is the better buy: Royal Gold, Inc. (NASDAQ: RGLD) vs. Barrick Gold (NYSE: ABX).
Similar but different
Royal Gold and Barrick Gold are similar in many ways. For example, both generate the vast majority of their revenue from selling mined gold. After Royal Gold reworked one of its key contracts, gold is expected to account for roughly 75% of the company's top line, with the rest coming from silver and other metals, like copper. Barrick, meanwhile, produces gold and copper, with gold accounting for roughly 95% of metals revenues through the first half of the year.
In some ways, that suggests that Barrick is a better pure play on gold, but it has been actively working to diversify, with copper being the main focus of that effort. In 2010 Barrick processed around 47 million tons of copper, and in 2015 it processed around 57 million tons. The top-line impact of that will clearly be dictated by the price of copper (and the price of gold), but the direction toward increased copper production is pretty clear.
The really big difference between the two companies is how they get the metals they sell. Barrick is a miner, digging gold out of the ground, processing it, and selling it. Royal Gold is a streaming and royalty company, which is vastly different. Royal Gold essentially provides miners like Barrick up-front cash payments for the right to purchase gold (and other metals) at reduced rates in the future. It then sells those metals in the precious metals markets.
Barrick uses the cash from streaming deals for things like mine construction and expansion and paying down debt. Dealing with a streaming company is often a better financial option than going to the capital markets or a bank. Royal Gold, meanwhile, locks in low prices via these streaming deals. This changes things in a big way -- particularly if you are fond of dividends.
Big moves and little moves
To be fair, shares of Royal Gold and Barrick can both be very volatile. For example, Barrick has rallied along with gold this year and is up around 150% or so. Royal Gold is "only" up a bit under 115%. That said, the pair have been heading lower of late, with Royal Gold off nearly 10% from its year highs and Barrick off about 20%. The takeaways here are that both stocks can move quite a bit in a short period of time and that of the pair, Royal Gold tends to be a bit less volatile.
That makes a lot of sense, since Royal Gold's prices are locked in and very low, while Barrick has to deal with production issues, as well as mine costs, which vary by mine and can change dramatically over time (mines tend to get more expensive to mine as they age). But rising goldprices can also turn a questionable mine into a highly profitable one very quickly. In contrast, Royal Gold is more like a specialty finance company that gets paid in gold and has a pretty clear picture of its costs at all times.
Investors are well aware of that difference, and it has shown up in the stock prices. Rising gold prices have clearly led to a larger advance at Barrick. However, over the past decade, Royal Gold's shares are up 150% or so after the 2016 rally -- compared to Barrick, which is still down 45%. Less downside is a big part of that equation. In other words, if you're looking to hold a gold-related company for a long time, you might be better served with an investment in Royal Gold. If you want to catch a big price move, then Barrick could be the option of choice -- but know that there's a big market timing component to that decision, which is a pretty risky proposition
.
What about that dividend?
There's one final distinction between Royal Gold and Barrick that you'll want to know about, especially if you like dividends. The commodity downturn that started in 2011 not only led to lower prices but also forced Barrick to cut its dividend. Royal Gold, meanwhile, has raised its dividend for 15 consecutive years, including right through the downturn.
ABX Dividends Paid (TTM) data by YCharts.
Royal Gold's low-cost business model, coupled with a generally conservative approach, backs that dividend payment up. While the disbursement isn't huge, it can give you a reason to stick around through the good times and the bad.
In the end, if you are wondering which is the better buy, you might find that the answer will depend more on what you are trying to achieve. If you want to own a gold company for the long term, then you'll probably want to look at Royal Gold. Barrick is the better option if you want to get the most bang for your buck playing the moves of an often volatile commodity.
A secret billion-dollar stock opportunity The world's biggest tech company forgot to show you something, but a few Wall Street analysts and the Fool didn't miss a beat: There's a small company that's powering their brand-new gadgets and the coming revolution in technology. And we think its stock price has nearly unlimited room to run for early in-the-know investors! To be one of them, just click here.
Reuben Brewer has no position in any stocks mentioned. The Motley Fool has no position in any of the stocks mentioned. Try any of our Foolish newsletter services free for 30 days. We Fools may not all hold the same opinions, but we all believe that considering a diverse range of insights makes us better investors. The Motley Fool has a disclosure policy.