Better Buy: Realty Income Corporation vs. Kimco Realty Corporation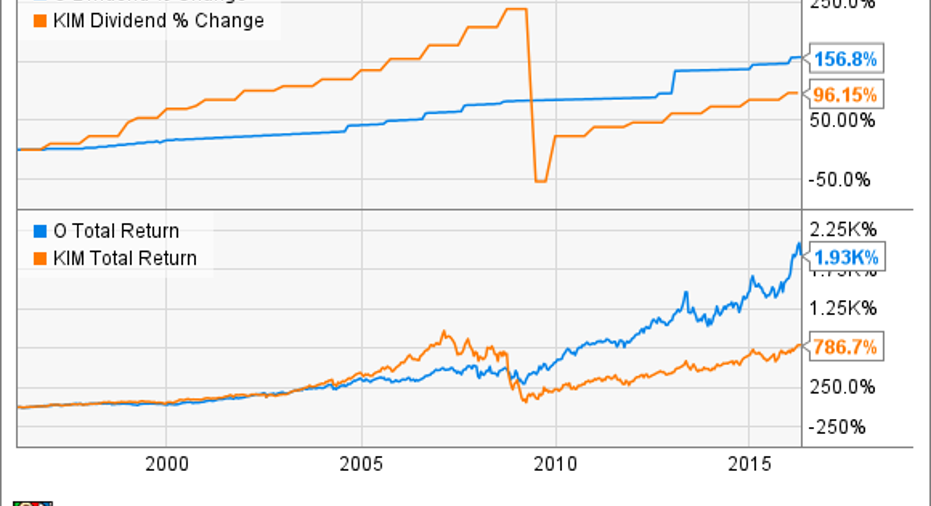 Photo: Mike Mozart.
Real estate investment trusts (REITs) can be an excellent way to get a steady stream of income while still allowing your portfolio the opportunity to grow. And retail REITs can be some of the best long-term investments in the segment. With that in mind, let's take a look at two of the big names in the sector Realty Income Corporation , which invests mainly in freestanding retail properties, and Kimco Realty Corporation , which focuses on open-air shopping centers.
Realty Income: Why freestanding retail?Realty Income focuses on freestanding retail properties, and currently has 4,615 properties in 49 states and Puerto Rico. 79% of the properties are retail, and the company has also diversified into industrial, office, and agricultural properties.
Many investors perceive retail as risky, and it's easy to see why. There are certainly a lot of struggling retailers out there, not to mention the numerous high-profile retail bankruptcies of recent years, like Radio Shack. However, 90% of Realty Income's properties fit into one of three categories:
Non-discretionary: These are businesses that sell items consumers need to buy, and often need to buy in person. Drugstores are a good example of these, as are gas stations.
Service-based: Businesses that provide a service are virtually immune from online competition. Movie theaters and fitness centers are in this category.
Low-price-point: Businesses that specialize in deeply discounted products, or that sell in bulk. Dollar stores and warehouse clubs are good examples.
In fact, Realty Income's top three tenants are Walgreens, FedEx, and Dollar General, which are three examples of businesses that fall into these categories, in order. This approach has resulted in a sky-high 97.8% occupancy rate, which has never dropped below 96% no matter what the economy was doing.
Kimco: Why shopping centers?Kimco specializes in shopping center properties with anchor stores, and currently has 564 properties with 4,800 separate tenants. And Kimco has its own risk-reducing business model.
Specifically, Kimco's shopping centers have strong anchor stores, specifically in off-price retail (think TJ Maxx or Ross Stores). This type of retail has thrived in recent years, as shoppers can find bargains that aren't readily available online. In fact, these two retailers have seen their combined market cap more than quadruple since 2007, while major department store chains (Sears, J.C. Penney, Dillard's, Nordstrom, and Macy's) have seen their collective market caps drop by more than half.
Kimco's anchors represent about 77% of leasable area and are occupied by companies such as the aforementioned TJ Maxx and Ross Stores, as well as other rock-solid tenants like The Home Depot, Bed Bath & Beyond, Wal-Mart, and PetSmart.
Much of the rest of the shopping centers are made up of companies that would fit one of Realty Income's three major categories, such as Starbucks, Panera Bread, CVS, and Dollar Tree, just to name a few. Kimco has a slightly lower, but still impressive, 95.8% occupancy rate, but the small-shop (non-anchor) occupancy has been steadily improving recently.
Source: Kimco investor presentation.
How they growThese two REITs have different growth strategies investors need to know about. In Realty Income's case, the primary growth mechanism is through acquisitions. The company has spent $7.4 billion on acquisitions since 2010 and plans on another $900 million this year. In contrast, the company only plans to dispose of $50 million to $75 million worth of properties. And Realty Income is not in the development business.
On the other hand, Kimco's primary method of growth is development and redeveloping properties. In fact, over the past five years, Kimco has disposed of more properties than it acquired and plans to do the same in 2016. However, it plans to spend $225 million to $325 million per year on development and redevelopment per year through 2020. Redevelopment is a particular focus right now: The company has said it plans to "aggressively" pursue redevelopment opportunities in its own portfolio, as it is an opportunity to create instant value once the projects are complete. As of the end of 2015, Kimco has a $1 billion redevelopment pipeline, which it estimates will create $550 million in value for shareholders.
Balance sheets and financing Both REITs have strong balance sheets, but I have to give the clear advantage to Realty Income in this category. Just 26% of the company's capitalization is in the form of debt or preferred stock, as opposed to 36% for Kimco.
This translates to a fixed-charge coverage of 4.1 for Realty Income and 3.0 for Kimco. Now, with this kind of coverage and 63% equity capitalization, Kimco doesn't have a bad balance sheet by any means -- it's just not quite as solid as Realty Income's.
Dividends and performanceThis is another area where Realty Income stands out. For one thing, Realty Income's 17.8% average annual total return since its IPO is significantly better than Kimco's 13.3%, although both handily beat the S&P 500.
More significant than this is the consistency, both in terms of overall performance and dividends. Kimco has done a good job of increasing its dividend recently, but it doesn't have a perfect history of increases. On the other hand, Realty Income has increased its dividend for 74 consecutive quarters by an average annual rate of 4.7%.
Even though it has produced a dramatically higher return over the long run, Realty Income has done so in a more linear fashion than Kimco has. Simply put, Realty Income has performed well while consistently allowing its shareholders to sleep soundly at night. We all know that past performance doesn't guarantee future results, but history has shown that companies with strong histories tend to continue the trend.
Valuation comparisonNow, just because Realty Income's numbers look better in the previous two categories doesn't necessarily mean that it's the better buy now. There's still the matter of valuation to consider.
The best metric for valuing REITs is funds from operations, or FFO. To make a long story short, FFO is a much more accurate way to express a REIT's profitability than net income or earnings per share.
Many REITs have their own company-specific ways of calculating their ongoing FFO that account for one-time items. There are different names for this, depending on the company -- Realty Income calls this adjusted FFO, or AFFO, while Kimco calls this "recurring" FFO. So, to best reflect each company's ongoing profitability, these are the FFO numbers used below.
| Company | Current Share Price | 2015 FFO | P/FFO -- TTM | 2016 Guidance | P/FFO -- Forward |
| --- | --- | --- | --- | --- | --- |
| Realty Income | $59.09 | $2.74 | 21.6 | $2.85-$2.90 | 20.6 |
| Kimco Realty | $28.61 | $1.46 | 19.6 | $1.48-$1.52 | 19.1 |
Note: Forward P/FFO based on midpoint of guidance range.
So while Kimco is indeed the cheaper of the two, it's not by much.
Is one a better buy now?Don't get me wrong. I like Kimco as a company, and I especially like its 2020 improvement plan it outlines in its most recent investor presentation. However, Realty Income is simply the better investment at this point. You get a stronger balance sheet, better dividend history, and (in my opinion) a safer form of retail property. Realty Income's property types are less vulnerable to online competitors than, say, TJ Maxx or Bed Bath & Beyond.
Just to reiterate -- you won't go wrong with either company. Both have great business models, and I think both companies will continue to deliver market-beating results. I just have a higher level of confidence in Realty Income.
The article Better Buy: Realty Income Corporation vs. Kimco Realty Corporation originally appeared on Fool.com.
Matthew Frankel owns shares of FedEx and Realty Income. The Motley Fool owns shares of and recommends FedEx, Panera Bread, and Starbucks. The Motley Fool recommends Bed Bath & Beyond, CVS Health, Home Depot, and Nordstrom. Try any of our Foolish newsletter services free for 30 days. We Fools may not all hold the same opinions, but we all believe that considering a diverse range of insights makes us better investors. The Motley Fool has a disclosure policy.
Copyright 1995 - 2016 The Motley Fool, LLC. All rights reserved. The Motley Fool has a disclosure policy.