Better Buy: Procter & Gamble Company vs. Coca-Cola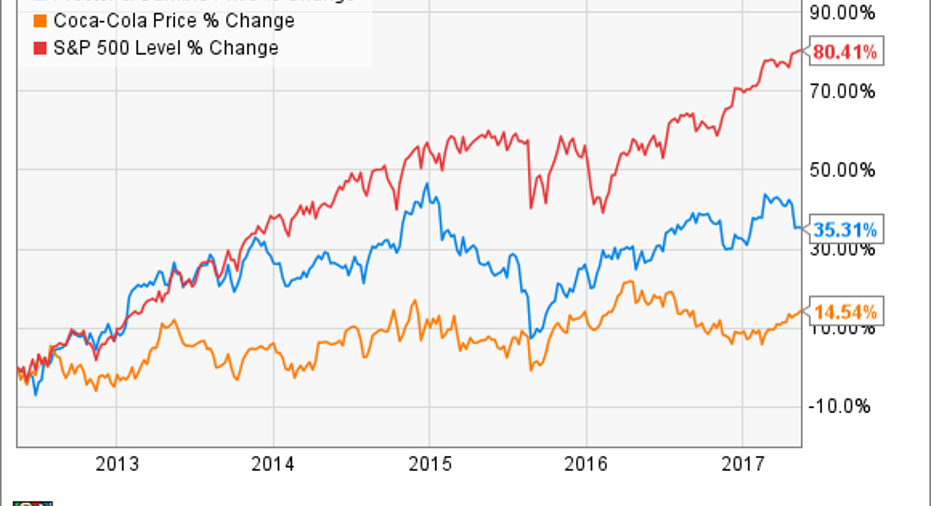 Procter & Gamble(NYSE: PG) andCoca-Cola(NYSE: KO) are two of the most revered companies in the U.S. Each is more than a century old, and they are the global leaders in their respective categories -- P&G in household products, and Coke in beverages.
Each has a portfolio of brands that are known around the world. Among P&G's more prominent names are Gillette, Tide, Crest, and Pampers, while Coca-Cola has Sprite, Fanta, and Minute Maid in addition to its namesake family of Coke drinks.
Image source: Procter & Gamble.
As stocks, the two have several similarities also. Both are Dividend Aristocrats and solid dividend payers, and the two stocks behave as defensive consumer staples as investors tend to seek shelter in them during weak markets. But they have both underperformed the recent bull market, as the chart below shows.
As you can see, both stocks have significantly underperformed theS&P 500over the past five years. Still, market conditions can change sooner than you think. Let's take a closer look at each these stocks to see which one is the better buy today.
The whole drugstore and then some
Procter & Gamble's products may be in more homes than any other company in the world. The company has built a global empire by establishing leading positions across a wide range of household goods, including paper products, diapers, detergent, razors, toothpaste, deodorant, and dish soap.
P&G has 21 billion-dollar brands and another 11 with more than $500 million in annual sales. There's no doubting the strength of the company's brands, but recent growth has been more wanting. The company has been in the process of selling off non-core brands such as Cover Girl and 40 other beauty brands to Cotyand Duracell to Berkshire Hathawayin an attempt to focus on core assets. However, that strategy has delivered mixed results.
In its most recent quarter, organic sales increased just 1%, though cost-cutting led to currency-neutral core EPS growth of 15%. Organic sales in the company's grooming segment fell 6% as the company continues to face pressure from subscription services like Dollar Shave Club, now owned by rivalUnilever(NYSE: UL), and Harry's. Still, for the full year the company sees just mid-single-digit growth in core EPS. While P&G has been focused on cost-cutting, it seems to be losing to rival Unilever, which has been more focused on growth and acquisitions, even earning takeover interest fromKraft Heinz Company.
Image source: Coca-Cola.
Taste the feeling
Coke's recent results bear a strong resemblance to Procter & Gamble's, as sales growth has been difficult to come by but earnings have been boosted by cost-cutting and share buybacks. In the company's most recent quarter, organic revenues were flat, though that included two fewer days in the quarter and the loss of the Easter holiday. Adjusted earnings per share fell from $0.45 to $0.43, and management expects adjusted EPS to fall 1-3% for the full year.
Coke is currently undergoing a transformation plan, which involves a number of initiatives that should determine the company's growth over the next few years.Among those initiatives are uniting its trademark Coke brands as part of its "One Brand" marketing campaign, designed to extend the halo of Coca-Cola to its other trademarks. That also includes using smaller bottles, which have done well, for portion control. Coke will also focus on growth in emerging markets more and refranchise bottling operations.
In recent years, Coca-Cola has made efforts to diversify away from its core business, making investments in Keurig Green Mountain, which was later bought out, andMonster Beverage. The company also continues to acquire smaller brands such Ades, a Latin American soy-based beverage brand.
Still, Coca-Cola has generally been unable to overcome the headwinds in the industry as American and others turn away from sugary drinks and diet sodas in favor of water, coffee, and other beverages outside of Coke's brand family.
Who's the better buy?
Coke and Procter & Gamble face similar situations today. Many investors will look to these stocks for their dividends. Coca-Cola has a slightly better dividend yield at 3.4% against P&G's 3.2% yield. Coke has also offered bigger dividend raises in recent years, so it's likely to remain the better dividend payer, share appreciation notwithstanding. Each company has a similar payout ratio in the 75% range.
While I believe both sectors, beverages and household products, offer better picks than these two, of the two stocks P&G seems to be the better choice. The company has delivered better earnings growth recently, and is not facing the same challenges in consumer tastes that soda is. If Procter & Gamble can overcome its challenges in grooming, the stock should be back on track.
10 stocks we like better than Coca-ColaWhen investing geniuses David and Tom Gardner have a stock tip, it can pay to listen. After all, the newsletter they have run for over a decade, Motley Fool Stock Advisor, has tripled the market.*
David and Tom just revealed what they believe are the 10 best stocks for investors to buy right now... and Coca-Cola wasn't one of them! That's right -- they think these 10 stocks are even better buys.
Click here to learn about these picks!
*Stock Advisor returns as of May 1, 2017
Jeremy Bowman has no position in any stocks mentioned. The Motley Fool owns shares of and recommends Berkshire Hathaway (B shares) and Monster Beverage. The Motley Fool recommends Unilever. The Motley Fool has a disclosure policy.