Better Buy: Polaris Industries Inc. vs. Harley-Davidson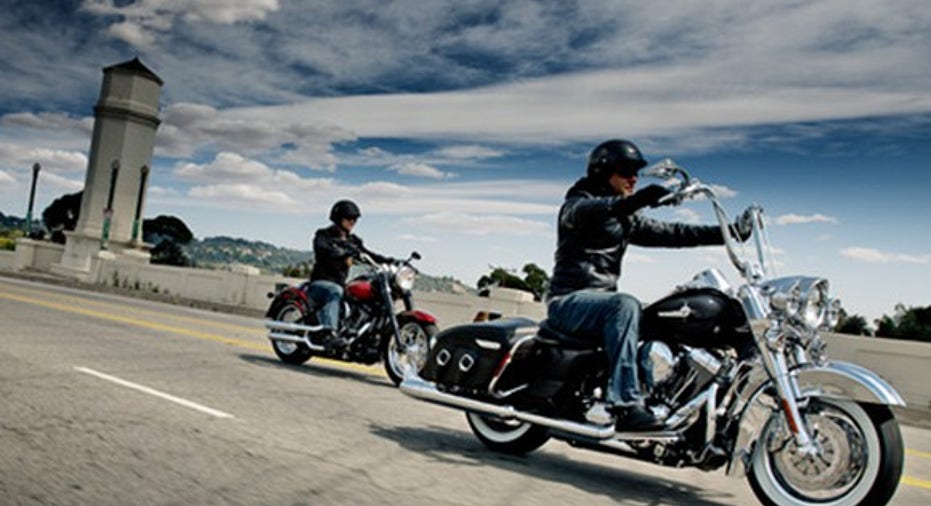 One is the hulking industry behemoth, the other the upstart (despite having been in the motorcycle game for nearly two decades). But size alone doesn't give Harley-Davidson (NYSE: HOG) the automatic edge over Polaris Industries (NYSE: PII), and the two actually have more differences than similarities.
Yet it's fitting that Harley-Davidson and the owner of Indian Motorcycle -- two century-old industry nameplates -- are still going head to head, so let's take a look at the two leading names in the motorcycle business and see which of the iconic nameplates is the better buy.
Image source: Getty Images.
The differences
Where Harley-Davidson is a global motorcycle maker through and through, deriving all of its revenue from motorcycle sales (as well as parts, accessories, and financing purchases), Polaris has divided attentions. Because it has less than two decades in motorcycling and only now is it really turning its attention to the sport,motorcycles only make up a very small part of its revenue, around 15% of the total $4.5 billion it reported last year. And that's not just Indian motorcycles, either. As noted, last year it also had the Victory brand as well as its three-wheeled Slingshot, which is also classified as a motorcycle.
Where Polaris makes most of its money and profits is in off-road vehicles, like its leading RZR and Ranger ATVs. Those and snowmobiles represented some three-quarters of Polaris' annual sales.
Growth prospects
The motorcycle industry is in a slump. Both Harley and Polaris recently reported earnings, and both exhibited significantly lower sales. Harley said U.S. sales were down 5.7% for the period while worldwide sales were off 4.2%. Polaris reported a 35% drop in segment sales, though the Indian nameplate itself recorded 20% growth in retail sales. The disparity in the segment numbers was the result of ending the Victory brand and a recall of the Slingshot for mechanical problems, plus tough comparables from a year ago, when it released a high-end model of the three-wheeler.
Image source: Getty Images.
There's no sign the industry slump is abating. A dicey economic picture and changing industry demographics have led to both manufacturers needing to change just who they market their bikes toward. The middle-aged white male that has long been the core buyer of heavy bikes is receding, while younger, more urban, and female riders are entering the sport. Both Harley and Polaris now have bikes that are geared to these new riders, and Harley is committing to introducing 100 new models over the next 10 years, presumably many of which will also target this segment.
Valuation
Both big-bike makers carry multiples that are lower than the market, though Harley is more discounted than Polaris. That could reflect the fact that the latter has a more diversified revenue stream, so it is not so beholden to the slumping motorcycle industry.
Unfortunately for Polaris, the off-road vehicle market is also in a slump. ATVs and utility vehicles are popular in oil- and agriculture-heavy states, which are suffering from the collapse in commodity prices. Even as they've largely stabilized over the past year, companies in these areas aren't hiring enough people to justify the need for more vehicles.
Moreover, Polaris has been plagued by an unrelenting series of recalls of vehicles across almost all of its platforms, but primarily of its ORVs, and that has damaged sales and confidence in the brand. All of that suggests Polaris is carrying an unwarranted premium to Harley.
Image source: Harley-Davidson.
The verdict
Harley-Davidson is in the midst of a protracted slump. U.S. sales have fallen in nine out of the last 10 quarters, and the one quarter it did notch growth it managed to sell just 33 more bikes than the year before, hardly a robust increase.
Polaris, on the other hand, continues to see double-digit retail sales growth of the Indian Motorcycle brand, something that hasn't changed since the powersports vehicle maker first resurrected the nameplate. That it now is putting all of its attention on Indian and allowing Victory to die speaks to further growth opportunities ahead.
However, this is not a matchup of Harley-Davidson and Indian, but rather Harley and Polaris, so we need to take into account the totality of Polaris' business and the valuation the market is assigning both, and that makes Harley-Davidson the better buy.
The motorcycle industry might be in a slump, but Harley is a behemoth owning half the market, and Polaris, while second, is distant with single-digit share numbers. Harley can afford to ride out the slump and wait for it to turn. Polaris Industries is also suffering from multiple recalls,especially in its primary ORV market. That it also carries a premium despite its declining fortunes suggests investors ought to be wary of buying in just yet.
10 stocks we like better than Harley-DavidsonWhen investing geniuses David and Tom Gardner have a stock tip, it can pay to listen. After all, the newsletter they have run for over a decade, Motley Fool Stock Advisor, has tripled the market.*
David and Tom just revealed what they believe are the 10 best stocks for investors to buy right now... and Harley-Davidson wasn't one of them! That's right -- they think these 10 stocks are even better buys.
Click here to learn about these picks!
*Stock Advisor returns as of April 3, 2017
Rich Duprey has no position in any stocks mentioned. The Motley Fool owns shares of and recommends Polaris Industries. The Motley Fool has a disclosure policy.