Better Buy: Phillips 66 vs. HollyFrontier Corp.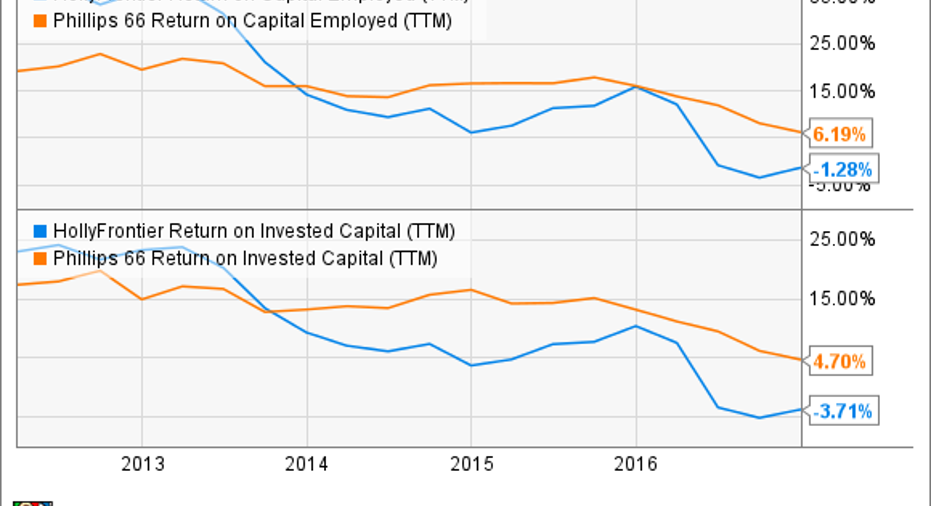 After holding up relatively well during much of the oil downturn, shares of oil refinersHollyFrontier Corp.(NYSE: HFC) andPhillips 66(NYSE: PSX) have taken a beating recently, with rising oil prices squeezing their spreads and cutting margins. Since crude prices bottomed out in mid-February 2016, these two stocks are far down from their highs. As of this writing, Phillips 66 is down 14% from its oil-bottom peak while HollyFrontier has fallen nearly 31%.
Yet even with their profits down in the near term, these remain two very high-quality businesses, with a number of competitive advantages that investors should like. But which is the better buy?
Image source: Getty Images.
There's a case to be made for both, and frankly, neither is a bad deal. But in my opinion, Phillips 66 is the better long-term investment. Let's take a closer look at why.
Great capital allocators make it a hard choice
Oil refining is a relatively stable business, with demand for refined products like motor oil, gasoline, and jet fuel more or less consistent, and the price of these products is at least partly tied to the global Brent crude oil benchmark. But inventories of refined products have been very high for more than a year, and this stockpile is putting pressure on prices (and profits).
But HollyFrontier and Phillips 66 have strong managements running the show and allocating capital. As my colleague Tyler Crowe described recently, HollyFrontier's management has a solid track record of investing very opportunistically, including a recent major buy that will expand a high-profit part of its refining business.
Phillips 66 management also has done well in investing capital to grow the business and to improve operations. But while the recent confluence of rising oil prices and falling refined products prices has impacted both companies, Phillips 66 has a better track record of turning capital spending into profits.
HFC Return on Capital Employed (TTM) data by YCharts.
It's important to point out that HollyFrontier's recent acquisition isn't reflected in the results above. But even with that in the company's future, my money is on Phillips 66 continuing to get better returns on invested capital going forward.
Phillips 66's more diverse business means better growth prospects
HollyFrontier is a cheaper stock by several valuation metrics, with a higher dividend yield. Based on this, it's easy to argue that it is the better buy. And if these were two identical businesses, I would say that's a fair assessment. But while HollyFrontier is almost entirely a manufacturer of refined products (its wholly owned midstream segment generated less than 4% of revenue in 2016).
In all fairness, Holly Energy Partners, L.P.(NYSE: HEP), the master limited partnership HollyFrontier controls, is a midstream-focused operation and HollyFrontier could choose to invest in growing this business. But in terms of income-generating capacity, Holly Energy Partners only paid HollyFrontier $105 million in cash distributions in 2016. That's less than 20% of the company's adjusted EBITDA last year.Phillips 66, in comparison, saw its midstream and chemicals segments generate $761 million in earnings, nearly half of the company's consolidated net income of $1.6 billion in 2016.
In other words, Phillips 66 already has a big head start on building a more diversified growth business than HollyFrontier.
This is a big part of what makes it, in my estimation, a better long-term investment. But it's not just the diversified stream of incomes across different parts of the oil and gas value chain -- it's also the flexibility this gives to the company when it comes to deploying capital for growth.
The reality is, refining investments can be low-r eturn, and there's limited opportunity to expand this business and net incremental profits -- as the current refined products oversupply demonstrates quite well. And this will make it harder and harder for HollyFrontier to find opportunities to generate outsize profits like the recent acquisition.
Phillips 66, on the other hand, has multiple high-demand growth opportunities, across pipeline/processing/storage, export, and petrochemical manufacturing, from which it can pick and choose. These segments are all expanding in North America right now -- certainly faster than refining demand -- and Phillips 66, with its strong balance sheet and excellent capital allocators in the executive suite, is poised to continue funding growth.
You probably can't make a bad choice here, but...
My preference is Phillips 66 because of the diverse nature of its business, which should give it better long-term growth prospects. This should also support a continuation of its dividend growth since going public. HollyFrontier, on the other hand, isn't as well positioned as its bigger and more diversified peer.
Both stocks are fairly beaten-down right now, and both companies have great leadership and are excellent at what they do. But if you're looking for an investment with the best prospects looking out years ahead, Phillips 66 is the better buy.
10 stocks we like better than HollyFrontierWhen investing geniuses David and Tom Gardner have a stock tip, it can pay to listen. After all, the newsletter they have run for over a decade, Motley Fool Stock Advisor, has tripled the market.*
David and Tom just revealed what they believe are the 10 best stocks for investors to buy right now... and HollyFrontier wasn't one of them! That's right -- they think these 10 stocks are even better buys.
Click here to learn about these picks!
*Stock Advisor returns as of February 6, 2017
Jason Hall owns shares of Phillips 66. The Motley Fool has no position in any of the stocks mentioned. The Motley Fool has a disclosure policy.