Better Buy: Philip Morris International, Inc. vs. British American Tobacco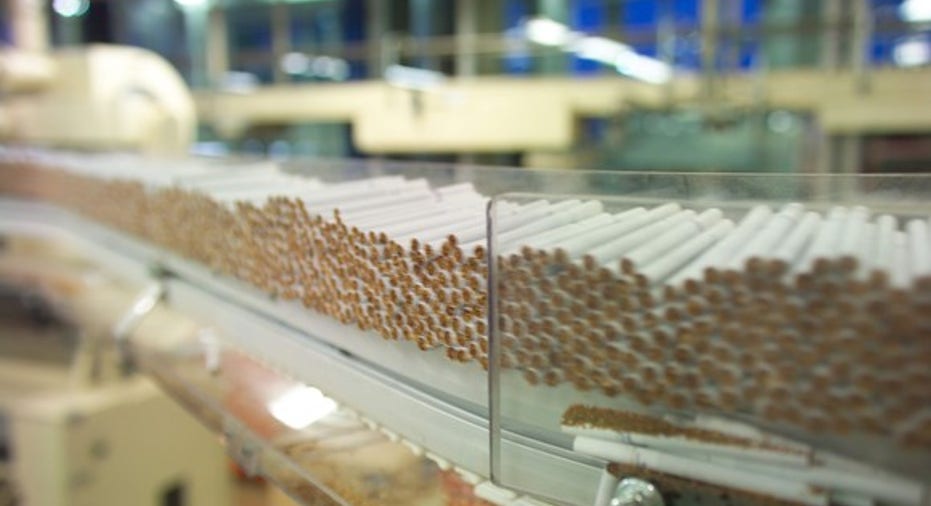 Image source: Philip Morris International.
Tobacco is a global industry, and many companies fight for market share in key regions around the world. Philip Morris International has less than a decade under its belt as an independent company, but before its spinoff, it had a long history of building up a lucrative customer base with its popular Marlboro brand. U.S. investors aren't as familiar with British American Tobacco , but the British company is also a major player in tobacco. With each having similar opportunities and facing similar challenges, which is the better buy? Let's look at Philip Morris International and British American Tobacco using a number of metrics to compare the two.
Valuation and stock performance
Both Philip Morris and British American have delivered strong returns recently, but Philip Morris has done a lot better. Since June 2016, British American has given shareholders just an 11% total return, but Philip Morris has more than doubled that gain with a 28% total return.
It shouldn't come as a huge surprise to see that after enjoying a larger gain than its rival, Philip Morris looks a bit more expensive on a valuation basis than British American. Using a simple price-to-earnings metric, British American trades at less than 18 times trailing earnings, compared to more than 23 times earnings for Philip Morris. Looking on a future basis doesn't change the equation much, because Philip Morris still costs more than 20 times forward earnings, which is much more than the 16 times forward earnings projections that British American's stock price implies. Overall, from a valuation basis, some fear that Philip Morris has already seen its appreciation, making British American arguably a better bet.
Dividends
Both British American Tobacco and Philip Morris International have lucrative dividends, but Philip Morris just barely ekes out a win over its rival. Right now, Philip Morris International has a dividend yield of just over 4%. That's a bit better than the 3.75% yield that British American has.
One issue, though, is that British American isn't straining to the same extent as Philip Morris to maintain its dividend yield. Currently, British American pays out about two-thirds of its earnings in the form of dividends. That compares to more than 95% of earnings for Philip Morris, reflecting the difficulties that the company has dealt with from the strong U.S. dollar and other factors.
Moreover, both British American and Philip Morris have boosted their dividends significantly. British American has come close to tripling its total annual dividend since 2007, at least in terms of its home currency, the British pound. Consistent increases included a 4% rise in the most recent 12 months compared to the previous year. Meanwhile, Philip Morris has more than doubled its dividend over a similar timeframe. Overall, British American ekes out a slight win with its consistency, even though Philip Morris has a higher yield right now.
Growth and fundamentals
Both Philip Morris and British American have struggled in recent years, as challenges in the international tobacco arena have caused revenue declines. Nevertheless, both companies have legitimate growth prospects, and the benefit that British American has gotten from the fallout of the purchase of U.S.-based Lorillard by Reynolds American could prove to be extremely valuable.
Philip Morris International has recently dealt with falling revenue, sliding earnings, and a decrease in cigarette shipment volumes. The company hasn't found much respite anywhere, as its major geographical segments all reported weakness in their respective divisional results. One sign of a potential turnaround is that the U.S. dollar has finally stopped soaring, and so the foreign currency that Philip Morris brings in could be worth more in dollar terms, boosting sales and profits. Until that happens, though, Philip Morris has to hope that moves like its iQOS heat-not-burn tobacco product takes off after encouraging trials in key cities.
For British American, revenue trends have been similarly sluggish, with sales in British pound terms down about 15% since 2011. However, the company has done a better job at boosting profits, and British American posted a strong year on its bottom line for 2015. A big part of that comes from the company's 42% ownership of Reynolds American, which gives British American a key partnership in the U.S. market to help boost overall profits. Some believe that British American and Reynolds should fully merge, while others see different acquisition targets for the U.K.-based company. Although some fear the potential impact of a U.K. exit from the European Union, the stock's performance has been sturdy, especially for those conservative investors looking for a solid name.
Currently, using these metrics, British American looks like the better buy between these two stocks. Philip Morris is working to get back into shape, but that could take some time to fully implement.
The article Better Buy: Philip Morris International, Inc. vs. British American Tobacco originally appeared on Fool.com.
Dan Caplinger has no position in any stocks mentioned. The Motley Fool has no position in any of the stocks mentioned. Try any of our Foolish newsletter services free for 30 days. We Fools may not all hold the same opinions, but we all believe that considering a diverse range of insights makes us better investors. The Motley Fool has a disclosure policy.
Copyright 1995 - 2016 The Motley Fool, LLC. All rights reserved. The Motley Fool has a disclosure policy.