Better Buy: NVIDIA Corporation vs. Texas Instruments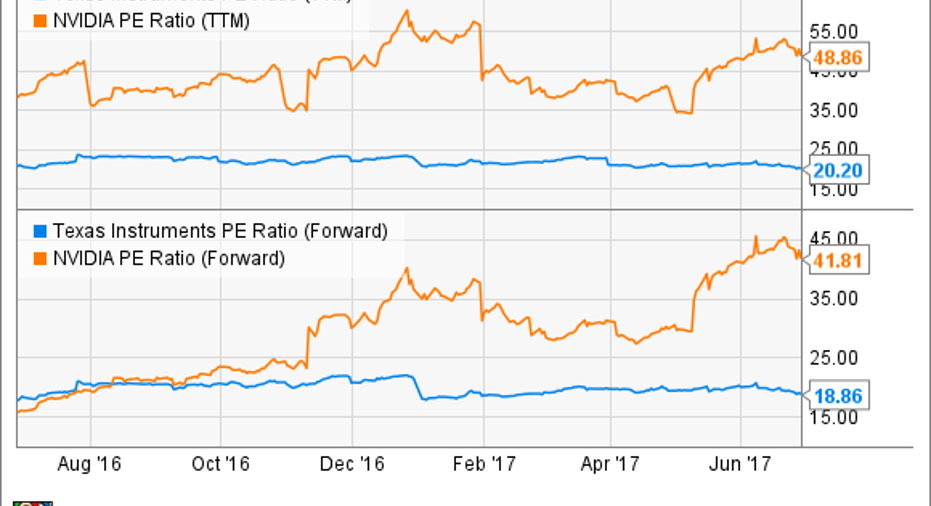 This comparison between NVIDIA Corporation (NASDAQ: NVDA) and Texas Instruments Incorporated (NASDAQ: TXN) provides an interesting parallel between an old guard in the microprocessor industry and the young upstart riding the emerging paradigm of artificial intelligence (AI).
They also provide investors with two very different opportunities in the semiconductor industry. While Texas Instruments revenue comes from analog and embedded processing chips found in consumer electronics, mobile devices, and smart cars, NVIDIA serves another segment of the market with its high-end graphics processors, which are used in gaming computers, and the growing trends of AI systems and self-driving cars.
In the final analysis, what investors really want to know is which company is the better buy now?
Current results and growth prospects
Texas Instruments is the elder statesman and a leader in the analog and embedded processing chip markets. Analog chips are used to convert things like sound waves into digital signals, while embedded chips are processors used in a wide variety of consumer electronics and portable devices. The company has continued to see strong growth in the automotive and industrial sectors and believes this will continue to feed future growth and produce better margins over time.
One of the most notable things about the company is its commitment to return essentially all of its free cash flow to shareholders in the form of dividends and stock repurchases.
NVIDIA has seen significant growth in its core gaming market, and its products are still considered the gold standard by hard-core gamers, but it has continued to develop additional opportunities for its graphics processing units (GPUs). The company has been at the forefront of autonomous driving and has a significant number of automotive partnerships in the space. Also, the emerging technology of AI required the same number-crunching ability as is needed to process images, so GPUs became the go-to chip for training these systems. NVIDIA has begun to package stacks of these chips with the software and algorithms necessary to train AI so companies don't have to start from scratch.
In its most recent quarter, NVIDIA grew revenue to $1.94 billion, up 48% over the same period in 2016. Net income increased to $507 million, up 144% over the prior-year quarter. This was driven by significant increases in its core gaming market, which grew 49% over the prior-year quarter, and in AI-centric datacenter revenue, which increased 186% year over year.
During the same period, Texas Instruments revenue topped $3.4 billion, an increase of 13% year over year. Net income for the period grew to $997 million, an increase of 40% over the prior-year quarter. The increase in earnings was the result of expansion in both gross and operating profit margins.
Another less significant factor was a change in how Texas Instruments reports it pension costs, which were previously included in operating expenses and cost of revenue. These have been moved to the Other Income section of the income statement, so it no longer affects operating profits. The amount is small, only amounting to about $15 million in the quarter, but it's a noteworthy change to its reporting.
Progress in the field of artificial intelligence has been driving NVIDIA's in its data center and auto segments, as companies are increasingly adopting NVIDIA's GPUs for AI applications. Barring a new or better solution, this trend could continue for some time. This has produced better current results for NVIDIA and provides better growth prospects going forward.
Valuation and stock performance
While both companies have beat the broader market over the last year, NVIDIA's stock price has jumped 218%, compared to Texas Instruments' much more maudlin gain of 27%.
As a result of NVIDIA's gargantuan returns, investors have much higher expectations for future results. Based on its earnings over the last four quarters, NVIDIA currently trades at nearly 49 times trailing earnings, while Texas Instruments has an earnings multiple of 20, making it a much better value.
Looking forward provides similar results. NVIDIA's forward multiple is 42, which is still significantly higher than Texas Instruments' forward valuation of 19.
NVIDIA has exhibited stunningly superior stock performance, but Texas Instruments is the clear winner regarding valuation.
Dividends and share repurchases
NVIDIA has been investing in future growth opportunities, and dividend payouts have reflected those priorities. Texas Instruments, as previously stated, is committed to returning essentially all of its free cash flow to investors, and its yield and share count reflect its reality. Texas Instruments' payout has a yield of 2.45%. By comparison, NVIDIA's offering is a paltry 0.37%.
Texas Instruments has reduced its share count by nearly 11% over the last five years. During the same period, NVIDIA's total shares have actually increased by nearly 4% as the result of share-based compensation.
In both dividends and share repurchases, Texas Instruments is the more investor-friendly of the two companies, returning far more capital to shareholders.
Final tally
By any impartial measure, there isn't really any way to declare a winner. The truth is, these two very different companies will appeal to two equally different investors. Those looking for stability and solid shareholder returns will likely invest in Texas Instruments. Those with a higher tolerance for volatility in the pursuit of more explosive growth will likely be drawn to NVIDIA.
If I was to buy either company myself, I would be more inclined to buy NVIDIA because of the enormous opportunity in the artificial intelligence and self-driving car markets. Still, it is early days for these markets, and things could change quickly.
10 stocks we like better than Texas InstrumentsWhen investing geniuses David and Tom Gardner have a stock tip, it can pay to listen. After all, the newsletter they have run for over a decade, Motley Fool Stock Advisor, has tripled the market.*
David and Tom just revealed what they believe are the 10 best stocks for investors to buy right now...and Texas Instruments wasn't one of them! That's right -- they think these 10 stocks are even better buys.
Click here to learn about these picks!
*Stock Advisor returns as of June 5, 2017.
Danny Vena has no position in any stocks mentioned. The Motley Fool owns shares of and recommends Nvidia. The Motley Fool has a disclosure policy.