Better Buy: Netflix, Inc. vs HBO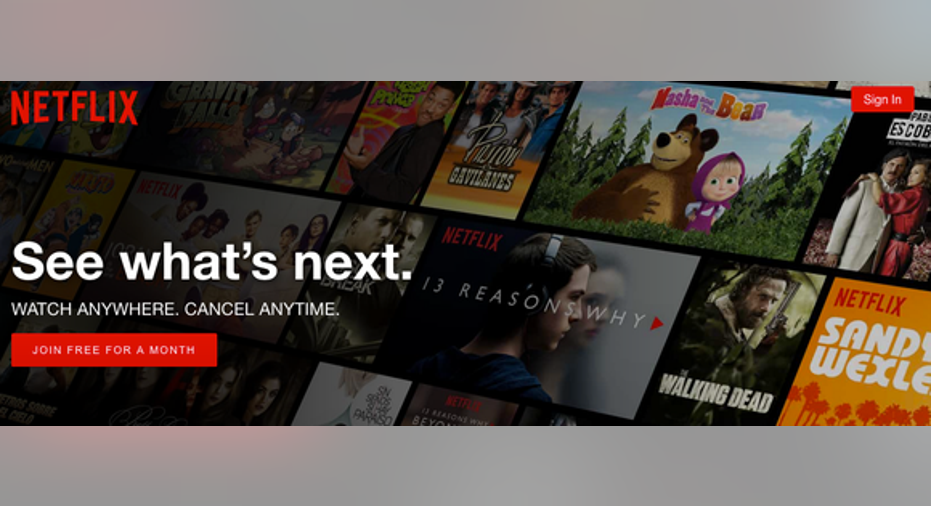 Before getting started, let's get one thing clear: we can't really have a stock face-off between Netflix (NASDAQ: NFLX) and HBO. HBO is a subsidiary of Time Warner(NYSE: TWX), along with a host of other content producers: TBS, Warner Brothers, and CNN, to name a few.
But make no mistake about it: HBO is a crucial part of Time Warner's empire. And as the world of content delivery changes before our eyes, HBO could be one of the most important pieces of Time Warner's future.
Image source: Netflix
So which is the better stock to buy now? We can't answer that question with 100% certainty, but we can approach it from three different angles, hoping to get a better idea of what we're buying.
Here's how the two stack up.
Sustainable competitive advantages
If you are a long-term, buy-to-hold investor, you should be spending about 80% of your time studying the sustainable competitive advantage -- or "moat" -- of your investments, and 20% on everything else. I only wish I could go back to the beginning of my investing career and do that.
That's because the magic of compounding returns is achieved by getting customers to come back, day after day and week after week, while holding the competition at arm's length for decades. At its core, a "moat" is that special something that separates a company from its competition.
Both Netflix and Time Warner benefit from two huge moats: the strength of their brands, expensive original content, and growing user bases. While Netflix got its start by mailing DVDs, the company has successfully -- with a few bumps along the way -- made the transition to streaming. In fact, a 2016 study found that Netflixwas one of the top three most loved brands in the U.S., U.K., and Brazil.
The company also has 94 million subscribers worldwide -- a number that only continues to grow. Netflix hooks people in with original content like Orange is the New Black or House of Cards, keeps them there by keeping prices as low as $8 per month, and benefits from the fact that for most people, paying the Netflix bill is a set-it-and-forget-it routine.
Time Warner also benefits from strong content names: Game of Thrones, True Detective, and Silicon Valley, to name a few. HBO also has a strong roster of subscribers, topping 134 million according to Statista.
But here's the problem: HBO accounts for just 20% of thecompany's revenue. Turner Broadcasting -- the rest of the cable channels -- and Warner Brothers account for the rest. While there's no doubt that these are strong brands, the move toward cord-cutting could offer a serious threat to 80% of Time Warner's revenues.
Therefore, my vote goes to Netflix.
Winner = Netflix
Financial fortitude
Often, we love seeing cash returned to us or invested in growth opportunities. Right now, Time Warner offers a dividend, while Netflix is aggressively reinvesting in its original content and strengthening its international brand.
But it's also important for companies to keep a sizable cash stash on hand. That's because every company, at one point or another, will encounter difficult economic times. Those with cash have options -- buying back shares on the cheap, making acquisitions of distressed competitors, or outspending rivals to gain market share. Those heavily in debt don't.
Keeping in mind that Time Warner is valued at roughly 18% more than Netflix, here's how they stack up.
| Company | Cash | Debt | Net Income | Free Cash Flow |
| --- | --- | --- | --- | --- |
| Netflix | $1.3 billion | $3.4 billion | $336 million | ($1.7 billion) |
| Time Warner | $4.9 billion | $22.4 billion | $3.9 billion | $4.3 billion |
Data source: SEC filings, Yahoo! Finance.
To be honest, neither one of these companies is in a particularly enviable position. Netflix is losing cash flow hand over fist thanks to its growth initiatives, while Time Warner has a ton of debt on hand relative to its cash position.
They're both in bad shape, but equally bad shape, making this a tie.
Winner = Tie
Valuation
Finally, we have valuation. While we don't have a one-size-fits-all metric to compare any two companies, we can use multiple data points to make an informed analysis.
| Company | P/E | P/FCF | PEG Ratio | Dividend Yield | FCF Payout |
| --- | --- | --- | --- | --- | --- |
| Netflix | 200 | N/A | 2.3 | - | - |
| Time Warner | 17 | 18 | 1.5 | 1.6% | 30% |
Data source: SEC filings, Yahoo! Finance. N/A=Not Applicable due to negative free cash flow.
On every single metric, Time Warner comes out ahead. Not only is it cheaper based on most standard metrics, but it offers a small but sustainable dividend.
Winner = Time Warner
Our winner is...
So there you have it...a draw. It should be noted that AT&T (NYSE: T) is in the process of trying to acquire Time Warner for $85.4 billion, about a 10% premium to today's price. That, plus the company's dividend, makes it a somewhat better bet for less risk-averse investors.
If, however, you can stomach sky-high valuations and a volatile stock, there's a lot to like about Netflix's subscriber growth, international moves, and surprisingly sticky model.
10 stocks we like better than NetflixWhen investing geniuses David and Tom Gardner have a stock tip, it can pay to listen. After all, the newsletter they have run for over a decade, Motley Fool Stock Advisor, has tripled the market.*
David and Tom just revealed what they believe are the 10 best stocks for investors to buy right now... and Netflix wasn't one of them! That's right -- they think these 10 stocks are even better buys.
Click here to learn about these picks!
*Stock Advisor returns as of April 3, 2017
Brian Stoffel owns shares of Netflix. The Motley Fool owns shares of and recommends Netflix. The Motley Fool recommends Time Warner. The Motley Fool has a disclosure policy.