Better Buy: Myriad Genetics vs. Exact Sciences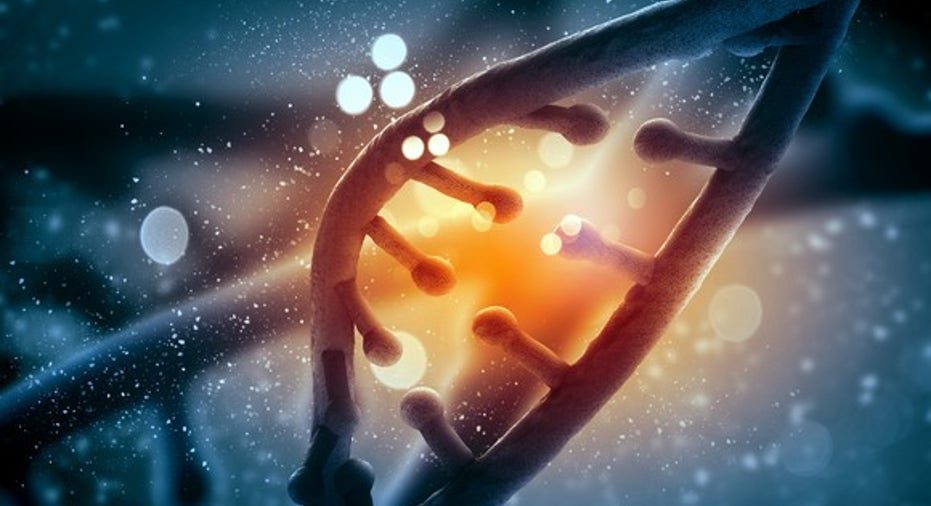 Human understanding of genetics is changing the world, and two companies in the forefront of that momentous change are Myriad Genetics (NASDAQ: MYGN) and Exact Sciences (NASDAQ: EXAS). However, the molecular diagnostics' companies stocks have taken quite different trajectories over the past 12 months. Myriad's shares are down over 50%, while Exact Sciences' are up more than 70%.
So which is now the better buy for long-term investors?
Image source: Getty Images
The case for Myriad Genetics
Let's first address why Myriad's stock cratered in 2016. The main problem was that sales are slipping for the company's hereditary cancer testing business. That's especially troubling, since it accounts for more than 75% of Myriad's total revenue.
Largely because of this weakness, Myriad Genetics provided fiscal year 2017 guidance that was quite disappointing. The company expects revenue to basically be at fiscal 2016 levels. Earnings are projected to drop significantly.
So what's the case for investing in Myriad Genetics? First, the company's hereditary cancer testing business could be turning a corner. It signedpreferred provider agreements with both the U.S. Oncology Network and the Integrated Oncology Network in October. The two organizations combined represent roughly 70% of community oncologists in the U.S.
Myriad is also making progress in its effort to diversify. It acquired Assurex Health in October. Assurex's crown jewel is GeneSight, a test thathelps healthcare providers make better treatment decisions for patients with behavioral health conditions and chronic painbased on the patient's genetic makeup. With GeneSight, Myriad'snon-hereditary cancer revenue is close to 30% of its total -- a big jump from only 7% three years ago.
In addition, the company recently received good news about its EndoPredictmultigene breast cancer diagnostic test. Five Blue Cross Blue Shield plans covering 12 million patients decided to provide coverage for the test. Myriad plans to launch EndoPredict in the U.S. in the first half of this year. The test is already marketed outside of the U.S.
There's a pretty solid argument to be made that Myriad Genetics is on the cusp of making a comeback. For investors willing to wait a while, the stock could present a good opportunity for nice returns over the long run.
The case for Exact Sciences
Exact Sciences hasn't had to worry about revenue falling. The company's sales soared more than 150% in the first nine months of 2016 compared to the prior year period. However, unlike Myriad Genetics, it continues to be unprofitable.
A primary challenge for Exact Sciences has been convincing insurers to cover its Cologuard DNA screening test for colorectal cancer. However, the company reported great news on that front in December: Humana agreed to cover the test as an in-network service for its 10 million beneficiaries, most of whom won't have a co-pay it.
This Humana win brought the total number of individuals for which Cologuard is a covered test to 153 million. That's an impressive increase of more than 50 million since June 2016. But getting health plans to cover Cologuard is only one obstacle on Exact Science's road to success.
The company also needs to convince physicians to prescribe Cologuard, and it's taking a couple of key steps to achieve this. First, it'sworking to make physicians aware about the advantages of its patient-friendly test. Second, the company started a direct-to-consumer marketing campaign that includes national television commercials.
There is a significant market for Cologuard if Exact Sciences accomplishes its goals. Nearly half of Americans who should be screened for colorectal cancer aren't getting tested, and a big reason why is the aversion to undergoing a colonoscopy. Cologuard's convenience andhigh sensitivity for detecting cancer should make it an ideal option for these millions of reluctant patients.
Better buy
In my view, the choice is clear as to which of these stocks is the better buy now: Exact Sciences.
Myriad Genetics is making the right moves by diversifying beyond hereditary cancer testing. However, it will take the company a while to fully get back on track.Meanwhile, Exact Sciences is also making the right moves by winning over payers, providers, and patients. I look for the stock to emerge as a big winner in 2017.
10 stocks we like better than EXACT Sciences When investing geniuses David and Tom Gardner have a stock tip, it can pay to listen. After all, the newsletter they have run for over a decade, Motley Fool Stock Advisor, has tripled the market.*
David and Tom just revealed what they believe are the 10 best stocks for investors to buy right now... and EXACT Sciences wasn't one of them! That's right -- they think these 10 stocks are even better buys.
Click here to learn about these picks!
*Stock Advisor returns as of January 4, 2017
Keith Speights has no position in any stocks mentioned. The Motley Fool has no position in any of the stocks mentioned. The Motley Fool has a disclosure policy.