Better Buy: Myriad Genetics, Inc. vs. Exact Sciences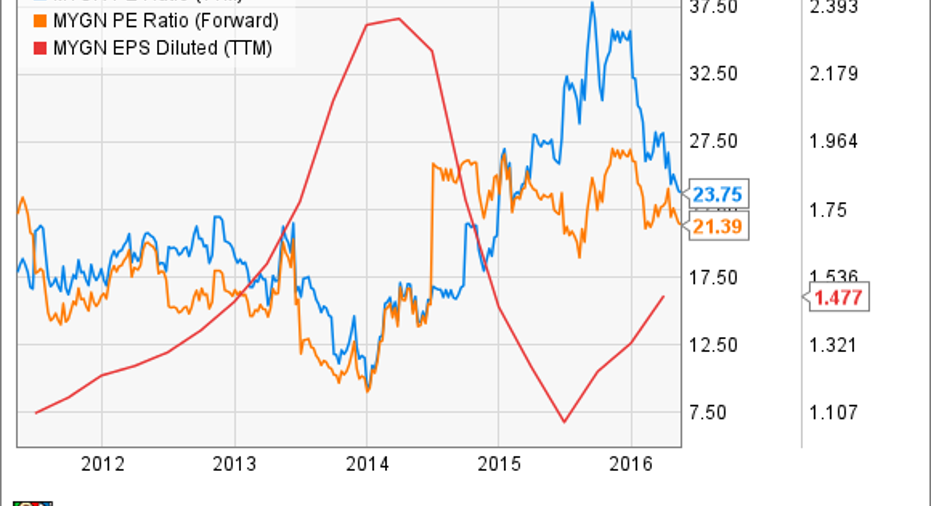 Image source: Myriad Genetics.
As populations age around the developed world, illuminating disease risks, treatment options become an easy-to-understand growth opportunity. There's no shortage of diagnostic-company executives bursting to discuss the potential for their various systems; however, few produce results.
On different scales, and through different paths, Myriad Genetics andExact Sciences have made their dreams materialize for healthcare professionals and patients alike. But both have also suffered a great deal of setbacks, and face uncertain futures.
Let's add up the pros and cons of each to see which of these two stocks is the better buy.
Product focus
Myriad's been diversifying, and during its fiscal year ended last June, the BRACAnalysis test that made it famous made up just one-third of total revenue.The hereditary cancer testing segment as a whole has been struggling to offset BRACAnalysis losses with additional offerings, but it hasn't been easy.
Cologuard kit. Image source: Exact Sciences.
The segment peaked in fiscal 2014 at $720.1 million, fell sharply to $638 million in fiscal 2015,and has been treading water since. At 82% of total revenue in the latest quarter, the segment is still vital to Myriad's profitability.
While the more mature Myriad has expanded its line of products and services, Exact Sciences is entirely reliant on the Cologuard test, a self-administered stool-based DNA screen for colorectal cancer. With an estimated 137,000 new cases each year in the U.S. alone, demand for a non-invasive procedure to test for signs of beginning stages should be sky high. After it earned FDA approval, and Medicare coverage inin 2014,lab service revenue associated with the test has took flight.
First-quarter sales popped 244% over the same period last year to $14.8 millionbut grew just 3% over the previous quarter.Even more troubling is the fall in gross profit (revenue minus direct costs of producing that revenue), from $6.75 million in the previous quarter to just $5.78 million when the company last reported.
Looking ahead
Exact Sciences' Cologuard sales leveled off, and the stock plunged when theU.S. Preventive Services Task Force labeled stool-based DNA testing an "alternative test" that may be useful under certain circumstances.
Image source: Exact Sciences.
It's important to note that this guidance is still a "draft" and not a final statement. If Exact Sciences can persuade the task force to reconsider, it could be game-on once again for Cologuard, and the stock. If not, it won't be too long before the company burns through the roughly $263 million in cash and marketable securities on its balance sheet. It lost $47.8 million just in the first quarter this year.
Myriad, on the other hand, achieved positive cash flows years ago and wisely used them to expand its offerings. Even though overall sales have leveled off, its Vectra DA test to asses the disease activity of rheumatoid arthritis, and Prolaris to measure prostate cancer aggressiveness, rose 11% and 21% over the previous quarter.
Beyond these quick-growing segments, the company is making progress with a melanoma test and inked agreements with some important partners.Merck & Co.is interested in tests to predict Keytruda responders, andAbbVie has expanded on a previous collaboration to use Myriad's diagnostics to identify patients that might benefit from one of its experimental cancer therapies.
Value focus
In April, Myriad Stock took a hit after the Medicare administrative contractor let the cat out of the bag on breast cancer diagnostic pricing at less than one-third of what Myriad charges.
Despite the hit, the stock is still trading at a higher premium, on a trailing and forward basis, than a few years ago, when Angelina Jolie was providing free publicity and its exclusive access to the hereditary breast cancer testing space seemed impenetrable.
Exact Sciences, on the other hand, doesn't have earnings to base a price on. At about 10.5 times trailing sales, it still has a great deal of optimism surrounding it, but much of the air has escaped this balloon.
Which is the better buy?
If Exact Sciences can convince the preventative services task force of its product's relative value over other testing methods, investors buying in now would see some big gains.That's a big chance to take, and one I wouldn't recommend to the bravest investor.
I'd recommend waiting to see how well Myriad Genetics can compete in the cutthroat, low-margin diagnostics business. That said, it is profitable, and growing -- two key features Exact Sciences lacks. That makes it much safer in the long run, and a much better buy.
The article Better Buy: Myriad Genetics, Inc. vs. Exact Sciences originally appeared on Fool.com.
Cory Renauer has no position in any stocks mentioned. You can follow Cory on Twitter, @coryrenauer, or connect with him on LinkedIn for more healthcare industry insight. The Motley Fool has no position in any of the stocks mentioned. Try any of our Foolish newsletter services free for 30 days. We Fools may not all hold the same opinions, but we all believe that considering a diverse range of insights makes us better investors. The Motley Fool has a disclosure policy.
Copyright 1995 - 2016 The Motley Fool, LLC. All rights reserved. The Motley Fool has a disclosure policy.