Better Buy: Magellan Midstream Partners LP vs. Spectra Energy Partners LP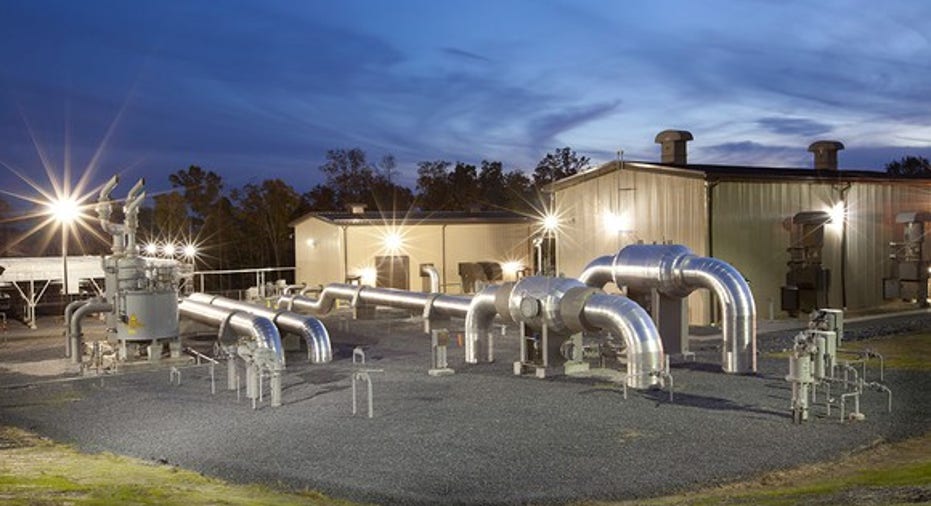 Image source: Spectra Energy.
More often than not, when investorsare deciding between two income stocks, the one with the higher payout wins out. If that were always the case, then Spectra Energy Partners' (NYSE: SEP) current yield of 6.2% would make it the better buy over Magellan Midstream Partners (NYSE: MMP) and its 4.8% payout. However, before declaring it the winner, there are a couple more factors investors need to review to ensure that the payout is safe and can grow in the future.
Battle of the balance sheets
One of the most important things to consider before making any investment is the company's financial strength. Here's how these two stack up.
| Company | Credit Rating | Debt-to-EBITDA Ratio | Current Distribution Coverage Ratio |
| --- | --- | --- | --- |
| Spectra Energy Partners | BBB/Baa2 | 3.7 | 1.2 |
| Magellan Midstream Partners | BBB+/Baa1 | 3.3 | 1.2 |
Data sources: Spectra Energy Partners and Magellan Midstream Partners.
As that chart shows, Magellan has a slight edge. Not only does it have a stronger credit rating -- boasting one of the highest credit ratings among MLPs -- but more importantly it has a lower leverage. Because of that, it has greater access to cheaper capital, which gives it more flexibility to fund growth projects or make acquisitions. So, while Spectra Energy Partners does have a solid balance sheet, Magellan wins this round.
Comparing the portfolios
One of the primary differences between Magellan Midstream Partners and Spectra Energy Partners is the focus and makeup of their asset base. In Magellan Midstream's case, 58% of its revenue comes from moving and storing refined products, while another 32% comes from crude oil services, and the final 10% comes from marine storage. Underpinning the bulk of these services are fee-based contracts, which this year supplied 87% of Magellan's operating margin. That said, 13% of the company's operating margin does come from commodity-related activities, which was a problem this year due to weaker commodity prices, though the company more than offset this impact by completing a slew of fee-based growth projects to boost distributable cash flow.
Meanwhile, Spectra Energy Partners derives the bulk of its earnings from natural gas transmission pipelines. More importantly, fee-based contracts underpin 95% of the company's cash flow, with the majority of those contracts having minimal volume risk. Because of these contracts, Spectra can bank on receiving a very stable cash flow each year.
Because its portfolio has limited exposure to commodity prices and minimal volume risk, Spectra Energy Partnershas the edge in this round.
Image source: Spectra Energy.
A look at the upside
Magellan Midstream Partners is working to reduce its direct exposure to commodity prices by building new fee-based assets. The company will spend about $850 million this year alone on new projects, which is the most it has ever spent on growth. That capital expendditure is expected to set the company up to grow shareholder distributions by 10% this year, and at least 8% in 2017, while maintaining a distribution coverage ratio of at least 1.2. That said, Magellan's investment spending is winding down, with the company currently expecting to invest $300 million in 2017 and $250 million in 2018 on growth capex, though it does have more than $500 million of additional investment opportunities under consideration. Still, given the steep drop from prior years, Magellan has limited visibility on future growth at the moment.
Spectra Energy Partners, on the other hand, has a much-larger growth pipeline because the company and its parent,Spectra Energy (NYSE: SE), have $8 billion worth of projects in execution. These projects support its forecast to deliver $0.0125 per unit in quarterly distribution increases through 2018 while also maintaining a distribution coverage of 1.2. Further, the companies have another $20 billion of development projects under consideration.
That said, Spectra Energy is in the process of merging with Canadian oil pipeline giant Enbridge (NYSE: ENB). Once that deal closes, Enbridge will become Spectra Energy Partners' new parent company. That might open up new opportunities, considering that Enbridge's combined growth backlog will be $20 billion and it has another $37 billion of potential projects to develop in the years ahead, with some of that growth possibly flowing through Spectra Energy Partners. However, thereis a potential wrinkle in that Enbridge also controls oil pipeline MLP Enbridge Energy Partners (NYSE: EEP), which itself manages natural gas MLP Midcoast Energy Partners (NYSE: MEP). Given the added complexity of all those MLPs and the apparent overlap, it is entirely possible that Enbridge will roll up some, if not all, of its MLPs into a single entity. That is both a risk and a potential catalyst for Spectra Energy investors.
Investor takeaway
While Magellan Midstream Partners has a better balance sheet, Spectra Energy Partners has a stronger portfolio and more upside due to growth projects under development. For many investors, those factors, when combined with its higher yield, clearly make the gas MLP the better buy. That said, due to the pending merger of its parent with Enbridge, there's a risk that the Spectra Energy Partners of tomorrow could be quite different because it could get rolled up with Enbridge's other MLPs. That unknown is something investors must weigh before investing in the company.
10 stocks we like better than Spectra Energy Partners When investing geniuses David and Tom Gardner have a stock tip, it can pay to listen. After all, the newsletter they have run for over a decade, Motley Fool Stock Advisor, has tripled the market.*
David and Tom just revealed what they believe are the 10 best stocks for investors to buy right now... and Spectra Energy Partners wasn't one of them! That's right -- they think these 10 stocks are even better buys.
Click here to learn about these picks!
*Stock Advisor returns as of November 7, 2016
Matt DiLallo has no position in any stocks mentioned. The Motley Fool owns shares of and recommends Spectra Energy. The Motley Fool recommends Enbridge Energy Partners and Magellan Midstream Partners. Try any of our Foolish newsletter services free for 30 days. We Fools may not all hold the same opinions, but we all believe that considering a diverse range of insights makes us better investors. The Motley Fool has a disclosure policy.