Better Buy: Lululemon Athletica Inc. vs. Nike Inc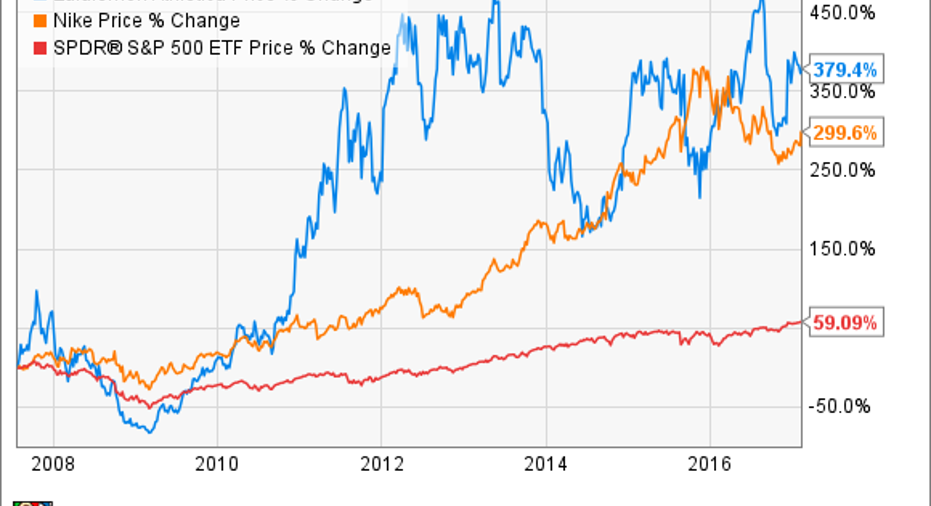 Nike(NYSE: NKE) and lululemon athletica (NASDAQ: LULU) are both serving the healthy lifestyle megatrend, and both have very strong brands. Nike has been more consistent in recent years, but the problems that slowed Lululemon's growth a few years ago appear to be fixed.
What do Nike and Lululemon offer investors going forward?
Brand power
Nike's growth is powered by a dominant brand. IMAGE SOURCE: PIXABAY
Nike derives a major competitive advantage from being one of the most recognizable brands in the world. Its strong brand awareness helped the company generate over $30 billion in revenue in the recent fiscal year ending in June 2016. Nike's size allows it to fund a tremendous marketing and innovation machine. Its marketing budget helps build its brand image throughout the world, which helps the business drive higher revenue. And the cycle repeats.
Because of its large amount of annual revenue and earnings, Nike is able to sign some of the best athletes in the world, including Michael Jordan and Lebron James, to endorsement contracts. These endorsements help generate demand for Nike's products, giving the leading athletic apparel brand a strong position in negotiating deals with suppliers and retailers.
While its brand isn't as iconic as Nike's, Lululemon has a very loyal following of yoga and running enthusiasts. Where Nike fuels its brand through marketing and signing megastars to contracts, Lululemon has built its brand by word of mouth from its loyal customer base.
Instead of spending on marketing, Lululemon grows its business by focusing on product quality with innovative fabrics and designing its items for function and comfort. The special synthetic fabrics and particular cut of its various pants and tops is expensive to make, and this is where Lululemon shows its brand power.
Lululemon has been able to grow its business at a fast rate for a long time despite many cheaper alternatives on the market. A typical pair of yoga pants from Lululemon can cost just shy of $100, and customers are happy to pay up for what they see as better quality. Lululemon is expected to report $2.3 billion in revenue for the recently ended 2017 fiscal year in January, and its projecting revenue growth of at least 15% per year over the next five years.
Growth prospects
Nike and Lululemon are both aiming to nearly double revenue by 2020. While this is very achievable for Lululemon, it might be more challenging for Nike.
Nike's revenue growth would have to accelerate to 11.5% per year for it to achieve its goal of reaching $50 billion in annual revenue by 2020. Over the last five years, Nike revenue has grown 7% annually, and over the last 10 years, revenue has grown 8% per year.Given Nike's large size, it will be a high mountain to climb to accelerate revenue to low double-digit growth.
Lululemon's loyal customers love the brand for its quality design. IMAGE SOURCE: LULULEMON ATHLETICA INC.
On the other hand, Lululemon is targeting $4 billion in revenue by 2020, or annual growth of 18%. Lululemon grew revenue 18% per year between fiscal year 2012 and fiscal 2016, and this was during a difficult time, operationally, for the specialty retailer. Given the relatively small size of the company, and the large market opportunity around the world, Lululemon's goal seems more realistic.
Leadership
Nike CEO Mark Parker has been with the company since 1979.He has a passion and deep understanding for the Nike brand and business. The stock's outperformance compared to the S&P 500 Index over his tenure as CEO validates the job he has done. Nike employees seem happy with their CEO given the 96% rating Mark Parker earned on Glassdoor, the highest rating of all CEOs in 2016.
Lululemon has not had the advantage of leadership consistency like Nike. However, CEO Laurent Potdevin is very capable. He joined the company during a difficult time, when one of Lululemon's top-selling yoga pants had to be recalled because of poor quality checks in the supply chain. And, Potdevin is also well-liked by Lululemon employees, earning a Glassdoor rating of 90%.
Valuation
In the end, the choice comes down to whether you're looking for slow and steady with less risk, or fast and nimble with more risk. In addition to relatively lower business risk, Nike offers investors a dividend yield of 1.3%, whereas Lululemon has no dividend payout.This reflects the relative growth opportunities of both businesses. Nike is large and more saturated in its core geographies, while Lululemon still has plenty of room to grow in the U.S. and around the world. So, it makes sense for Lululemon to reinvest all of its earnings in the business at this point.
Considering Nike and Lululemon's relative risk-to-reward profile, both businesses trade for reasonable valuations. Nike's price-to-earnings, or PE ratio on next year's expected earnings is 21, while Lululemon's is 26. Lululemon deserves to trade at a higher PE ratio because of its higher future growth potential.
The growth prospects of the industry still look promising, so investors should do well with either Nike or Lululemon -- or perhaps both.
10 stocks we like better than Lululemon AthleticaWhen investing geniuses David and Tom Gardner have a stock tip, it can pay to listen. After all, the newsletter they have run for over a decade, Motley Fool Stock Advisor, has tripled the market.*
David and Tom just revealed what they believe are the 10 best stocks for investors to buy right now...and Lululemon Athletica wasn't one of them! That's right -- they think these 10 stocks are even better buys.
Click here to learn about these picks!
*Stock Advisor returns as of February 6, 2017.
John Ballard has no position in any stocks mentioned. The Motley Fool owns shares of and recommends lululemon athletica and Nike. The Motley Fool has a disclosure policy.