Better Buy: J.C. Penney Co. vs. Macy's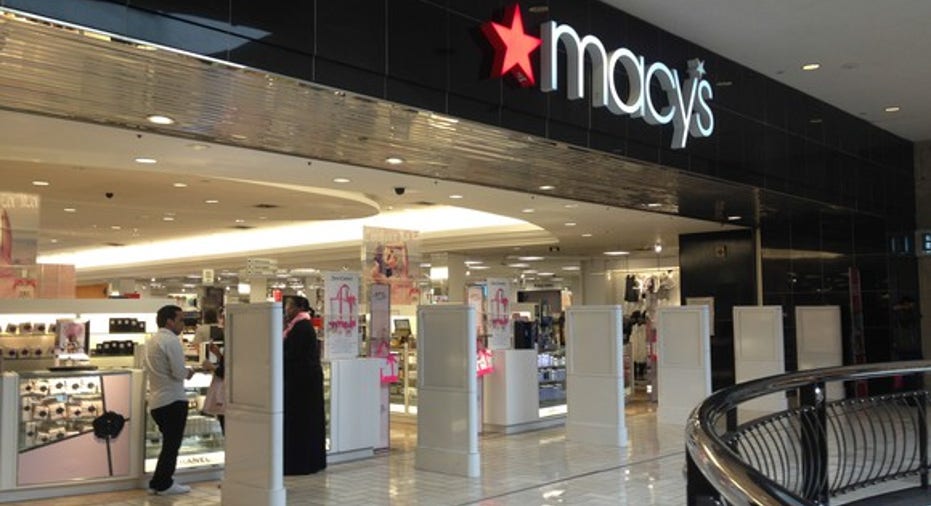 J.C. Penney Co.(NYSE: JCP) andMacy's(NYSE: M) are two of the oldest retailers operating today. Both more than 100 years old, the two exemplify the department store, the staple of the 20th-century shopping experience. However, in the age of e-commerce and just-in-time supply chains, that retail model is showing its years. Along with peers such asSears Holding Co., they've have seen sales slide as shoppers flock to online purchasesand fast-fashion outlets like H&M, Zara, and Uniqlo.
J.C. Penney survived a near-death experience in 2012 after former CEO Ron Johnson attempted a brand overhaul that jettisoned its traditional discounting and caused a major customer exodus. After taking on billions of dollars in debt, the company has stabilized its business, and it expects to turn its first annual profit since 2011 this year. Still, its future success is by no means guaranteed.
Macy's, on the other hand, thrived during the post-recession years, taking advantage of the woes at Penney and Sears, but the retailer has struggled more recently, and its comparable sales have fallen for seven straight quarters. Investors have been clamoring for Macy's to unlock some of the value in its real estate portfolio, and management has obliged, closing underperforming stores, and selling off and consolidating underutilized property.
While both companies stand at a crossroads today, there may be some hidden opportunity in their stocks. Let's contrast them, and attempt to discern which is the better buy.
Image Source: Motley Fool.
J.C. Penney: Back from the dead
J.C. Penney made a surprising recovery after the ouster of Ron Johnson, but the stock is hardly a sure bet now. As the chart below shows, the share price has been volatile, in line with a recovery that has come in fits and starts. Investors are still struggling to size up the retailer's potential.
At this point in its comeback, Penney seems to have picked all the low-hanging fruit. Comparable-store sales growth was strong over the last two years as the company brought back lapsed customers, but the key metric fell in the third quarter, and management only sees it improving by 1% to 2% this year after it earlier forecast a range of 3% to 4% growth.
Still, under new CEO Marvin Ellison, the company has launched a number of initiatives that should help push sales steadily higher. Earlier this year, it began selling appliances again for the first time in more than three decades. It was a maneuver intended to take advantage of rival Sears' decline, and based on hard data -- customers were going to Penney's website and searching for such equipment. Management has also launched a new line of plus-sized women's clothing,Boutique+, to target an unmet need in the market, has expanded its partnership with Sephora, and partnered with In Style magazine to launch a chain of hair salons, giving women other reasons to visit its stores besides shopping.
Despite mixed results so far this year, the company is still confident in its goal of achieving an adjusted EPS profit for the year. However, the company has slashed SG&A expenses by 220 basis points in 2016 thus far, so further cost-cutting next year will be more difficult. Looking ahead, J.C. Penney will be relying on its new initiatives to drive comparable sales growth, which will be required if the stock is to move higher.
Image Source: Motley Fool.
Macy's: Missing the magic
While J.C. Penney has comfortably put its worst years behind it, Macy's is stuck in a much different point in its business cycle. Comparable-store sales have fallen for seven quarters in a row, and the venerable retailer does not seem to have a strategy for stanching the losses.
Thus far this year, the company has seen sales at stores open more than a year decline 3.5%. To turn its performance around, management has focused on store closures, real estate sales, and expanding concepts like its off-price Backstage store and the beauty-based BlueMercury chain.
Over the summer, Macy's said it would close 100 stores or about 15% of its store base, and has sold off part of its downtown Brooklyn location for $170 million and its San Francisco men's store for $250 million, in addition to other smaller sales.
Activist investor Starboard Value estimated at one point that Macy's real estate could be worth as much as $21 billion, close to double its market cap. While that news may be encouraging for investors, the company's current retail problems are more pressing; adjusted earnings per share have fallen by more than a third through the first three quarters of the year.
Looking ahead to next year, I'd expect comparable sales and EPS to continue to slide, given the challenges in the department store industry and Macy's own struggles.
And the better buy is ...
Both companies are facing challenges going forward, but J.C. Penney seems to have the more concrete strategy for the years ahead. That retailer should benefit from Sears' continuing decline, and its new initiatives should provide steady growth. Macy's, on the other hand, seems to be in the position Penney was a few years ago. Sales are falling, and the company has yet to do the hard work of revamping stores and giving former customers a reason to come back. Until it does, sales and profits will continue to fall. While the real estate angle makes Macy's intriguing, management has dismissed the idea of spinning off a REIT so the stock's performance will be determined primarily by the core business, despite the help of real estate sales.
The two stocks have similar valuations based on next year's expected EPS, but J.C. Penney has the more realistic path for getting there. It's the better buy of the two.
10 stocks we like better than J.C. Penney When investing geniuses David and Tom Gardner have a stock tip, it can pay to listen. After all, the newsletter they have run for over a decade, Motley Fool Stock Advisor, has tripled the market.*
David and Tom just revealed what they believe are the 10 best stocks for investors to buy right now... and J.C. Penney wasn't one of them! That's right -- they think these 10 stocks are even better buys.
Click here to learn about these picks!
*Stock Advisor returns as of November 7, 2016
Jeremy Bowman owns shares of J.C. Penney. The Motley Fool has no position in any of the stocks mentioned. Try any of our Foolish newsletter services free for 30 days. We Fools may not all hold the same opinions, but we all believe that considering a diverse range of insights makes us better investors. The Motley Fool has a disclosure policy.