Better Buy: Ionis Pharmaceuticals vs. Alnylam Pharmaceuticals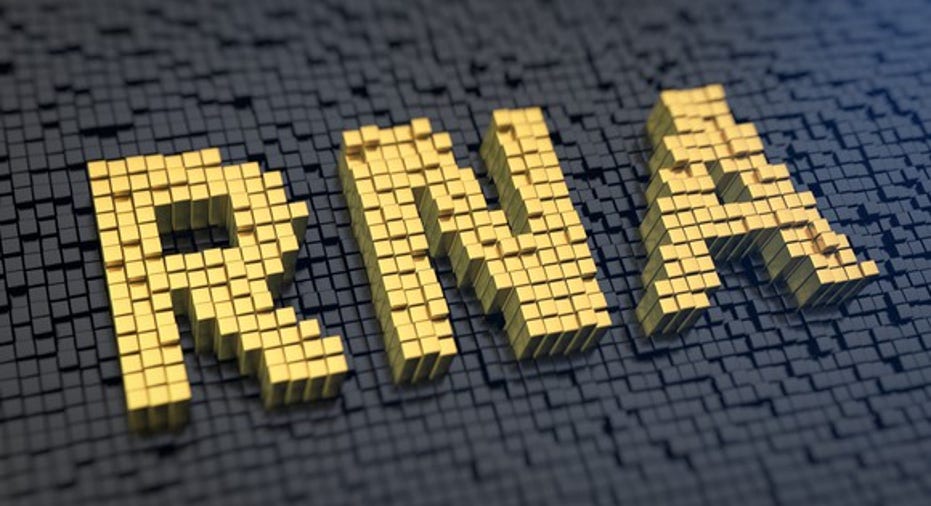 Image source: Getty Images.
This biotech develops drugs that work by interfering with messengerribonucleic acid (RNA) to prevent the prodution of disease-causing proteins. Shares of the biotech have plunged so far this year. Which company is it? Both Ionis Pharmaceuticals and Alnylam Pharmaceuticals fit the bill.
While Alnylam's stock has dropped 34% year-to-date, Ionis lost almost two-thirds of its market cap in the same period. Despite their horrible performances, Wall Street still has high hopes for both of these stocks. Which is the better buy for long-term investors? Let's see how Ionis and Alnylam stack up.
The case for Ionis
Ionis is a leader in the development of drugs based on antisense technology. Antisense drugs work by preventing messenger RNA instructions from reaching the ribosome, where proteins are produced. Since many diseases are caused by abnormal proteins or overproduction of proteins, antisense technology is a promising approach to treating a number of diseases.
So far, Ionis has won regulatory approval for just one antisense drug, Kynamro. In January, the biotech terminated its licensing agreement with Sanofi'sGenzyme subsidiary for Kynamro, which treats a rare type of high cholesterol. However, it took less than four months for Ionis to license Kynamro to another company, Kastle Therapeutics.
Another drug, Alicaforsen, hasn't been approved just yet but is already being sold in Europe through Named Patient Supply protocols to treat patients with inflammatory bowel disease pouchitis. Ionis' partner on Alicaforsen, Atlantic Healthcare, has initiated a phase 3 clinical study for the drug.
Ionis' pipeline includes several other promising antisense drugs in late-stage studies. However, one of them recently had a big setback. Ionis' partner, GlaxoSmithKline, decided to hold off on moving forward with a planned phase 3 trial for IONIS-TTRRX. Glaxo's delay came as result of the FDA's placing the trial on clinical hold because of safety concerns in another study of the drug.The bad news clobbered Ionis' stock. However, the biotech plans to forge ahead with its own phase 3 study ofIONIS-TTRRX. Another investigator-initiated phase 2 study is also in progress.
Luckily for Ionis, the other drugs in phase 3 studies haven't run into major roadblocks. Two studies are underway for nusinersen in treating spinal muscular atrophy with partner Biogen. Ionis and its wholly owned subsidiary Akcea Therapeutics have a couple of late-stage studies in progress forvolanesorsen. Ionis' partner Oncogenexalso has completed enrollment for a phase 3 study of cancer drug custirsen.Another partner,Achaogen, isevaluating plazomicin in a late-stage study in patients with serious multi-drug resistant infection due to carbapenem-resistant Enterobacteriaceae (CRE).
In addition, Ionis claims12 other drugs in phase 2 clinical studies, plus six candidates in phase 1 studies. All in all, the biotech boasts a strong pipeline even with the challenges forIONIS-TTRRX.
The case for Alnylam
Alnylam employs a different method for preventing messenger RNA from passing instructions for proteins to be created -- RNA interference (RNAi). RNAi "silences" the messenger RNA that codes for specific proteins using small interfering RNA (siRNA). Alnylam maintains that its approach is better than antisense technology because a single siRNA molecule can shut down multiple messenger RNA molecules. This means that higher levels of antisense drugs are required to have the same effect as an RNAi drug.
A couple of Alnylam's RNAi drugs are already in late-stage testing. Both drugs, patisiran and revusiran,target hereditary ATTR amyloidosis, a rare genetic disease. Sanofi's Genzyme owns commercialization rights to the drugs outside of the U.S. and Europe.
Outside of these two drugs, Alnylam's pipeline consists primarily of early stage candidates. A notable exception is the hemophilia drugfitusiran. The biotech plans to start two phase 3 studies of the drug within the next few months.Also, a phase 2 study ofALN-CC5 targeting treatment ofparoxysmal nocturnal hemoglobinuria (PNH) patients is expected to begin by the end of 2016.
Alnylam has laid out an aggressive strategy to have three products on the market plus another four in late-stage development by the end of 2020. The company announced a plan back in 2011 with goals it planned to meet by the end of 2015. Those goals were not only met but exceeded, which gives some credibility to Alnylam's 2020 targets.
Better buy
My view is that both Ionis and Alnylam have multiple winners in their pipelines. However, I give the nod to Ionis as the better buy.
It all comes down to sheer numbers. Ionis' pipeline includes over 30 clinical studies. Probably not all of them will ultimately gain regulatory approval, but if the biotech just has a respectable batting average, it will likely see major success.
Ionis' horrible 2016 stock performance stems primarily from the Glaxo decision to delay the phase 3 study ofIONIS-TTRRX. I wouldn't be surprised if the big drugmaker ultimately opts to move forward with that study. Until we find out if that happens, Ionis has plenty of potential catalysts to help the stock rebound.
The article Better Buy: Ionis Pharmaceuticals vs. Alnylam Pharmaceuticals originally appeared on Fool.com.
Keith Speights has no position in any stocks mentioned. The Motley Fool owns shares of and recommends Alnylam Pharmaceuticals, Biogen, and Ionis Pharmaceuticals. Try any of our Foolish newsletter services free for 30 days. We Fools may not all hold the same opinions, but we all believe that considering a diverse range of insights makes us better investors. The Motley Fool has a disclosure policy.
Copyright 1995 - 2016 The Motley Fool, LLC. All rights reserved. The Motley Fool has a disclosure policy.