Better Buy: InvenSense Inc. vs. Texas Instruments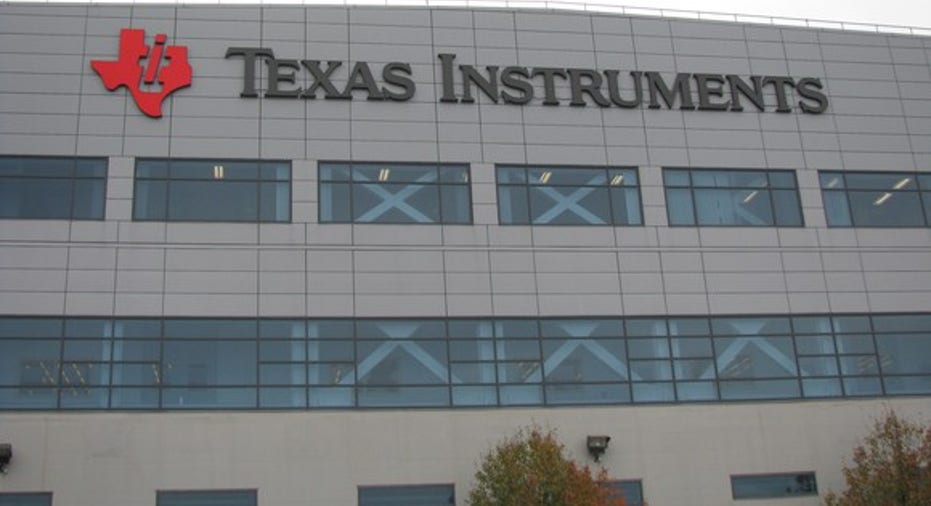 Image source: Texas Instruments.
ChipmakersInvenSense (NYSE: INVN) and Texas Instruments (NASDAQ: TXN) have led diverging paths in the component space. While InvenSense tethered itself primarily to sales to Apple, Texas Instruments has diversified itself among the automotive, industrial, consumer electronics, and enterprise segments.
As a result, Texas Instruments has been able to grow over the past year -- while InvenSense has been stumbling. Let's take a brief look at what each company is doing, and find out why TI appears to be the better long-term bet.
What's happening with InvenSense
InvenSense makes motion sensors, mainly for the mobile market, that allow devices to interpret their orientation. These gyroscopes and accelerometers are often referred to as micro-electro-mechanical systems, or MEMS, and the company makes some of the best in the business.
Apple uses them in its iPhones, and up until very recently Samsung was a major customer as well. Apple accounted for 58% of InvenSense's total revenue in the fiscal second quarter 2017, and 53% of its revenue over the past six months. InvenSense'sdependence on Apple has hurt the average selling prices of its components and left the company's revenue vulnerable to Apple's device sales.
InvenSense's total revenue fell by 29% in fiscal Q2 2017 on a year-over-yearbasis, and the company said the decline was "primarily due to lower volume shipments to manufacturers of smartphones, tablet devices, and camera modules incorporating optimal image stabilization, combined with lower per-unit average selling prices."The company is trying to expand into new markets, like the Internet of Things, but hasn't made inroads fast enough for many investors, and the company's stock price has suffered as a result.
The 19%stock-price drop year to date wouldn't be as bad if InvenSense were diversifying revenue quickly, but that's not happening quite yet. A recent deal with the world's fourth-largest smartphone maker, Oppo, could help bring in more revenue from the company's electronic image stabilization sensors, but it's not a sure bet.
For now, investors are left with falling revenue and a falling stock price, overexposure to Apple, and no immediate saving grace on the horizon.
What's happening with Texas Instruments
Like InvenSense, TI hasn't been immune to Apple's recent slump. The company made about 11% of its total revenue from sales to the iPhone maker in 2015, but it's tied to a lot of other industries as well.
Texas Instruments' analog and embedded chips are found in connected cars, industrial equipment, consumer electronics, and enterprise devices. This means that the company doesn't suffer as much if one of its customers isn't doing well. Nor is it as vulnerable to one customer putting pricing pressure on its chips (I'm looking at you, Apple).
In the third quarter 2016, TI managed to grow revenue 7% year over year, to $3.68 billion, and increase net income by 21% and earnings per share 24%, year over year.
This has helped boost investor confidence in the company, and has pushed the company's stock price up nearly 32% year to date.
TI isn't without its potential problems, of course. The company faces increasing competition as Qualcomm is in the process of buying NXP Semiconductors, which will make Qualcomm the largest maker of automotive semiconductors. TI earned 46% of its total revenue from the automotive and industrial segments, so investors should keep a close eye on any increasing competition in the automotive space.
The verdict
Texas Instruments' growing revenue and diversified revenue streams give the company a leg up over InvenSense. TI has been able to handle instability in the mobile market because of its exposure to other segments, and that looks like it'll stay intact for the foreseeable future. Meanwhile, InvenSense is still relying too much on Apple for the majority of its business -- and that doesn't appear to be changing fast enough. For those reasons, I think Texas Instruments looks like a better long-term bet for investors.
10 stocks we like better than Texas Instruments When investing geniuses David and Tom Gardner have a stock tip, it can pay to listen. After all, the newsletter they have run for over a decade, Motley Fool Stock Advisor, has tripled the market.*
David and Tom just revealed what they believe are the 10 best stocks for investors to buy right now and Texas Instruments wasn't one of them! That's right -- they think these 10 stocks are even better buys.
Click here to learn about these picks!
*Stock Advisor returns as of Nov. 7, 2016
Chris Neiger has no position in any stocks mentioned. The Motley Fool owns shares of and recommends Qualcomm. The Motley Fool owns shares of InvenSense. The Motley Fool owns shares of, recommends, and has the following options on Apple: long January 2018 $90 calls and short January 2018 $95 calls. The Motley Fool recommends NXP Semiconductors. Try any of our Foolish newsletter services free for 30 days. We Fools may not all hold the same opinions, but we all believe that considering a diverse range of insights makes us better investors. The Motley Fool has a disclosure policy.