Better Buy: Intuitive Surgical, Inc. vs. Varian Medical Systems, Inc.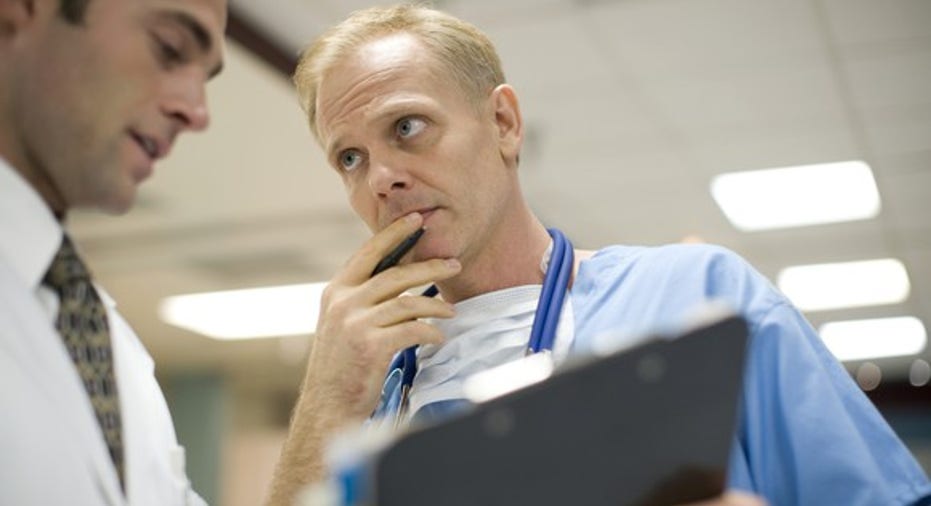 There's no denying it: The record number of baby boomers retiring every day, combined with the continual advancement of technology, is fundamentally changing how we practice medicine in the United States. Obviously, that's a big deal for doctors and patients, but it also represents a huge opportunity for investors who place their bets wisely.
Intuitive Surgical manufactures the daVinci robotic surgical system, which has been put to use in hospitals around the world for over a decade. Varian Medical Systems has been around much longer -- over 60 years -- and helps supply both software and machines to help oncology doctors treat cancer.
Both of these companies focus on areas that will be of heightened importance in the decades to come. For Intuitive, growth will come from treatment of colorectal and hernia operations. For Varian, it will come from the company's Edge radiosurgery suite and its ProBeam proton therapy system.
So which is the better buy today? There's no definitive answer. But using three different criteria, we can get an idea of where each stock stands relative to the other.
Financial fortitude
It might seem macabre to discuss "financial fortitude" when we're talking about companies devoted to saving people's lives. But when you're thinking of investing your money in a publicly traded company, you need to take such considerations into account.
The bottom line is that debt is fragilizing, and cash is king. In tough times -- like when hospitals tighten their budgets -- companies with cash have options, such as buying back shares, making acquisitions, or even accelerating R&D to outspend rivals. Those with heavy debt burdens, however, have no such options.
Here's how these two stack up:
| Company | Cash | Debt | Net Income | FCF |
| --- | --- | --- | --- | --- |
| Intuitive Surgical | $1.8 billion | $0 | $628million | $785 million |
| Varian Medical | $960 million | $794million | $398million | $346million |
FCF = free cash flow. Net Income and FCF are on a trailing 12-month basis. Data source: Yahoo! Finance.
It's also important to note that Intuitive is currently valued at roughly $24 billion, while Variant is about one-third the size, clocking in just below $8 billion.
That actually makes Varian's net income and FCF look quite impressive. But the fact of the matter is that this category is about being able to take advantage in tough times. Even though Varian appears to have a healthy balance sheet, Intuitive's lack of debt, plus its healthy streams of FCF and relatively low capital expenditures, make it the winner in this category.
Winner = Intuitive Surgical.
Valuation
As I said above, Intuitive is about three times the size of Varian, even though the former's net income is less than twice that of the latter. This has everything to do with valuation.
There are lots of ways to measure the price of the stock you're buying. Here are four that I always reference to get a clearer picture: the ratios of price to earnings, price to sales, price to free cash flow, and price/earnings to growth.
| Company | P/E | P/S | P/FCF | PEG Ratio |
| --- | --- | --- | --- | --- |
| Intuitive Surgical | 32 | 9.8 | 31 | 2.2 |
| Varian Medical | 19 | 2.5 | 23 | 1.6 |
Non-GAAP measures used for P/E. Data sources: Yahoo! Finance, E*Trade.
Without considering potential future growth, Varian is unquestionably cheaper; its lower on the first three measures. And even when we take future earnings expectations into account -- which is what the PEG ratio aims to do -- Varian is still cheaper.
Analysts estimate that Varian will grow earnings by 7.4% per year over the next two years, while Intuitive is expected to grow its bottom line by 8.8% over the same time frame. Though predictions are rarely 100% accurate, it's clear that Varian's stock is cheaper at today's prices.
Winner = Varian Medical.
Sustainable competitive advantages
In my own experience, this is the most important variable to evaluate. Even if a company creates a truly great product, it won't make a great investment if the competition can easily reproduce that product.
Intuitive's key advantage is that it's light-years ahead of the competition in the robotic-surgery field. In fact, its biggest competition is traditional surgery. The company's base of 3,660 installed surgical systems worldwide means that hospitals -- and the doctors who have undergone the requisite training -- have made a significant investment in the machine and aren't likely to dump it for competition anytime soon.
Varian doesn't have quite the same stranglehold on its industry. Belgium-based Ion Beam Applications and Hitachiboth have similar radiation treatment products on the market. While the total number of installed systems represents reliable recurring revenue for Varian, the growth of such systems sales is nowhere near the growth rate that Intuitive usually experiences.
Winner = Intuitive Surgical.
This isn't to say that Intuitive stock is the guaranteed "winner" between these two over the next decade. But given these three criteria, I see Intuitive being the better bet, knowing what we know today.
The article Better Buy: Intuitive Surgical, Inc. vs. Varian Medical Systems, Inc. originally appeared on Fool.com.
Brian Stoffel owns shares of Intuitive Surgical. The Motley Fool owns shares of and recommends Intuitive Surgical. The Motley Fool owns shares of Varian Medical Systems, Inc. Try any of our Foolish newsletter services free for 30 days. We Fools may not all hold the same opinions, but we all believe that considering a diverse range of insights makes us better investors. The Motley Fool has a disclosure policy.
Copyright 1995 - 2016 The Motley Fool, LLC. All rights reserved. The Motley Fool has a disclosure policy.