Better Buy: International Business Machines Corp vs. Coca-Cola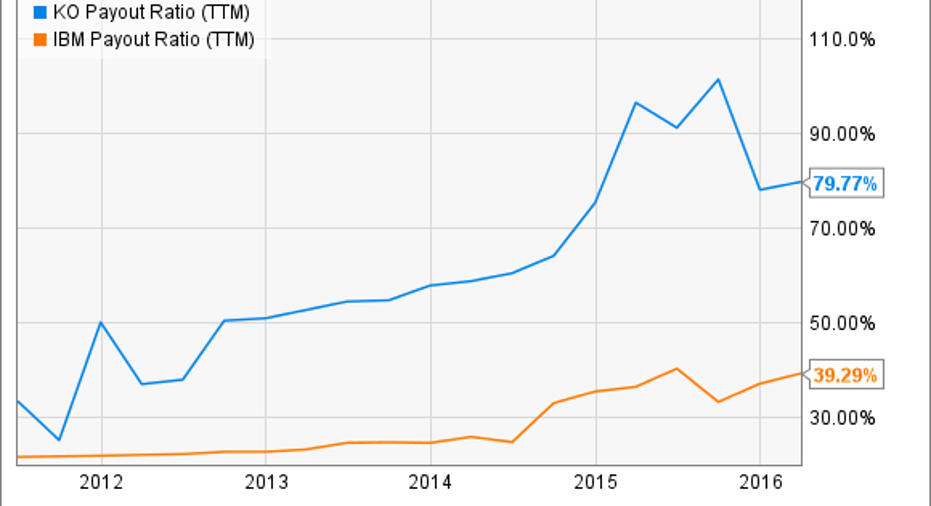 Although they operate in different industries, IBM and Coca-Cola share important characteristics that make for an interesting investment matchup. They each control one of the world's most valuable brands, for example, which allows them to command market-leading profit margins in every region around the globe.
Yet investors choosing between these two giants are likely attracted to them for a different reason: Coke and IBM both pay over 3% per year in dividends, making them among the highest-yielding stocks in the Dow. With that in mind, let's stack Big Blue up against the king of soda to see which one is the better bet right now.
Here are a few key investing statistics to get us started:
| Metric | IBM | Coca-Cola |
| --- | --- | --- |
| Market cap | $143 billion | $198 billion |
| Sales growth | (12%) | (4%) |
| Profit margin | 51% | 61% |
| Dividend yield | 3.8% | 3.1% |
| Latest dividend raise | 8% | 6% |
| Forward P/E | 11 | 22 |
Sales growth and profit margin is for the last complete fiscal year. Data sources: Company financial filings and S&P Global Market Intelligence.
Operating trends (Coke wins)
Both of their core operations are facing fundamental challenges right now. IBM's revenue fell for the second consecutive year in 2015 as its software segment posted a double-digit slump. Meanwhile, heavy spending in promising but not yet profitable growth sectors helped drag earnings lower. Those poor trends have continued into 2016, with sales sinking 5% and profits down 11% so far.
For Coca-Cola it's a similar story, just with different products. The beverage giant has been dealing with sluggish volume growth for over three years, especially as consumers in developed markets move away from sparkling beverage brands like Diet Coke. Yet Coke's slow growth isn't as bad as IBM's shrinking sales base.
Turnaround strategies (Coke wins)
IBM hopes to turn things around by building up its offerings in high-margin, high-growth areas like cloud services, big data, and analytics. What management likes to call its "strategic imperatives," this group expanded sales by 26% last year and now make up 35% of the business, up from 22% two years ago. While that success hasn't offset softness in other areas of the business, IBM believes that growth will return as it builds up a lead in these key markets.
Image source: Coca Cola.
Coke, meanwhile, is pouring resources into its still beverage portfolio (teas, juices, sports drinks), but growth there just isn't enough to spark significant volume growth overall. That's why the company is selling off a huge chunk of its bottling operations: to raise cash and kick-start growth. The resulting company will have lower revenue, but should be expanding faster while producing higher profits, if all goes to plan.
Dividend (IBM wins)
Overall, IBM's looks like the stronger divided. Big Blue's payout has almost doubled in the past five years, compared to Coke's 50% boost. Its payout ratio is also much better, weighing in at less than 50% of earnings. Coke, in contrast is currently on the hook for close to 80% of profits:
KO Payout Ratio (TTM) data by YCharts.
Coke does have IBM beat on cash flow growth, though, as annual cash is up 11% over the last five years compared to a 14% drop for the tech giant. That improving cash flow suggests Coca-Cola shareholders are in no danger of seeing their 54-year streak of annual dividend raises (compared to 21 for IBM) end anytime soon.
Valuation (IBM wins)
IBM's stock is far less expensive than Coke's on a price-to-sales or price-to earnings basis, while Coke is valued at a slight premium to the market. That's mostly a reflection of its rock-solid profitability and the fact that its sales are still growing -- albeit slowly.
But investors choosing IBM here would have to conclude that the price discount is worth the extra risk involved in the company executing a pivot into various new and rapidly changing business lines over the next five years.
Coke's recovery plan -- like its core product -- is much simpler. That's ultimately why I'd buy its stock over Big Blue's right now, despite a weaker dividend and richer valuation.
The article Better Buy: International Business Machines Corp vs. Coca-Cola originally appeared on Fool.com.
Demitrios Kalogeropoulos has no position in any stocks mentioned. The Motley Fool owns shares of and recommends Coca-Cola. Try any of our Foolish newsletter services free for 30 days. We Fools may not all hold the same opinions, but we all believe that considering a diverse range of insights makes us better investors. The Motley Fool has a disclosure policy.
Copyright 1995 - 2016 The Motley Fool, LLC. All rights reserved. The Motley Fool has a disclosure policy.