Better Buy: Hecla Mining Company vs. Pan American Silver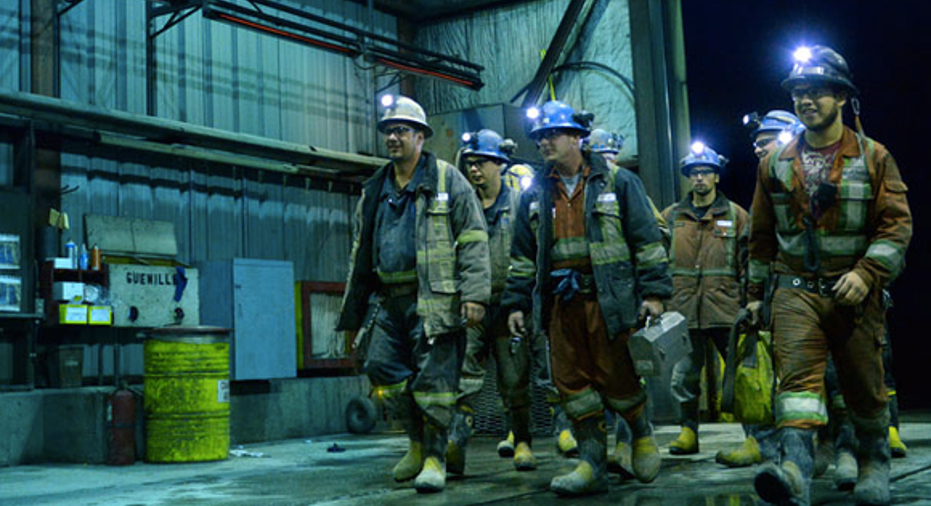 Hecla Mining Company (NYSE: HL) and Pan American Silver (NASDAQ: PAAS) are working very similar playbooks in 2017. Production growth will be so-so, at best, with spending on the future the primary focus. That makes it interesting to compare the financial foundations of this pair of gold and silver miners. When all is said and done, in a commodity industry subject to often-volatile price swings, investors might want to err on the side of caution as Hecla and Pan American invest in their future growth opportunities.
Projections of future growth
Hecla Mining had a huge year, production-wise, in 2016, with silver production up 48% and gold higher by 24%. That all had to do with one mine, San Sabastian, coming online for the full year. The miner is calling for production to be less exciting this year, with silver production lower by at least 10%, and gold higher by as much as 7%. Hecla's big growth effort relies upon a trio of mines (Montanore, Rock Creek, and Donlin Creek) that won't be operational until around 2023-2024.
Image source: Hecla Mining.
Pan American Silver's production fell around 2.5% in 2016, with gold production basically flat year over year. Silver production is expected to be roughly flat in 2017, with gold production down at least 10%. Again, not a robust outlook. But the company is expecting gold and silver production to start picking up again in 2018 and 2019 as expansions at existing facilities bear fruit.
So, the similarity here is that Hecla and Pan American are both expecting the near term to be less than inspiring on the production front. The story for these roughly $2 billion market cap miners is investing for the future, with Hecla's plans further out than Pan American's. That's why it's worth looking at the balance sheets that underpin those investments.
Hecla Mining's project pipeline is filled. Image source: Hecla Mining.
Affording the cost
At the start of 2017, long-term debt made up roughly 25% of Hecla's capital structure. That figure was around 2.5% at Pan American. The difference is notable, with interest expense eating up just 1.2% (or so) of Pan American's revenue in 2016 but a much larger 3.4% at Hecla. While those numbers appear small on an absolute basis, Hecla's interest costs are nearly three times as high, percentage-wise.
Cash is another factor to consider. Hecla started 2017 with around $170 million of cash on hand. Pan American had nearly $144 million. Hecla's got more cash, but with materially more debt, it makes sense to have a higher cash balance. However, there's another way to look at this: the current ratio, a rough measure of a company's ability to pay its near-term bills in a worst-case scenario. Pan American Silver's current ratio is 3.3, while Hecla's is around 2.4. So Hecla has more cash on an absolute basis, but Pan American is still in better financial shape.
Pan American's production is set to move higher in the next few years. Image source: Pan American Silver.
To be fair, neither company is exactly financially weak. But Pan American has the stronger foundation. It's also expecting its growth initiatives to kick in sooner than Hecla, which means the weaker company financially has to support growth spending for longer before those expenses provide a material return. If you are looking at the financial foundations backing this pair, Pan American easily wins.
Getting from here to there
To be honest, Hecla Mining has a better defined production profile right now because of its long-term plans. In fact, Pan American Silver expects capital spending to drop significantly in 2018 and 2019 because its current expansion plans will be paid for by the end of this year. That means long-term growth is much less clear at this point. However, it's got a much better balance sheet than Hecla, so it can easily take on new projects if and when it wants.
Looking at the financial foundation, Pan American is clearly the better company at this point. It may not have as much going on growth-wise as Hecla, but it could easily afford to push the accelerator if it wants to. And that balance-sheet strength could be worth a lot in a commodity industry subject to often-volatile price swings.
10 stocks we like better than Pan American SilverWhen investing geniuses David and Tom Gardner have a stock tip, it can pay to listen. After all, the newsletter they have run for over a decade, Motley Fool Stock Advisor, has tripled the market.*
David and Tom just revealed what they believe are the 10 best stocks for investors to buy right now... and Pan American Silver wasn't one of them! That's right -- they think these 10 stocks are even better buys.
Click here to learn about these picks!
*Stock Advisor returns as of February 6, 2017
Reuben Brewer has no position in any stocks mentioned. The Motley Fool has no position in any of the stocks mentioned. The Motley Fool has a disclosure policy.