Better Buy: HCP, Inc. vs. Ventas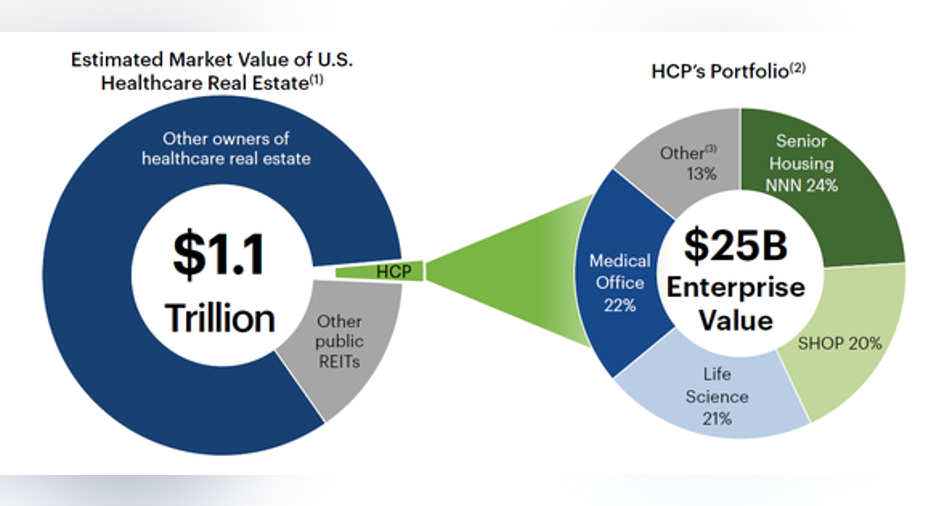 While most of the market has soared to record highs, the real estate sector's performance hasn't been quite as remarkable. Thanks to rising interest rates, REITs have significantly underperformed the market, making now a good time to hunt for bargains in the sector.
Healthcare real estate is a particularly attractive asset to own over the next several decades, and two major players in the space are HCP (NYSE: HCP) and Ventas (NYSE: VTR). Here's a quick comparison of these two REITs, and which looks like the better buy now.
HCP's focus has changed recently
HCP had quite an eventful year in 2016, and as a result, the company's investment portfolio is leaner and more focused. The company has about 800 properties in its portfolio after spinning off its riskier skilled nursing/post-acute care properties.
Image source: Getty Images.
HCP's major concentration is senior housing, which makes up about 44% of the portfolio. Medical offices and life science properties make up most of the rest, and 94% of the portfolio is private-pay, which is significantly more stable than healthcare properties dependent on government reimbursements.
Image source: HCP investor presentation.
HCP pays a 4.7% dividend yield, which, until the spin-off, was increased for over 25 consecutive years. The current payout represents about 77% of HCP's expected 2017 FFO, so the dividend should be safe, and also should continue to rise going forward.
Ventas: The short version
In many ways, Ventas is quite similar to HCP. In fact, Ventas recently spun off its skilled nursing portfolio, just like HCP did, and the remaining property portfolio is quite similar. Ventas' portfolio is significantly larger at about 1,300 properties, and is made up of 54% senior housing and 20% medical offices, with smaller concentrations in hospital and life science properties.
Image source: Ventas investor presentation.
Ventas pays a 4.8% dividend yield, almost exactly the same as HCP, and has a payout ratio of about 75% of projected 2017 FFO. So, both companies have almost the exact same dividend situation.
Key differences
To be clear, these companies have a lot in common. However, there are a few notable differences between the two that investors should be aware of:
Ventas is a larger REIT, which gives it some advantages in terms of operational efficiency.
Ventas is more diversified, in terms of reliance on its larger tenants. Its top tenant only accounts for 9% of its income, as compared to 27% for HCP.
HCP has higher exposure to life science properties, while Ventas' third-largest asset type is hospital properties.
Ventas has a somewhat stronger balance sheet, with significantly higher fixed-charge coverage (4.8x vs. 3.6x) and lower Debt/EBITDA (5.7x vs. 6.2x).
HCP has a slight edge in private-pay revenue, 94% to 93%.
Valuation
Despite a few differences, these two REITs aren't very different. Both focus on high-quality private-pay healthcare real estate assets, and both partner with some of the best operators in the industry. So, let's take a look at these companies' valuation to see if one looks like a relative bargain right now.
| Company | Recent Stock Price | 2017 FFO Guidance | P/FFO (Midpoint) |
| --- | --- | --- | --- |
| HCP | $31.71 | $1.89-$1.95 | 16.5 |
| Ventas | $64.48 | $4.12-$4.18 | 15.5 |
Data sources: Guidance obtained from each company's most recent quarterly report, and adjusted/normalized FFO figures were used. Stock prices are as of 4/26/2017.
The Foolish bottom line
To be perfectly clear, I don't think investors will go wrong with either of these stocks over the long run, and I've held a position in HCP in my own portfolio for several years.
However, Ventas simply looks like the better value today. Not only is the company's valuation more attractive, but it's larger, more diversified, and has the more attractive balance sheet. To be fair, HCP is still in the early innings of putting its post-spinoff growth and financial strengthening plan into action, so it's completely possible that this won't be the case for too much longer. Still, if I were to initiate a new position in one of these two healthcare REITs today, it would probably be Ventas.
10 stocks we like better than HCPWhen investing geniuses David and Tom Gardner have a stock tip, it can pay to listen. After all, the newsletter they have run for over a decade, Motley Fool Stock Advisor, has tripled the market.*
David and Tom just revealed what they believe are the 10 best stocks for investors to buy right now... and HCP wasn't one of them! That's right -- they think these 10 stocks are even better buys.
Click here to learn about these picks!
*Stock Advisor returns as of April 3, 2017
Matthew Frankel owns shares of HCP. The Motley Fool has no position in any of the stocks mentioned. The Motley Fool has a disclosure policy.