Better Buy: Goldcorp Inc. vs. Yamana Gold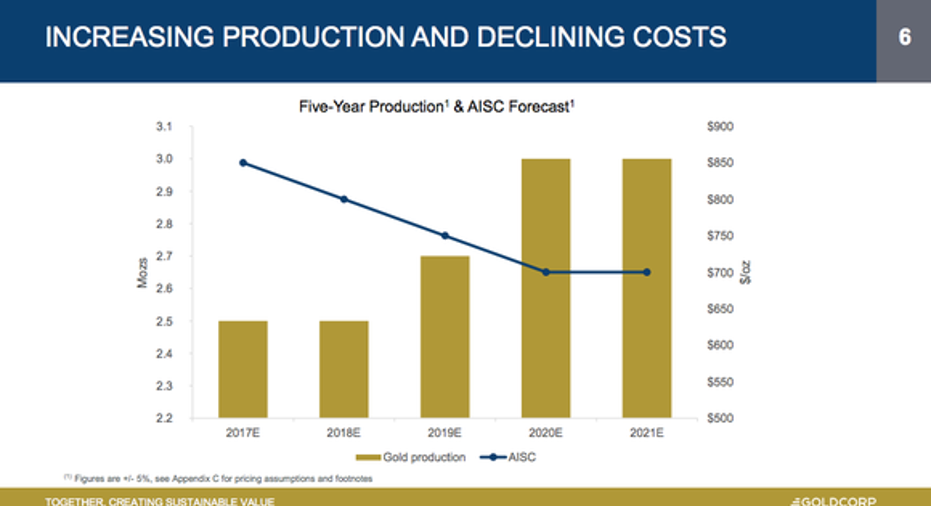 The rebound in the price of precious metals was a boon to gold mining stocks in 2016. Industry players like Goldcorp Inc. (NYSE: GG) and Yamana Gold (NYSE: AUY), however, continue to focus on rebalancing their mine portfolios and lowering costs, with varying levels of success. If you are looking at this pair of miners, which one is the best investment today?
Getting rid of trouble
Last year wasn't the best one for Yamana Gold. For example, the company's all-in sustaining costs (AISC) for gold rose from $868 an ounce in 2015 to $911 in 2016. AISC for its silver production went from $11.35 an ounce in 2015 to $12.65 last year. Not the right trend, especially since Yamana was able to push those costs lower between 2014 and 2015. That said, gold and silver production were both higher, but rising costs and growth spending left Yamana in the red in 2016 despite improved precious metals prices.
Image source: Yamana Gold
On top of that, Yamana orchestrated the partial spin-off of Brio Gold in late 2016. On the whole, this is a good thing because it pulls together several weaker mines that Yamana would ultimately like to get rid of -- mines that, basically, didn't work out as planned for the company. The only problem is that it continues to own roughly 80% of Brio after selling some of its holdings in early 2017. So getting out from under these assets will take time and the need for Brio in the first place is kind of an admission that mistakes were made.
Here's the longer-term issue: While the company has some growth initiatives in the works, it's really only got one big dig going on. The new mine, known as Cerro Moro, is projected to start producing in 2018. But the mine troubles that led to the creation and spin-off of Brio are kind of concerningsince they suggest execution has been an issue for Yamana. With all of its eggs in essentially one basket, that should be a red flag for investors -- on top of the rising costs and red ink in 2016.
You'll have to wait a bit longer for the payout, but Goldcorp has more potential
Now compare that scenario to Goldcorp. On the downside, this miner's gold production fell last year. But so did its all-in sustaining costs, which were trimmed from $894 per ounce of gold to $856. These two trends are expected to keep going for a little while, with relatively weak production numbers and falling costs lasting through 2019. That's when new mines are expected to push Goldcorp's production back into growth mode -- but move costs down to the $700 an ounce level by 2020.
A production pickup appears to be in the cards. Image source: Goldcorp.
Which is why the big number here is four. Yamana has one major new mine in the works, whereas Goldcorp is expecting three new mines to start producing in 2019 and another to come online in 2021. That's a little further out than the expected completion date of Yamana's Cerro Moro project, but if something goes awry at one of Goldcorp's projects, it won't be nearly as detrimental to the miner's future.
It's also worth noting that Goldcorp was profitable in 2016 (remember that Yamana was not, despite rising gold prices). Also, debt makes up around 15% of Goldcorp's capital structure, compared to Yamana's 25%. So it also looks like Goldcorp's fiscal house is in better order to support its growth initiatives than Yamana's is.All told, Goldcorp may take more time to turn things around, but the chances of success seem more likely.
Controlled costs and options for growth
Yamana Gold has had some execution issues in recent years, some of which it attempted to deal with by jettisoning assets via the Brio spin-off. That move, however, left it with just one major growth project in the works, Cerro Moro. If the miner can't deliver on Cerro Moro, it will likely be bad for the stock. That makes Yamana a pretty focused bet at this point.
Goldcorp, meanwhile, has three projects in the works for 2019 (and another for 2021). Moreover, it's been more successful at controlling costs, producing profits, and keeping its balance sheet strong. Production numbers will be weak while it's building its new mines, but once they come online, Goldcorp should switch back to growth mode. Most important, with four projects in the works, troubles at any one mine won't derail the story. That makes it a better option in my book, assuming you're willing to ride out the construction phase for the next couple of years.
10 stocks we like better than GoldcorpWhen investing geniuses David and Tom Gardner have a stock tip, it can pay to listen. After all, the newsletter they have run for over a decade, Motley Fool Stock Advisor, has tripled the market.*
David and Tom just revealed what they believe are the 10 best stocks for investors to buy right now... and Goldcorp wasn't one of them! That's right -- they think these 10 stocks are even better buys.
Click here to learn about these picks!
*Stock Advisor returns as of February 6, 2017
Reuben Brewer has no position in any stocks mentioned. The Motley Fool has no position in any of the stocks mentioned. The Motley Fool has a disclosure policy.