Better Buy: General Motors Company vs. Ford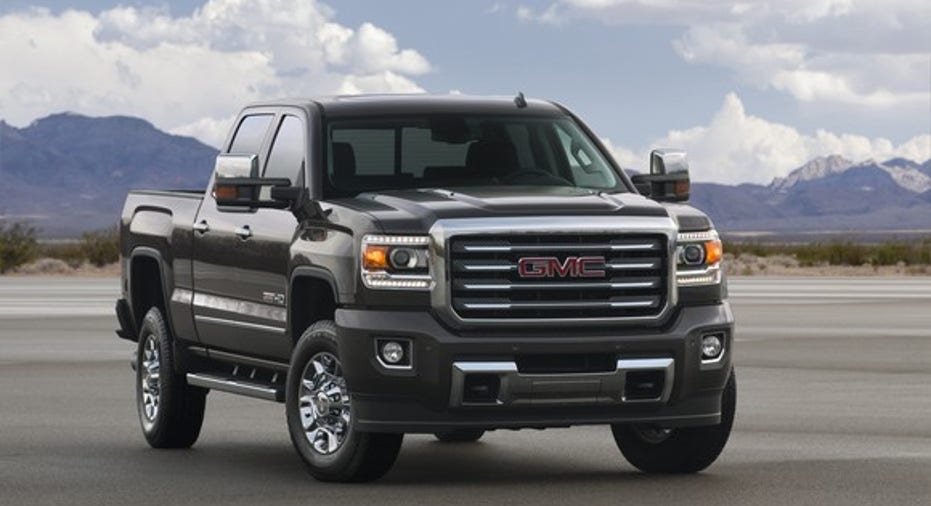 Image source: General Motors.
The auto industry has done extremely well in producing strong sales, with 2015 having been a record year and 2016 shaping up to be strong as well. Yet neither General Motors (NYSE: GM) nor Ford (NYSE: F) has produced particularly impressive share-price performance, and many investors worry that a cyclical peak will drive revenue downward and take stock prices with it. Nevertheless, both stocks trade at such attractively low levels that many investors wonder if they would make good value plays -- and if so, which is the smarter pick. Let's look more closely at how Ford and GM match up right now on some key metrics to see which could be the better buy.
Valuation and stock performance
General Motors and Ford have seen their stocks go in opposite directions over the past year. General Motors has produced a modest total return of 3% since October 2015, while Ford has lost ground, falling more than 12% over the same time period.
One thing that has so many investors confused right now is that based on very simple earnings-based valuations, both GM and Ford look dirt cheap right now. Looking at earnings over the past 12 months, GM has a slight lead, trading at just four times trailing earnings compared to a trailing earnings multiple of nearly almost six for Ford. Future earnings expectations for slight bottom-line declines make forward earnings multiples a bit higher, but GM still has a lead, sporting a forward multiple of just over 5.5 compared to almost 7 for Ford. Both stocks have low valuations, but General Motors wins with a slightly cheaper share price.
Dividends and return of shareholder capital
Another thing that General Motors and Ford share is their commitment to rewarding shareholders. Both companies have dividend yields that are well above the market average. Ford's current yield is 4.9%, which just edges out GM's 4.7% yield.
However, when you look more closely at each company's total capital return to shareholders, General Motors looks more attractive. In each of the past four years, General Motors has spent between $2.4 billion and $5.1 billion on stock buybacks, dramatically outpacing Ford's negligible amounts on repurchasing its shares.
Still, Ford's dividend history is far more extensive, largely because of its ability to avoid bankruptcy. Ford restored its dividend in 2012 and has tripled it since then, while GM didn't start paying common dividends until 2014 and has been much more measured in boosting its payout. Overall, both stocks have their pluses and minuses on the capital front, leaving it to investors to decide which offers the more attractive combination for them.
Growth and potential risk
One big worry about both General Motors and Ford is that they might have hit their peak for this business cycle and be destined to contract in the years to come. At the moment, projections suggest that 2016 auto sales in the U.S. will likely fall about 1% from 2015's record levels. Yet for General Motors, several factors could offset a weaker overall auto market. First, the company expects to offer new models of potentially popular vehicles in the next several years, including a dramatic expansion to its Cadillac luxury lineup. Efforts to streamline its financing division to make it more profitable could also help GM's bottom line, and the automaker expects a record profit for the 2016 year. With the potential for high-tech advances in electric vehicles and self-driving technology, General Motors is enthusiastic about its prospects.
For Ford, challenges have put it in a tougher position than GM. Recalls have been a recent problem for the automaker, with one door-latch issue originally expected to affect 830,000 vehicles in North America ending up affecting almost 2.4 million. More broadly, Ford's latest earnings report included higher sales incentives to dealers and a 9% decline in profit that prompted a significant share-price drop. But improving performance in Europe and relatedly strong conditions in North America have the long-term potential to keep driving growth at Ford, and that could make shares look inordinately inexpensive in hindsight.
At this point, both General Motors and Ford offer interesting prospects, but GM looks like the slightly better pick right now. Between a cheaper valuation and arguably more solid growth prospects, General Motors just edges out Ford and its similar set of compelling reasons to invest now.
A secret billion-dollar stock opportunity The world's biggest tech company forgot to show you something, but a few Wall Street analysts and the Fool didn't miss a beat: There's a small company that's powering their brand-new gadgets and the coming revolution in technology. And we think its stock price has nearly unlimited room to run for early in-the-know investors! To be one of them, just click here.
Dan Caplinger owns shares of Ford. The Motley Fool owns shares of and recommends Ford. The Motley Fool recommends General Motors. Try any of our Foolish newsletter services free for 30 days. We Fools may not all hold the same opinions, but we all believe that considering a diverse range of insights makes us better investors. The Motley Fool has a disclosure policy.