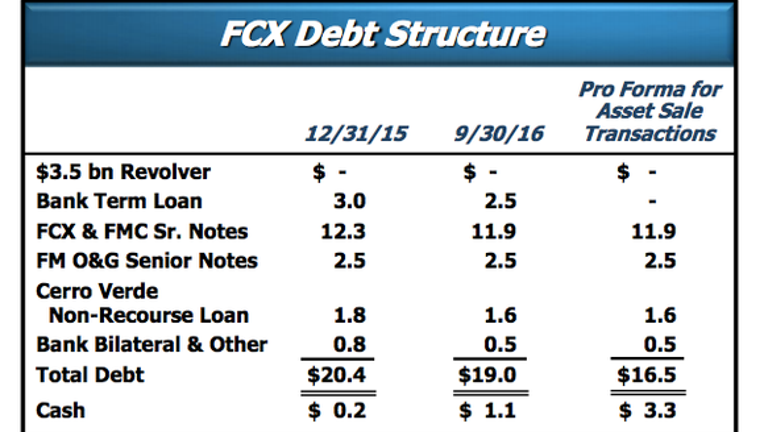 Freeport-McMoRan Inc. (NYSE: FCX) and Hecla Mining (NYSE: HL) are two precious-metals miners that have been around for a long time. Only recently they've made vastly different decisions about how to invest their shareholders' money. If you're looking for a precious-metals stock, you'll have to ask yourself if you like the excitement of a turnaround or are more inclined to favor a staid approach.
Image Source: Hecla Mining
That was a mistake
In 2013 Freeport-McMoRan made a big decision. That was the year that it pushed its long-term debt from $3.5 billion to $20 billion so it could acquire McMoRan Exploration Co. and Plains Exploration, expanding its business from mining for gold and copper into the oil drilling space. Unfortunately for the miner, oil began to plunge in mid-2014, turning this investment into a particularly bad deal.
The company has been working to get itself out from under oil for several years and is now best thought of as mixture of a turnaround play and a mining stock. Positively, the company is starting to gain some traction on the turnaround. It recently inked a deal to sell some of its oil assets and has managed to pare long-term debt by over $1.5 billion through the first nine months of the 2016. Freeport-McMoRan is expecting asset sales to generate another $5 billion or so of cash in the fourth quarter. Presumably a good portion of that will be used to reduce debt, too.
Freeport McMoRan debt profile and what it might look like after asset sales. Image Source: Freeport McMoRan
The point is that Freeport got itself in trouble with an ill-timed investment. It's working to extricate itself from that decision and is only now starting to gain some real traction in that effort. That means the future could be brighter than the most recent past, but that's only interesting if you like the idea of a turnaround play.
Boring, but exciting
Hecla Mining, on the other hand, has pretty much stuck to its knitting. Although the miner digs up both gold and silver, silver is the real focus. Unlike many miners, it didn't write down the value of any of its assets during the precious-metals downturn that lasted from around 2011 to early this year. It just kept doing what it does best -- mining.
And it's done that very well. For example, Hecla expects to increase its silver production by over 150% this year compared with its 2012 tally. Gold production is anticipated to be up even more with a 320% increase. Freeport's gold production has basically flatlined since 2012, though it has managed to keep its copper production growing (that's the other big product in Freeport's portfolio). That said, Hecla isn't done growing production yet. It has a number of projects in the works that should further boost production out through the middle of the next decade.
Hecla Minings long-term projects. Image source: Hecla Mining
To make the comparison between Hecla and Freeport even more stark, however, long-term debt makes up roughly 25% of Hecla's capital structure. That figure is around 80% at Freeport, showing exactly why debt reduction is front and center in the miner's business plan.
Delivering
If you're looking for a miner you'll need to decide if you like the idea of a turnaround, which would push you toward Freeport, or something a little more boring -- Hecla Mining. For my taste, I'd rather stick to a company that gets the little things right day in and and day out. With this pair, that's clearly Hecla.
Forget the 2016 Election: 10 stocks we like better than Freeport-McMoRan Copper and Gold Donald Trump was just elected president, and volatility is up. But here's why you should ignore the election:
Investing geniuses Tom and David Gardner have spent a long time beating the market no matter who's in the White House. In fact, the newsletter they have run for over a decade, Motley Fool Stock Advisor, has tripled the market.*
David and Tom just revealed what they believe are the ten best stocks for investors to buy right now... and Freeport-McMoRan Copper and Gold wasn't one of them! That's right -- they think these 10 stocks are even better buys.
Click here to learn about these picks!
*Stock Advisor returns as of November 7, 2016
Reuben Brewer has no position in any stocks mentioned. The Motley Fool owns shares of Freeport-McMoRan Copper and Gold. Try any of our Foolish newsletter services free for 30 days. We Fools may not all hold the same opinions, but we all believe that considering a diverse range of insights makes us better investors. The Motley Fool has a disclosure policy.