Better Buy: Facebook, Inc. vs. LinkedIn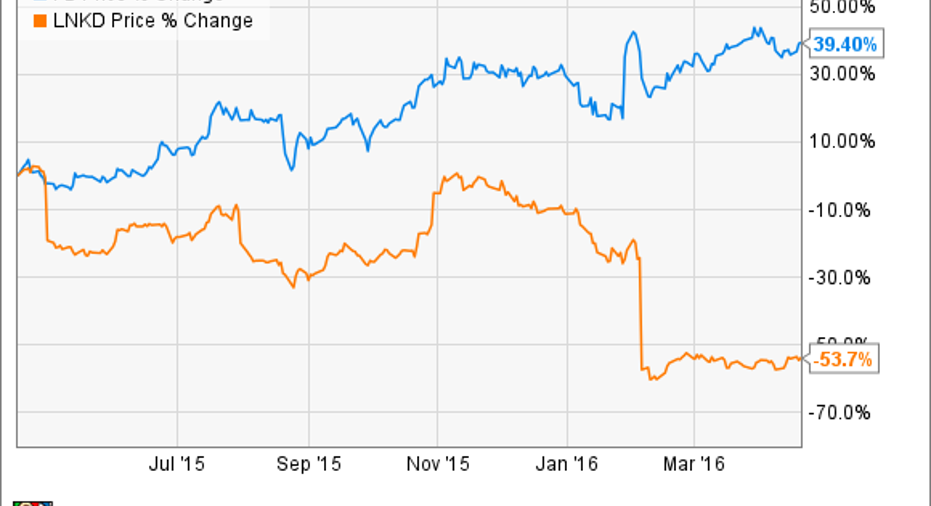 Two hot social network stocks -- Facebook and LinkedIn -- have moved in very different directions recently. During the last year, Facebook stock soared 39%, and LinkedIn stock fell 54%.
Still, the fact that the two stocks have moved in opposite directions doesn't automatically make one a better buy than the other. A better way to assess their relative value to each other is to compare their businesses and their stocks' respective valuations.
A head-to-head comparison of Facebook and LinkedIn is particularly useful today because it comes just before their earnings reports. Both companies are scheduled to report results for their most recent quarter next week.
So, ahead of these social network stocks' earnings reports next week, which is a better buy?
| Metric | Facebook | LinkedIn |
| --- | --- | --- |
| Trailing-12-month revenue growth (YOY) | 43.8% | 35% |
| Price-to-sales | 17.8 | 5.1 |
GrowthWith its revenue during the past year soaring 44%, compared to LinkedIn's revenue growth of 35% during this same period, Facebook is undoubtedly the faster-growing company of the two. Indeed, when it comes to growth, Facebook has just about anyone beat -- and this growth doesn't seem to be tapering off. For three consecutive quarters in a row, Facebook's year-over-year revenue growth rates have actually accelerated.
Facebook's impressive growth carries over to more areas than just its top line. In the company's most recent quarter, net income leaped 123% to $1.6 billion, up from about $700 million in the year-ago quarter. And Facebook's base of monthly active users continues to grow, too. The company posted 3% sequential growth in its massive user base in Q4, bringing the total account to a startling 1.59 billion.
LinkedIn's growth story is quite different than Facebook's. While the company's 35% and 41% year-over-year revenue and non-GAAP EPS growth in 2015 was impressive, management is forecasting much more modest growth this year. LinkedIn expects revenue to increase just 20% to 22% in 2016, and it expects 7% to 13% growth in its non-GAAP EPS.
The company's user growth has also been lagging. Indeed, in the company's most recent quarter, its monthly average unique visiting member count failed to increase sequentially, staying at the 100 million level achieved in Q3.
ValuationFacebook is obviously the more "expensive" stock of the two. But as an analysis of the company's growth suggests, the company likely deserves to trade at a much higher premium to sales than LinkedIn does. The question, therefore, is whether or not Facebook's growth potential justifies a valuation this steep?
Facebook mobile app. Image source: Facebook.
To get an idea of what sort of growth Facebook's valuation prices in, consider this scenario: If Facebook were to grow its net income by 40% annually over the next five years, and its stock price didn't even move, the stock would still trade at around 17 times earnings. So, is Facebook worth a price-to-sales ratio of 17.8 and a price-to-earnings ratio of 87? Possibly -- but this isn't a bet I'd feel confident in making.
As the cheaper stock of the two, LinkedIn still isn't in bargain territory, either. Struggling to report profits on a GAAP basis, and with management forecasting a significant deceleration in growth this year, the stock doesn't look like a screaming buy at these levels.
For now, I'd say there's more value in LinkedIn stock. But investors may want to keep both companies on their watchlist and hope for a larger pullback in their share prices.
The article Better Buy: Facebook, Inc. vs. LinkedIn originally appeared on Fool.com.
Daniel Sparks has no position in any stocks mentioned. The Motley Fool owns shares of and recommends Facebook and LinkedIn. Try any of our Foolish newsletter services free for 30 days. We Fools may not all hold the same opinions, but we all believe that considering a diverse range of insights makes us better investors. The Motley Fool has a disclosure policy.
Copyright 1995 - 2016 The Motley Fool, LLC. All rights reserved. The Motley Fool has a disclosure policy.