Better Buy: Facebook, Inc. vs. Line Corp.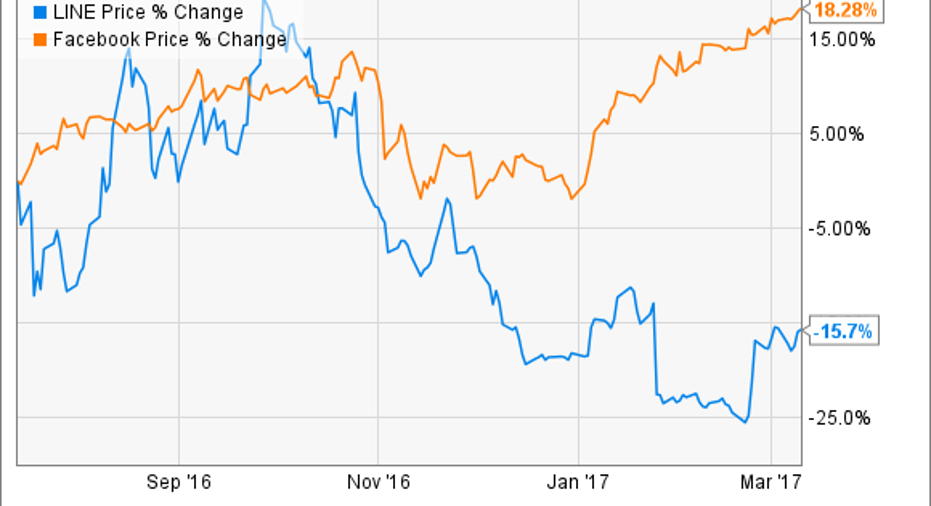 They were the largest tech IPOs in the respective years they went public. They compete head-to-head in what many expect to emerge as an increasingly important area of consumer tech in coming years. They're social-media powerhouse Facebook (NASDAQ: FB) and messaging platform Line Corporation (NYSE: LN).
Line made its public debut last July,so the sample size of its trading history is minuscule. However, in the months since its IPO, the respective fortunes of Line and Facebook have diverged to a meaningful degree.
Of course, this only tells any investor a fraction of what he or she needs to know. Let's examine three important aspects of Facebook's and Line's investment narratives, to figure out which stock is the better buy today.
Financial fortitude
The comparison of financial might between Line and Facebook is an instance of David versus Goliath. Look at these four important measures of solvency and liquidity for both companies:
| Company | Cash and Investments | Debt | Cash From Operations | Current Ratio |
| --- | --- | --- | --- | --- |
| Facebook | $29.4 billion | $0 | $16.1 billion | 11.9 |
| Line Corp | $1.2 billion | $0 | $253.4 billion | 2.0 |
Data sources: Facebookand Line Corp.investor relations, Yahoo! Finance.
Facebook wins each category by a landslide, but Line is in fine financial shape. It has no debt, has over $1 billion in the bank, and produces plenty of spare cash each year. However, the winner here was inevitable.
Winner: Facebook.
Image source: Getty Images.
Durable competitive advantages
The size contrast between Facebook and Line continues in examining their durable competitive advantages.
As of its most recent earnings report, Facebook counted 1.86 billion monthly active users (MAUs) on its core social-networking platform, or about 58% of the world's population that has access to the internet.Beyond this, Facebook owns other social-media platforms and messaging services, such as Instagram (600 million MAUs),Facebook Messenger (1 billion MAUs),and WhatsApp (1 billion MAUs),that are seeing large and growing user counts as well. This immense base of users has allowed Facebook to create the most powerful digital advertising this side of Alphabet.Better still, Facebook is moving into emerging areas of technology, including virtual reality, artificial intelligence, live digital video streaming, and much more. Facebook, in short, has quickly ascended to become one of the most important technology companies on the face of the earth.
Line, on the other hand, is far smaller. As of its most recent earnings report, the company counted 217 million monthly active users on its messaging platform, though 76% of its users are concentrated in just four core markets: Japan, Thailand, Taiwan, and Indonesia. Worse, its user growth declined sequentially from 220 million in its Q3 report,suggesting that Line may be feeling pressure from larger global messaging platforms -- like the ones Facebook owns. The company has moved aggressively to monetize its users through products such as paid stickers, games, and a host of other mobile apps, butthe jury remains out on whether Line can translate its regional strength in messaging into a sustainable long-term business. Compared with Facebook, it's clear which company enjoys more substantial durable competitive advantages.
Winner: Facebook.
Valuation
A meaningful gap exists between Facebook's and Line's valuations, and for good reason. First, look at three of the most commonly used valuation metrics for both companies:
| Company | P/E | Forward P/E | EV/EBITDA |
| --- | --- | --- | --- |
| Facebook | 39.1 | 20.4 | 24.7 |
| Line Corp. | 111.8 | 34.6 | 34.3 |
Data source: Yahoo! Finance.
Again, Facebook beats Line across all three valuation statistics. Comparing this performance to their projected future growth rates, analysts estimate that Facebook's earnings per share will grow at an average annual rate of 23.5% over the next five years, versus 39.3% for Line -- which has only one sell-side analyst covering its stock at the moment. I think the key question here is to what extent investors believe in Line's monetization capabilities. If Line can indeed grow its EPS at such above-average rates, Line shares could do quite well. However, the cracks that have emerged in its user growth story give me pause. So let's call this section a draw and move on.
Winner: Tie.
And the winner is... Facebook
Facebook remains undeniably stronger than Line, even factoring in Line's higher estimated future growth rates. The Asian messaging platform still has plenty of questions to answer about whether it can continue to expand its uses. On the other hand, Facebook is one of the most powerful and iconic companies in all of tech. It stands as the better buy between the two today.
10 stocks we like better than FacebookWhen investing geniuses David and Tom Gardner have a stock tip, it can pay to listen. After all, the newsletter they have run for over a decade, Motley Fool Stock Advisor, has tripled the market.*
David and Tom just revealed what they believe are the 10 best stocks for investors to buy right now... and Facebook wasn't one of them! That's right -- they think these 10 stocks are even better buys.
Click here to learn about these picks!
*Stock Advisor returns as of February 6, 2017
Suzanne Frey, an executive at Alphabet, is a member of The Motley Fool's board of directors. Andrew Tonner has no position in any stocks mentioned. The Motley Fool owns shares of and recommends Alphabet (A shares), Alphabet (C shares), and Facebook. The Motley Fool has a disclosure policy.