Better Buy: Exelixis, Inc. vs. Roche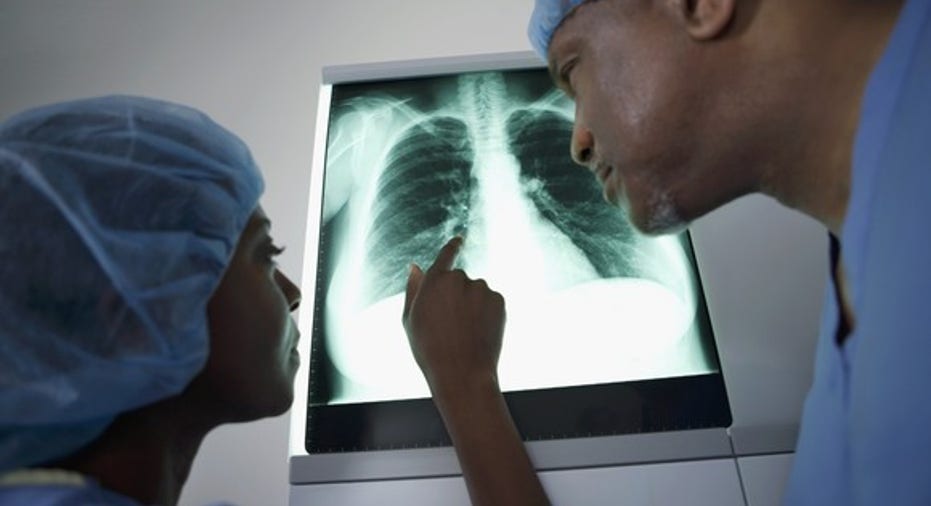 Image source: Getty Images.
Recently approved cancer therapies from Exelixis (NASDAQ: EXEL) and Roche (NASDAQOTH: RHHBY) have oncologists fizzing with excitement, but the two drugmakers have more differences than similarities. While Roche has been profitable for decades, Exelixis is still losing money. On the other hand, Exelixis stock has more than doubled this year, but shares of the Swiss pharma giant have given up about 10% over the same period.
Investors are right to wonder if they should dive into volatile Exelixis stock following its recent plunge or seek safety in Roche's diverse revenue streams. Let's look at some challenges and opportunities facing both companies to see which stock is the better buy.
What's new
Exelixis' lead drug, cabozantinib, chalked up a huge win this April when the FDA approved a tablet form under the brand name Cabometyx for treatment of advanced kidney cancer patients.Although cabozantinib capsules first earned approvalfor treatment of medullary thyroid cancer in 2012 under the brand nameCometriq,it generated modest sales in the limited population. When cabozantinib failed to show a survival benefit in a study with prostate cancer patients a couple of years ago,many analysts assumed its sales would remain limited.
They were wrong. Although Cabometyx launched into the larger kidney cancer population partway through the second quarter, Exelixis' net product revenue exploded from just $9.1 million in the first three months of the year to $31.6 million during the three months ended June.
Image source: Roche.
Roche also has an exciting new cancer therapy. Tecentriq binds to PD-L1 found on the surface of a variety of tumor cells, limiting their ability to suppress immune-system attacks. Two incredibly successful therapies, Opdivo from Bristol-Myers Squibband Keytruda from Merck & Co., act on the immune-cell side of the same pathway, but Tecentriq became the first of its class to earn an FDA approval in May.
What's next
At the moment, Tecentriq is limited to treatment of a relatively limited group of people with bladder cancer, but that could change soon. Any day now, the FDA is expected to announce its decision regarding an application that would expand Tecentriq's availability from bladder cancer to a much larger group of advanced lung cancer patients.
Each year, lung cancers claim the lives of 1.6 million people worldwide, making it the leading cause of cancer death. With eight phase 3 lung cancer studies evaluating Tecentriq in this enormous population showing encouraging results thus far, the therapy has a real chance of reaching peak annual sales estimates north of $3 billion.
Image source: Getty Images.
Roche has more than Tecentriq label expansions to look forward to. Its candidate Ocrevus is the first multiple sclerosis drug to slow progression of the most aggressive form of the disease in large clinical studies. Roche expects an FDA decision regarding an application to treat this underserved population, which represents about 15% of the world's 2.3 million people with multiple sclerosis, by the end of the year. If approved as expected, Ocrevus could add more than $5 billion annually to the company's top line.
For Exelixis, Cabometyx sales in the second quarter were strong enough to suggest its current role in kidney cancer has enough fuel to drive the company to profit town, but it could go much further.
A patient's disease must progress following a specific type of therapy before they become eligible for Cabometyx, butPfizer's Sutent is approved for newly diagnosed, untreated advanced kidney cancer patients. However,Exelixis announced that treatment with Cabometyx significantly slowed disease progression compared to Sutent in a 150-patient trial.We'll have a better idea of how far Cabometyx can expand into the advanced kidney cancer population when it presents results from the study on Oct. 10 at a scientific conference.
Exelixis is also running a phase 3 trial that could support an application to treat the most common form of liver cancer. It recently passed its first interim analysis,and if the trial is successful, Cabometyx could eventually generate more than $1 billion in annual sales.
In the numbers
Given Exelixis' small market cap of around $2.9 billion, a slight breeze could blast its share price in one direction or the other. If Cabometyx shows clear signs it's headed for the $1 billion mark, the stock could soar.
Unfortunately, those signs must appear sooner rather than later, because Exelixis' main cabozantinib patents are set to expire in 2024. Unlike Roche's best-selling products, Cabometyx is asmall molecule drug. Once it loses exclusivity, generic competition could quickly hammer its sales.
Image source: Getty Images.
In stark contrast to Exelixis, Roche needs fire-breathing monster trucks to move the needle. The company finished the first half on pace to generate more than $53 billion in revenue this year.Challenging growth further,biosimilarcompetitionfor two drugs that comprised 24.6% of total sales in the first half (Rituxan and Herceptin)could be on the way.
With a rock-solid dividend offering a 2.7% yield at recent prices, and 29 consecutive years of payment raises (in Swiss francs), Roche is a great stock for those in need of steadily growing income. If you're willing to take risk in hope of greater capital gains, though, Exelixis looks like the better buy.
A secret billion-dollar stock opportunity The world's biggest tech company forgot to show you something, but a few Wall Street analysts and the Fool didn't miss a beat: There's a small company that's powering their brand-new gadgets and the coming revolution in technology. And we think its stock price has nearly unlimited room to run for early in-the-know investors! To be one of them, just click here.
Cory Renauer has no position in any stocks mentioned. You can follow Cory on Twitter @TMFang4apples or connect with him on LinkedIn for more healthcare industry insight.
The Motley Fool owns shares of and recommends Exelixis. Try any of our Foolish newsletter services free for 30 days. We Fools may not all hold the same opinions, but we all believe that considering a diverse range of insights makes us better investors. The Motley Fool has a disclosure policy.