Better Buy: eBay Inc. vs. PayPal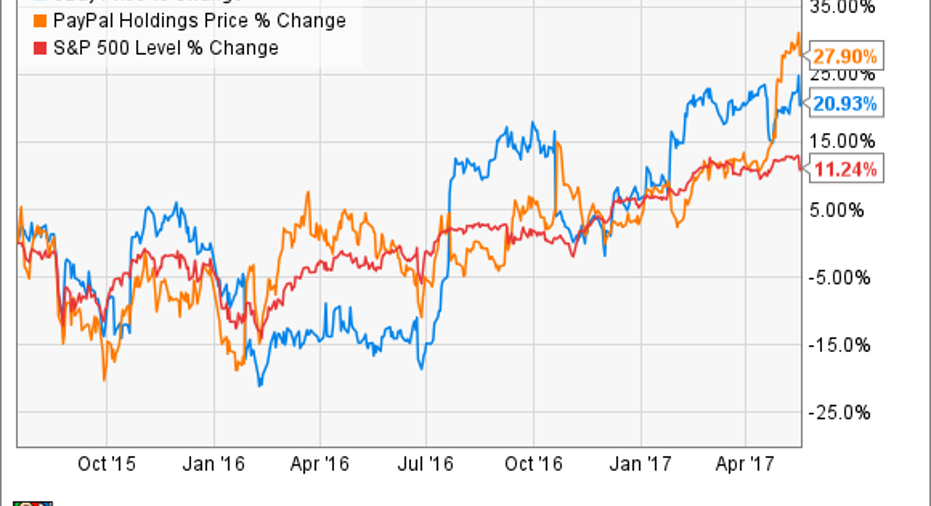 The fact that these two companies were once joined at the hip makes this challenge all the more interesting. Investors who are familiar with auction site eBay Inc. (NASDAQ: EBAY)will no doubt also know about its erstwhile segment, payment service PayPal Holdings, Inc. (NASDAQ: PYPL). The companies shared a common history after joining forces in 2002, but parted ways in July 2015. Those who were invested in eBay at the time of the split would have received shares in PayPal and may still hold shares in each.
Both companies are longtime players that fill a niche serving digital consumers in the growing trend of e-commerce. How are investors to know which is the better buy right now? While past performance is no indicator of future success, a review of the recent results and a little analysis may help determine the best place to put your hard-earned dollars if you were to establish a position today.
In this matchup of stock market veterans, which is the better buy today? Image source: Getty Images.
The case for eBay
eBay still runs its legacy consumer auction platform where it puts buyers and sellers together and gets a piece of each transaction. The company can grow in a couple of ways -- it can entice more buyers and sellers to its platform or encourage existing users to increase the number of transactions. Toward that end, it has been working to enhance its mobile offering and create a more personalized experience for its users. eBay sees its future as a niche player, joining buyers and sellers.
In its most recent quarter, eBay grew revenue to $2.2 billion up 4% over the prior year quarter. The company's active buyers also increased 4% to 169 million year over year, while gross merchandise volume grew 2% over the prior-year quarter. Its online ticket exchange platform StubHub is its fastest-growing segment, which saw revenue jump 18% to $210 million year over year.
Over the trailing-12-month period, eBay produced revenue of just over $9 billion and earnings per share of $6.96, but its earnings included numerous one-time items not related to ordinary operating activities, which skew the figure and therefore should not be included in any comparison.
Without these one-time items, the company would have produced revenue of $9 billion and normalized earnings per share of $1.25 over the trailing 12 months. For 2017, the company expects its revenue to grow between 6% and 8% to $9.3 billion and $9.5 billion and produce earnings per share of between $1.20 and $1.40.
eBay sees its future as a niche player connecting buyers with sellers. Image source: eBay.
The case for PayPal
PayPal continues to leverage its position as the most well-known digital payment platform and build upon that by transforming itself to more of a mobile wallet. The company has embarked on a host of partnerships that include all of the major credit card issuers to give consumers the option to choose a funding source for each transaction and is also streamlining the signup process for new account holders. PayPal is driving engagement with its One Touch feature, which allows consumers to skip the login and use PayPal directly on merchant sites.
In the most recent quarter, PayPal produced revenue of $2.98 billion, up 17% over the prior-year quarter. Active customer accounts increased to 203 million, up 11% year over year while the number of payment transactions increased 23% to 1.7 billion, and payments per active customer climbed 12%.
Over the trailing 12 months, PayPal produced revenue of $11.27 billion and earnings per share of $1.18, and expects to increase revenue by 15% to 17% for 2017 and produce earnings of between $1.28 and $1.33 per share.
PayPal has been partnering to expand its digital payments business. Image source: PayPal.
Recent performance
As you can see from the chart below, since the two companies separated in July 2015, both have beaten the broader S&P 500, though PayPal has returned 28% compared to eBay's 21%. Given the better stock performance, PayPal also enjoys a higher valuation, at 42 times a trailing earnings compared to a minuscule five times for eBay, according to Yahoo! Finance. It is important to note, however, that eBay's valuation is skewed by one-time items. Factoring these out, its valuation becomes a more reasonable 27 times trailing earnings. Going forward, eBay expects its earnings for the year to be essentially flat.
Verdict
PayPal has been expanding beyond its humble beginnings, while eBay remains tethered to the past. Taking into account both companies' own growth forecast and recent results is illuminating. While I hold positions in both companies, I believe the migration toward digital payments provides PayPal greater opportunities than does eBay's legacy auction business.
Winner: PayPal
10 stocks we like better than eBayWhen investing geniuses David and Tom Gardner have a stock tip, it can pay to listen. After all, the newsletter they have run for over a decade, Motley Fool Stock Advisor, has tripled the market.*
David and Tom just revealed what they believe are the 10 best stocks for investors to buy right now... and eBay wasn't one of them! That's right -- they think these 10 stocks are even better buys.
Click here to learn about these picks!
*Stock Advisor returns as of May 1, 2017
Danny Vena owns shares of PayPal Holdings. Danny Vena has the following options: long January 2019 $18 calls on eBay and short October 2017 $34 calls on eBay. The Motley Fool owns shares of and recommends eBay and PayPal Holdings. The Motley Fool has a disclosure policy.