Better Buy: ConocoPhillips or Royal Dutch Shell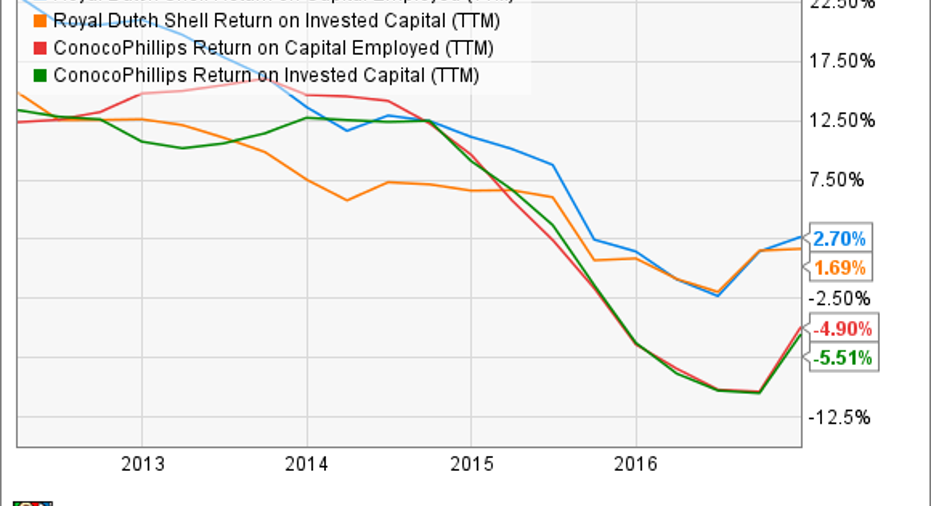 With oil prices starting to rebound -- at least a little bit -- it may be time to think about buying energy stocks again. After all, with a cyclical commodity like oil, buying at the low point in the cycle is the best way to get juicy returns.
So today, let's look at oil giants ConocoPhillips (NYSE: COP)andRoyal Dutch Shell(NYSE: RDS-B)(NYSE: RDS-A) to figure out which one would be a better place for your money right now.
ConocoPhillips is now a "production only" oil company, while Royal Dutch Shell is more diversified. Image source: Getty Images.
Uncertainty abounds at Shell
Before we start looking at the numbers from either company, it's worth noting up front that the Netherlands-based Shell is nearly four times as large as its American rival by market cap. Also, while Shell is a "fullstream" company (meaning it has operations in drilling and exploration as well as refining, storing, and selling), ConocoPhillips spun off itsrefining, logistics, and marketing businesses in 2012, keeping onlyits exploration and drilling business.
Regardless of those differences, though, the oil downturn has hit both companies hard. Revenue, profits, and of course stock prices are way down for both companies. Investors taking a chance on either one are probably anticipating an industry rebound. But beyond these macro trends, Shell has an additional degree of uncertainty surrounding it, mostly related to its acquisition of rival BG a year ago.
The BG acquisition was so large that the company is still working out the kinks. Especially relevant for investors, the purchase is going to require selling off more than $30 billion in assets by 2018.Of course, we don't know exactly what's staying and what's going at this point. But Shell may end up looking very different than we expect when all's said and done.
Still, Shell's BG acquisition gives it additional exposure to liquefied natural gas. And the LNG market is booming. Global demand is expected to rise by 4%-5% per year through 2030.So, although there's uncertainty here, there's also a lot of potential upside.
Betting on a recovery
Speaking of upside potential, ConocoPhillips certainly stands to benefit more than its larger rival from improvement in oil prices. That's because oil production is more affected by oil price swings than the comparatively stable transportation, refining, or marketing businesses. And remember that ConocoPhillips is a "production-only" company.
But ConocoPhillips' management isn't just sitting around waiting for oil prices to rise. Instead, it has taken some concrete steps to ensure its success when the next oil boom cycle begins in earnest. The company is getting out of the risky and expensive business of deepwater exploration in order to free up capital and reduce expenses.The moves it has made so far in this regard -- including selling its stake in three exploration blocks off of the coast of Senegal -- have helped to reduce the company's breakeven point by one third, from $75 per barrel to just $50 per barrel.
That's good for the company right now, since it gives it some financial flexibility, and it should get even better as oil prices begin to rise. And even though the costs of oilfield services -- and thus, the company's breakeven point -- will rise along with oil prices, the extra cash flow should still allow the company to reward patient shareholders through dividends and share repurchases, something the company is clearly anxious to do.
Weathering the downturn
So, here we have two companies that have been hit hard by the downturn in oil prices. One is responding by making a big purchase and fortifying its position in LNG. The other is in a process of cutting costs and refocusing on the most profitable areas of its business. Those are two markedly different strategies. And there's no real way to tell which is better than the other.
One thing is very clear, though: While you wait to see what's going to happen, being a Shell shareholder is going to be a lot more rewarding thanks to the company's massive 6.8% dividend yield. That's among the best yields in the industry, trouncing rivals likeExxonMobil(3.7%) andChevron(3.8%). And it absolutely blows away poor ConocoPhillips' 2.1% dividend yield.
That said, ConocoPhillips' poor yield is actually the result of some smart planning by management. A year ago, the company cut its quarterly dividend by nearly two-thirds, from $0.74/share to $0.25/share, knocking down what had grown to nearly a 7.5% yield.In doing so, though, it shored up its balance sheet and positioned itself to weather the downturn until oil prices recovered.
Investor takeaway
With so much uncertainty surrounding the industry as a whole, and the two companies' individual strategic choices in particular, it's tough to know which company is going to be the better buy over the long term. But in the face of that uncertainty, it seems that Royal Dutch Shell is probably the better buy today because of its superior dividend.
That thesis is borne out by the companies' relative returns on capital. Although both companies' rate of returns on invested capital and on capital employed have suffered in recent years, Shell's is currently positive, and much higher than ConocoPhillips':
RDS.B Return on Capital Employed (TTM) data by YCharts
.
That means that Shell's management is, overall, doing a better job of efficiently deploying its resources...even as those resources have been depleted by the downturn. When coupled with its vastly superior dividend yield, Shell is clearly the better buy.
10 stocks we like better than ConocoPhillipsWhen investing geniuses David and Tom Gardner have a stock tip, it can pay to listen. After all, the newsletter they have run for over a decade, Motley Fool Stock Advisor, has tripled the market.*
David and Tom just revealed what they believe are the 10 best stocks for investors to buy right now...and ConocoPhillips wasn't one of them! That's right -- they think these 10 stocks are even better buys.
Click here to learn about these picks!
*Stock Advisor returns as of February 6, 2017.
John Bromels has no position in any stocks mentioned. The Motley Fool owns shares of ExxonMobil. The Motley Fool recommends Chevron. The Motley Fool has a disclosure policy.