Better Buy: Coeur Mining Inc. vs. Tahoe Resources Inc.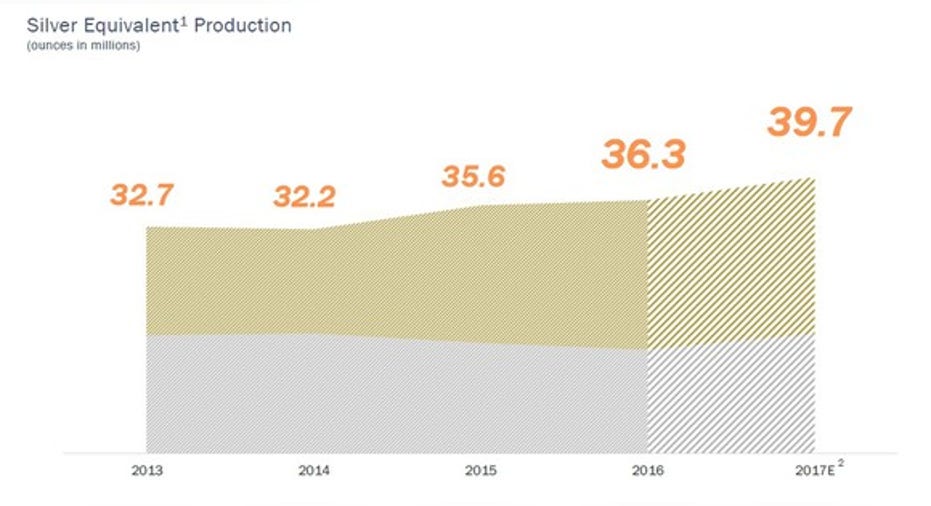 If you're a precious-metals investor, you've no doubt heard of silver-mining stocks Coeur Mining Inc. (NYSE: CDE) and Tahoe Resources Inc. (NYSE: TAHO) right now. Both stocks look delectably attractive, with Coeur shedding almost 36% and Tahoe nearly 45% in the past six months, as of this writing.
Both Coeur and Tahoe have kicked off their 2017 financial year on a strong note in terms of operational performances and are aggressively expanding their businesses. I'd consider now a great entry point; and if I were to choose one of the stocks, I'd go with Coeur despite Tahoe's solid numbers and dividends. Here's why.
Image source: Getty Images
Coeur Mining: stupendous turnaround in 2016
President and CEO Mitchell J. Krebs perfectly summed up 2016 for Coeur Mining during the company's last earnings call when he said that "2016 marked a key inflection point for Coeur." Coeur has, indeed, stepped into 2017 on solid footing, having achieved record silver equivalent production of 36.3 million ounces in 2016. Not one to rest on its laurels, Coeur aims to take its production to yet another level next year as it ramps up its primary mine at Palmarejo, Mexico. Coeur is also guarding its position as the largest primary silver producer in the United States.
Image source: Coeur's presentation at 2017 Annual ROTH Conference, March 2017
Palmarejo's expansion is perfectly timed -- and it isn't just about silver. Just last year, Coeur struck a new agreement with precious-metals streaming and royalty company Franco Nevada Corp.(NYSE: FNV), wherein Franco-Nevada will buy 50% of the gold produced at Palmarejo at a cash price of $800 an ounce, almost twice what it paid Coeur under the old agreement. So Palmarejo should boost Coeur's cash flows substantially going forward.
Meanwhile, Coeur cut its cost of sales by almost 15% last year despite higher revenue. More importantly, a focus on higher-grade metal in recent years has helped Coeur bring down its all-in-sustaining cost substantially: Its AISC came in at only about $16.08 per silver equivalent ounce in 2016, compared with $19.93 per ounce in 2013. Thanks to rising production and lower costs, Coeur ended 2016 with adjusted net profits (excluding impairment charges) of $47.8 million, versus an adjusted net loss of $103.6 million in 2015.
That's not all. Coeur also cut down its total debt by more than half in 2016, using proceeds from non-core asset sales and stock issue, even encouraging Moody's to upgrade the miner's debt ratings last September. Granted, a stock issue dilutes shareholders' capital, but it isn't uncommon for precious-metals miners to tap capital markets for funds.
Can a company do any better to attract investors' attention? Maybe not, but there's one important area where Coeur disappoints: dividends. Unlike Tahoe, which pays a monthly dividend and boasts a current yield of 3.3%, Coeur doesn't pay a dividend at all. And that isn't the only impressive thing about Tahoe.
Tahoe Resources: a young, growing miner
While Coeur's history dates to 1928, Tahoe was incorporated in 2009. In fact, Tahoe's primary mine Escobal in Guatemala -- also the world's third largest silver mine -- commenced production only about three years ago. Does that make you wary about investing in Tahoe? Well, it might be a young company, but Tahoe has a solid team backing it up.
Here's an interesting tidbit: Tahoe was founded by formerGoldcorp Inc.(NYSE: GG)CEO Kevin McArthur, and several members on Tahoe's current board of directors and management teams were with Goldcorp at some point. In fact, Goldcorp even owned a substantial stake in Tahoe until about 2015, and it was from Goldcorp that Tahoe bought the Escobal silver deposit. Tahoe CEO Ron Clayton also brings with him several years of mining experience with companies such asHecla Mining and Stillwater Mining.
You wouldn't expect such a competent management to disappoint. Thankfully, it doesn't. In 2016, Tahoe made huge strides as it started operations at the Shahuindo gold mine in Peru and acquired Lake Shore Gold in Ontario, taking its number of mines in operation to five. 2016 was, in fact, a significant year for Tahoe for several reasons, including:
Record silver and gold production.
An all-time-low AISC of $8.06 per ounce of silver on a by-product basis. AISC for gold came in at $943 per ounce.
Record operating cash flow and positive free cash flow.
Tahoe's prospects look even brighter as it aims to increase its gold production by nearly 36% at the midpoint from 2016 levels by 2019.
Image source: Tahoe's presentation at the BMO Capital Markets Global Metals & Mining Conference.
With capital expenditures also expected to taper by then, Tahoe should be able to generate strong cash flows in coming years to support, and even raise, its dividends. Tahoe has been paying a consistent monthly dividend of $0.02 per share since December 2014.
Foolish bottom line: Tahoe is great, but...
Tahoe Resources looks promising, but it faces big risks at its key place of operation: Guatemala. Put simply, the country has a history of political and social unrest. While things have been quiet lately, Tahoe may face hurdles obtaining or retaining licenses and raising funds later. That's a huge threat, as Tahoe is a relatively young company with a lot at stake in Escobal. Coeur, on the other hand, operates in relatively safer zones. And that, combined with the potential that Palmarejo holds, makes Coeur a better bet for now.
10 stocks we like better than Coeur MiningWhen investing geniuses David and Tom Gardner have a stock tip, it can pay to listen. After all, the newsletter they have run for over a decade, Motley Fool Stock Advisor, has tripled the market.*
David and Tom just revealed what they believe are the 10 best stocks for investors to buy right now... and Coeur Mining wasn't one of them! That's right -- they think these 10 stocks are even better buys.
Click here to learn about these picks!
*Stock Advisor returns as of February 6, 2017
Neha Chamaria has no position in any stocks mentioned. The Motley Fool has no position in any of the stocks mentioned. The Motley Fool has a disclosure policy.