Better Buy: Cisco Systems, Inc. vs. Oracle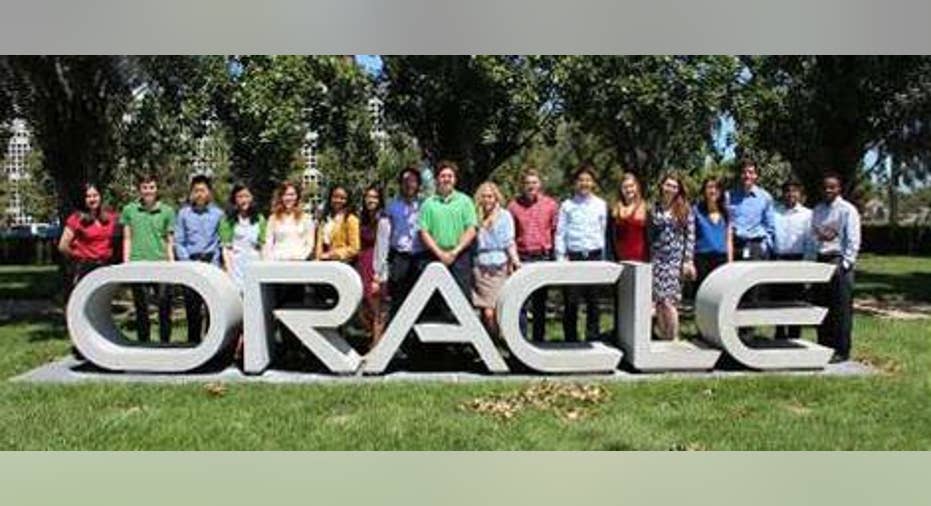 Like many tech industry titans, Cisco's new-ish CEO Chuck Robbins is focused on transforming the networking giant from an enterprise-based, "old-school" solutions provider into a cloud and Internet of Things (IoT) leader. Robbins' efforts to move Cisco into the 21stcentury aren't surprising given that estimates suggest IoT-related devices and services will become a multitrillion-dollar market in the coming years.
Much of the data assimilated via IoT and related technologies will likely be housed in the cloud, and Oracle is one of many fighting for its fair share of what is also expected to become an extremelylarge market. Oracle recognizes that the real opportunity lies in delivering industry-leading Software-as-a-Service (SaaS) -- a market expected to generate over $100 billion in revenue this year.
Of the two tech behemoths -- both in the midst of significant business transitions -- which offers investors the most potential upside? It's a close call to be sure, but one has a slight edge thanks to a couple of key metrics.
Image source: Cisco.
The case for CiscoBased on its stock price jump of over 20% since announcing fiscal 2016 Q2 earnings on Feb. 10, it's safe to say investors liked what they heard. Revenue was up 2% to $11.8 billion, excluding the now-divested video unit -- on the high end of Cisco's guidance for the quarter -- led by "service" sales, which climbed 3% year over year.
Cisco's service revenue results are particularly critical in that one of Robbins' primary objectives is to boost recurring revenue via software and service sales and rely less on one-time product offerings. And it's beginning to take hold. Last quarter, Cisco reported an 8% jump in deferred revenue to $15.2 billion, led by an 11% pop in subscription offerings and software sales.
Going forward, Cisco's emphasis on smart cities -- estimated to be a more than $1.3 trillion market by 2019, and one of the fastest-growing sectors within the explosive IoT marketplace-- could really pay off. Its recent acquisition of Jasper Technologies speaks to Cisco's commitment to cloud-based IoT, furthering initiatives longtime CEO John Chambers began before his departure last summer.
Impressively, even as Cisco increased revenue last quarter and continued to invest in cutting-edge new cloud and IoT markets, it grew both gross and product margins thanks to a 7% drop in operating expenses. Expanding into new, high-growth markets while becoming a more efficient, cost-effective company is a nice combination, and it's one Cisco shareholders will continue to benefit from.
Image source: Oracle.
The case for OracleLike others of its technology industry ilk, Oracle is placing its bets on the fast-growing shift to the cloud. According to chairmanLarry Ellison, as of last quarter, Oracle was already "selling more enterprise SaaS and Platform-as-a-Service [PaaS] new cloud revenue than any other company in the world."
That may be a bit of a stretch in that Oracle's $735 million in total cloud-related revenue last quarter doesn't stack up to the Microsofts of the world with its more than $9.4 billion annual cloud revenue run-rate -- much of which is SaaS sales -- but it was still a 40% improvement compared to Oracle's year-ago period.
To Oracle's credit, the majority of its cloud revenue last quarter was derived from its SaaS and PaaS offerings, while just $152 million came from infrastructure sales. Data hosting in the cloud has already become a commoditized business, so Oracle's penchant for software delivered via the cloud -- and the service revenue that comes with it -- is spot on.
Unlike Cisco, Oracle's expenses increased last quarter as its transformation continues, and its revenue dropped 3% to $9 billion last quarter. The decline in sales isn't necessarily a red flag for long-term investors, it simply demonstrates that Oracle is a bit earlier in its transition than Cisco, and that's one reason Cisco edges out Oracle as the better investment.
Another arrow in Cisco's quiver that gives it the nod over Oracle was the decision to up its already-stellar dividend last quarter, which boosted its industry-leading yield to 3.70%. Being further along in its efforts to gain share in rapidly growing markets and having a dividend yield that leaves most of its brethren in the dust should put Cisco near the top of most any growth and income investor's watchlist.
The article Better Buy: Cisco Systems, Inc. vs. Oracle originally appeared on Fool.com.
Tim Brugger has no position in any stocks mentioned. The Motley Fool owns shares of and recommends Oracle. The Motley Fool recommends Cisco Systems and Microsoft. Try any of our Foolish newsletter services free for 30 days. We Fools may not all hold the same opinions, but we all believe that considering a diverse range of insights makes us better investors. The Motley Fool has a disclosure policy.
Copyright 1995 - 2016 The Motley Fool, LLC. All rights reserved. The Motley Fool has a disclosure policy.