Better Buy: Check Point Software Technologies vs. Palo Alto Networks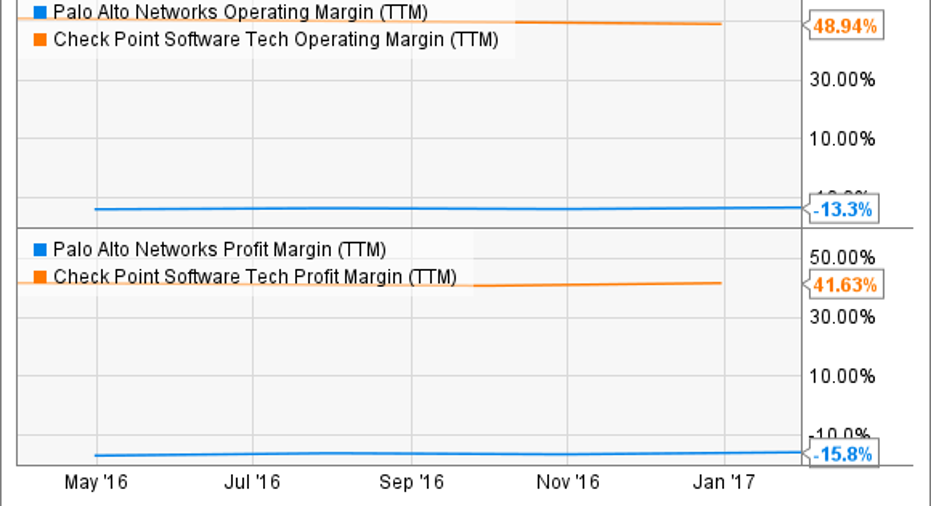 Image source: Getty Images
Cybersecurity specialist Palo Alto Networks' (NYSE: PANW) stock has taken a massive beating in the wake of its disappointing fiscal second-quarter results. The stock was carrying strong momentum going into earnings, outperforming rival Check Point Software Technologies' (NASDAQ: CHKP) 17% gains in 2017. Not surprisingly, Palo Alto's significantly weak outlook for the third quarter threw water over its rally.
Check Point shares, meanwhile, have remained unaffected after Palo Alto's debacle, thanks to the company's solid fiscal fourth-quarter earnings. But does this make Check Point a better buy, or is Palo Alto's drop an opportunity in disguise?
A closer look at Palo Alto
Palo Alto suffered a major setback when its third-quarter revenue growth guidance of 17%-20% fell way behind Wall Street's 31.5% expectation, thanks to the execution challenges in its go-to market strategies. The company has so far relied on splitting its business into more territories each year, and then pouring money to accelerate sales.
This strategy indicates that Palo Alto is looking to buy its way into customer accounts as it spends over 54% of its revenue on sales and marketing. By comparison, the outlay on research and development was way lower at 21% of sales. This model of spending aggressively on sales and marketing and keeping R&D costs down won't work forever in a competitive cybersecurity landscape.
As it turns out, Palo Alto's marketing-focused playbook hasn't been entirely favorable as the company's sales and marketing expenses are growing at almost the same rate as its revenue.
PANW Revenue (TTM) data by YCharts.
It is likely that Palo Alto will struggle with a revenue slowdown in the short run as bigger players such as Cisco (NASDAQ: CSCO) are making a stronger push into cybersecurity. Cisco's security revenue grew 14% year-over-year in the fiscal second-quarter to $528 million. What's more, Cisco could achieve over $2 billion in revenue from this business this fiscal year at its current run rate, which is well ahead of Palo Alto's projected revenue of $1.73 billion.
Additionally, Cisco has stepped up its game in the cybersecurity space by launching an improved firewall product family last month. Palo Alto, therefore, might find it difficult to compete and to continue to grow its product revenue -- which remained flat in the previous quarter -- and that will impact its subscription business.
What about Check Point?
Check Point Software's growth isn't as fashionable as Palo Alto, but there's one major difference between the two of them. While the latter has been spending a boatload of money on sales and marketing to acquire revenue, the Israeli cybersecurity specialist is more margin-focused.
PANW Operating Margin (TTM) data by YCharts.
Evidently, Check Point has way better margins compared to Palo Alto as it spent less than 25% of its revenue on sales and marketing last quarter. What's more, its margins could get even better as the subscription model starts gaining momentum.
Check Point's subscription sales jumped 26% last quarter, accounting for around 23% of its revenue compared to less than 20% in the year-ago quarter. Additionally, it entered into $1 million-plus deals with 99 customers last quarter, up from 86 in the prior-year period. The growing subscription business should ensure a steady stream of revenue for the future, while more big ticket deals point toward improving product traction.
The better bet
Palo Alto is a high-growth, high-risk cybersecurity play, so any weakness in its performance will be met with negative reactions on the market. Moreover, the company is yet to achieve profitability (on a GAAP basis) as it has been spending aggressively to enhance its market share.
Analysts expect Palo Alto to become profitable in the next fiscal year -- forecasting a forward price to earnings ratio of 35 -- though the road is going to be tough. Check Point Software, meanwhile, is profitable and is better valuedthan Palo Alto at 17 times forward earnings.
Therefore, investors with a lower risk tolerance would be more interested in Check Point as it promises stability. Palo Alto's weakness, meanwhile, looks like an opportunity given the potential of cybersecurity but it will be prudent to wait and watch how it manages the revenue slowdown.
10 stocks we like better than Palo Alto NetworksWhen investing geniuses David and Tom Gardner have a stock tip, it can pay to listen. After all, the newsletter they have run for over a decade, Motley Fool Stock Advisor, has tripled the market.*
David and Tom just revealed what they believe are the 10 best stocks for investors to buy right now and Palo Alto Networks wasn't one of them! That's right -- they think these 10 stocks are even better buys.
Click here to learn about these picks!
*Stock Advisor returns as of February 6, 2017
Harsh Chauhan has no position in any stocks mentioned. The Motley Fool owns shares of and recommends Check Point Software Technologies. The Motley Fool recommends Cisco Systems and Palo Alto Networks. The Motley Fool has a disclosure policy.