Better Buy: Caterpillar Inc. vs. Illinois Tool Works Inc.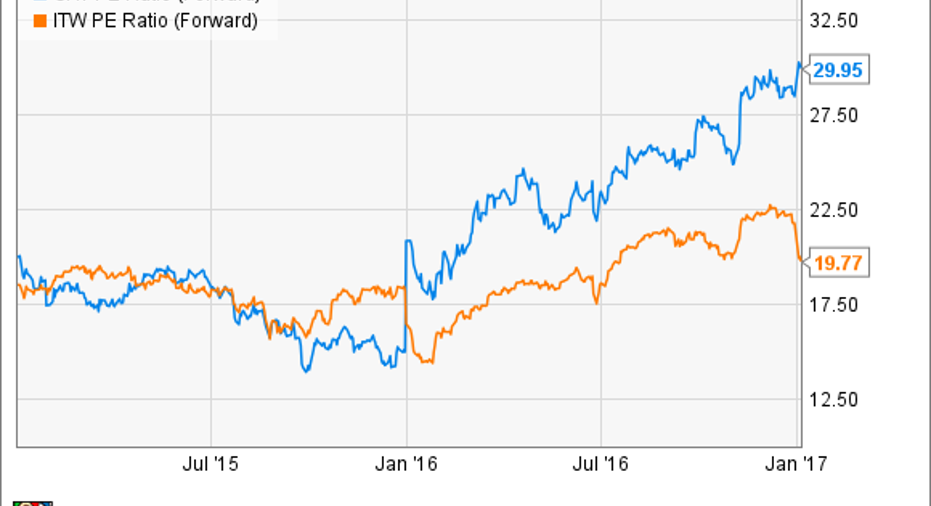 Back in May, Caterpillar Inc. (NYSE: CAT) looked like a better buy than Illinois Tool Works (NYSE: ITW) on a risk/reward basis. In the end, Caterpillar's greater upside exposure to rising oil prices helped it win out. However, will that be the case going forward?
Let's cut to the chase. Given the choice of the two, I think Illinois Tool Works is currently better placed, for three main reasons.
Caterpillar Inc. needs commodity prices to rise in order to spur mining equipment sales. Image source: Caterpillar Inc.
Caterpillar is priced to perfection
The market has been aggressively pricing in a recovery, or at least a stabilization, in energy and resources capital spending, and it's largely reflected in Caterpillar's stock price. This means that any disappointments with oil and mining commodity prices are likely to hit the stock hard.
A good way to compare the two stocks is by looking at their forward P/E ratios -- what analysts currently think the P/E ratio will be for a stock one year from now. As you can see below, Caterpillar's forward ratio is nearly 30 times earnings, much more expensive than Illinois Tool Works'.
CAT P/E Ratio (Forward) data by YCharts.
While it's true that Caterpillar has plenty of upside potential given higher oil and commodity prices, there is no guarantee that energy and mining commodity prices will continue their recent upward trend.
Positive versus negative momentum
Illinois Tool Works stock' has positive momentum behind it, with management raising expectations, while Caterpillar's management has been making cautious remarks regarding analyst expectations.
For example, at its recent investor day presentation, Illinois Tool Works' management outlined plans to expand operating margin to 25% by the end of 2018 from estimates for around 22.5% in 2016 and 23.5% in 2017. This was a welcome update: Investors must have wondered what management had in store, as the company's five-year enterprise strategy plan finishes in 2017.
On the other hand, in a Credit Suisse conference at the start of December, Caterpillar's management said that analyst expectations for $3.25 in EPS (Caterpillar calls it "profit per share")is "too optimistic considering expected headwinds."Moreover, management outlined concerns on oil prices, North American construction equipment, and power generation markets in oil-producing countries.
Welding is a key end market for Illinois Tool Works Inc. Image source: Getty Images.
Illinois Tool Works has limited downside but decent upside
Finally, Illinois Tool Works has a number of self-help initiatives in place that should help protect the downside to the stock in the event of any kind of economic slowdown. Meanwhile, it's hard to see what Caterpillar can do if its end markets weaken.
For example, Illinois Tool Works' management believes it can continue to grow organic revenue at 200 basis points (100 basis points is equal to 1%) above its end markets, so even in flat conditions, revenue growth looks assured. Moreover, much of the company's plans involve actions such as cost-cutting and product line simplifications -- activities that are largely independent of end markets.
However, the company also has upside potential from a stronger economy. For example, in the investor presentation,management spoke of incremental leverage of 35% -- meaning operating income will rise by 35% of an increase in revenue. In other words, if the company's end markets improve and revenue gets a boost, investors can expect a handsome increase in earnings.
Looking ahead
On a risk/reward basis, Illinois Tool Works is a better value stock. Starting with risk, Caterpillar's valuation is creating significant downside potential should its end markets deteriorate, while Illinois Tool Works can probably deal with a downturn a lot better.
Turning to reward considerations, Caterpillar has more upside potential given strong energy/commodity prices. However,since this is unlikely to occur without industrial conditions strengthening -- and therefore benefiting Illinois Tool Works as well -- and Caterpillar's valuation is already high, Caterpillar's potential outperformance is limited.
On balance, Illinois Tool Works is the better buy right now.
10 stocks we like better than Caterpillar When investing geniuses David and Tom Gardner have a stock tip, it can pay to listen. After all, the newsletter they have run for over a decade, Motley Fool Stock Advisor, has tripled the market.*
David and Tom just revealed what they believe are the 10 best stocks for investors to buy right now... and Caterpillar wasn't one of them! That's right -- they think these 10 stocks are even better buys.
Click here to learn about these picks!
*Stock Advisor returns as of January 4, 2017
Lee Samaha has no position in any stocks mentioned. The Motley Fool recommends Illinois Tool Works. The Motley Fool has a disclosure policy.