Better Buy: Canadian Solar Inc. vs. First Solar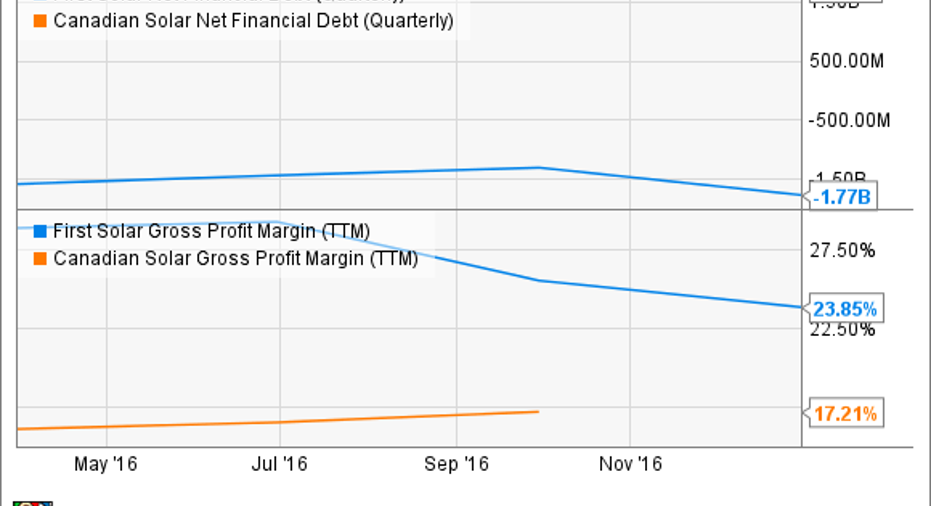 As two of the largest solar manufacturers in the world, you may think Canadian Solar (NASDAQ: CSIQ) and First Solar (NASDAQ: FSLR) are very similar companies. But that's not the case: They have very different technologies and risk profiles for investors.
Despite the fact that both companies will ride the solar industry's ups and downs overall, here's a look at why one of them is better-positioned for long-term success.
Image source: First Solar.
What makes these companies so different
The core difference between First Solar and Canadian Solar is the technology they use. First Solar has long been a thin-film solar manufacturer, while Canadian Solar makes multi- and mono-crystalline silicon solar panels, which are the industry's commodity product today.
As it stands today, Canadian Solar's capacity of over 5 Gigawatts (GW)is larger than 3.1 GW produced by First Solar last year. Scale is crucial in the solar industry, and it leverages operating costs as well, which is key as cost pressures mount in the industry. So, there are concrete differences between the businesses.
What financial results tell us
Despite the larger size, First Solar holds a clear advantage in both gross margin and net debt. In fact, First Solar has nearly $2 billion in net cash, which is the best balance sheet in the solar industry. Canadian Solar, on the other hand, has used a lot of short-term debt to finance its manufacturing buildout, meaning investors have a lot of leverage both to the upside and downside.
FSLR Net Financial Debt (Quarterly) data by YCharts.
There's a reason First Solar has been an industry leader for over a decade. Its superior margins give it more leeway for error when market dislocations hit the industry, and they have long provided higher profitability, which has led to a better balance sheet.
The strength of a strategy
Another big difference is strategy. Canadian Solar sells most of its solar panels through the open market, where it's essentially a commodity supplier. Like leverage, this can be a good or bad thing depending on where the industry is headed. Its other major business is developing projects, which was once a high-margin business but has now become a big risk as interest rates rise and the bidding for projects gets more competitive (see SunEdison's bankruptcy).
First Solar has long been a solar panel manufacturer and was one of the first to move into project development. But now management is being more selective in the projects it builds and is moving to a model that will sell panels, racking, inverters, and other components as a fully engineered solution. This will reduce revenue per Megawatt versus development but increase it versus just selling panels. First Solar sees the advantage as lower risk than the development business, but there are clearly trade-offs.
There can be advantages to both strategies in solar, but right now it appears that First Solar is set up best for the future given the falling price of solar panels and the how important efficiency and pre-engineered solutions are in selling equipment.
What does the future hold?
As the solar manufacturing industry gets more competitive, manufacturers have to find a competitive advantage to exploit and leverage to gain business. First Solar is doing that with its Series 6 solar panel upgrades and accompanying that with pre-engineered solutions for power plants. And given its history of high margins and strong balance sheet, the company is coming from a position of strength.
Canadian Solar has more scale than most competitors, but it's also making a commodity solar panel, has no margin advantage, and has over $3 billion of debt on its balance sheet as of the end of 2016. And while its business may recover, it's depending on an overall solar market recovery, which would lift all solar players, including First Solar.
First Solar is simply the better of these two companies from operations to balance sheet. Long-term, that's where investors will want their money in solar energy.
10 stocks we like better than First SolarWhen investing geniuses David and Tom Gardner have a stock tip, it can pay to listen. After all, the newsletter they have run for over a decade, Motley Fool Stock Advisor, has tripled the market.*
David and Tom just revealed what they believe are the 10 best stocks for investors to buy right now... and First Solar wasn't one of them! That's right -- they think these 10 stocks are even better buys.
Click here to learn about these picks!
*Stock Advisor returns as of February 6, 2017
Travis Hoium owns shares of First Solar. The Motley Fool has no position in any of the stocks mentioned. The Motley Fool has a disclosure policy.