Better Buy: Brookfield Infrastructure Partners L.P. vs. Brookfield Asset Management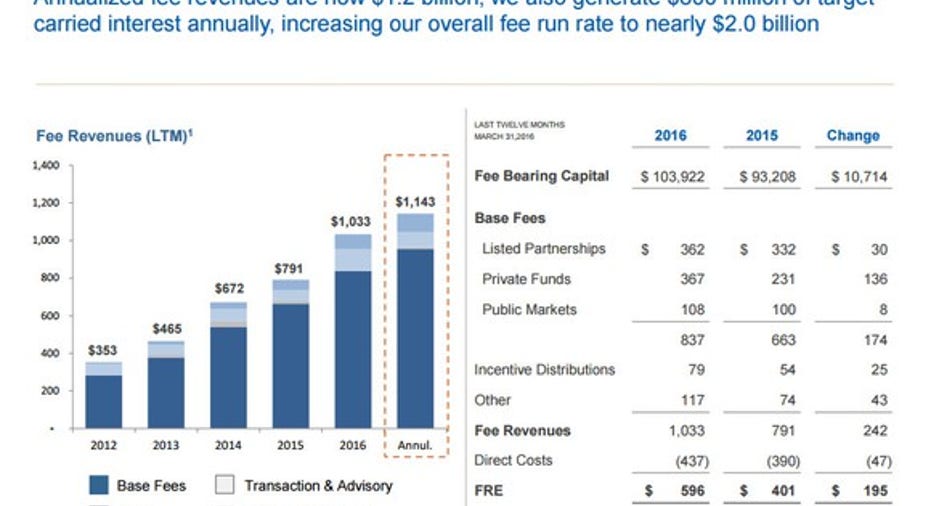 Image source: Getty Images.
Over the past several years there has been a push for large diversified corporations to spin off or sell unrelated subsidiaries to maximize the value of the company. Brookfield Asset Management took this route by organizing its assets into four entities, each if which it subsequently spun off to focus on its core asset management business.
The most established and best performing of these entities isBrookfield Infrastructure Partners , which as the name implies focuses on owning Brookfield's infrastructure assets. The global infrastructure pure-play has become a popular investment because of its strong historical performance, including 19% annualized returns over the past five years, as well as the abundant growthopportunities in the infrastructure sector. However, as much as I like Brookfield Infrastructure Partners, two critical factors make Brookfield Asset Management the better buy.
It's all about the fees
Unlike most other value unlocking transactions, the primary reason Brookfield Asset Management decided to separate its operations into four focused entities was so that it could generate high-margin fee revenue from these businesses. This unique approach enables Brookfield Asset Management to collect a larger share of the income produced by its entities than their investors are collecting.
By going this route, Brookfield now captures fees from the nearly $104 billion in fee bearing capital it has under management viaits four publicly traded entities and its private equity funds. This capital is expected to generate nearly $1.2 billion in annualized fee revenue for Brookfield, which is up substantially over the past five years:
Source: Brookfield Asset Management.
This recurring revenue stream should continue to rise as Brookfield Asset Management grows its affiliates. For example, one of the fees that Brookfield Infrastructure Partners pays is an equity enhancement fee, which is apercentage of the company's market cap plus recourse debt, net of cash. In other words, as Brookfield Infrastructure Partners' asset base grows, so does the fee it pays to its parent. In addition to that, Brookfield Infrastructure Partners also pays incentive distribution rights, which is a payment that grows alongside itsdistribution tounitholders. While those fees are not burdensome, they do eat into the cash Brookfield Infrastructure could be distributing to its investors.
Stronger growth too
Those fees aside, there is certainly a case to be made for owning Brookfield Infrastructure Partners. The company currently estimates that it can grow its earnings by 6% to 9% per year just based on its embedded organic growth opportunities. Driving this growth will be inflationary price increases, volume upside from GDP growth, and its backlog of internally funded organic growth projects. Earnings could grow at an even faster clip if the company continues to make accretive acquisitions, which is very likely due to its current acquisition pipeline as well as its ability to participate alongside its parent on transactions for its private equity funds.
However, as robust as that growth may be it pales in comparison to what Brookfield Asset Management expects to generate through the rest of the decade. The company currently estimates that it can grow its fee bearing capital by a 10% compound annual growth rate through 2020, which should support 21% compound annual growth of fee-related earnings. That growth rate could be even higher if Brookfield Infrastructure Partners and its fellow affiliates expand faster than anticipated.
In a nutshell, Brookfield Asset Management captures leveraged growth from the assets it manages. This leverage should lead to stronger long-term returns for its investors.
Investor takeaway
While Brookfield Infrastructure Partners has a bright future ahead of it, I think its parent company is a better buy. Not only does Brookfield Asset Management collect a greater share of the income generated by its affiliate thanks to fees, but its fee revenue is expected to grow at a much faster clip.
The article Better Buy: Brookfield Infrastructure Partners L.P. vs. Brookfield Asset Management originally appeared on Fool.com.
Matt DiLallo owns shares of Brookfield Asset Management and Brookfield Infrastructure Partners LP. The Motley Fool recommends Brookfield Infrastructure Partners LP. Try any of our Foolish newsletter services free for 30 days. We Fools may not all hold the same opinions, but we all believe that considering a diverse range of insights makes us better investors. The Motley Fool has a disclosure policy.
Copyright 1995 - 2016 The Motley Fool, LLC. All rights reserved. The Motley Fool has a disclosure policy.