Better Buy: Berkshire Hathaway vs. Coca-Cola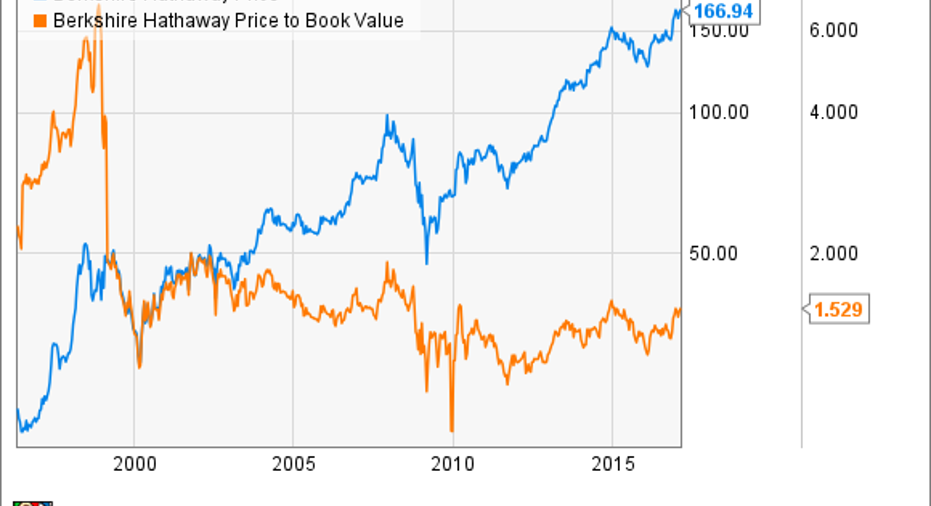 One of the reasons why Berkshire Hathaway Inc(NYSE: BRK-A)(NYSE: BRK-B) CEOWarren Buffett has achieved legendary investing status, is his investment in TheCoca-Cola Co(NYSE: KO). In total, Buffett invested less than $1.3 billion to buy what is now 400 million shares of Coke for Berkshire Hathaway. Today, those 400 million shares of Coke stock are worth over $16 billion.
And it gets even better: At its current rate of $0.35 per share in quarterly dividends, Berkshire will receive $560 million in income from Coke this year. To put it another way, Berkshire has been paid more in dividends from Coca-Cola over the past three years than it paid for its Coke shares.That's an amazing investment.
Buy one of Warren Buffett's best investments, or the company he built? This Fool says buy Berkshire. Image source: The Motley Fool.
Coke is just one of the many wonderful investments Buffett has made over the past 50 years, which has made Berkshire an even better investment for its shareholders than Coke has been. But which is the better buy today? In this Fool's opinion, it's Berkshire, but maybe not for the reason you might think. Keep reading to learn more.
Coke's moat is weakening
For decades, Coca-Cola's ability to grow its sales around the world was a thing of marvel. The power of its brand has been an enormous benefit for the company, and remains incredibly strong. Factor in the relatively simple nature of its product, and Coke has been able to produce large, steady profits for a very long time.
Coke is a powerful global brand. But its stock is very expensive, and consumers are buying fewer of its core products. Image source: Coca-Cola.
Unfortunately, the company's immense competitive advantages in its scale, and brand power may not be as important or valuable today as they were even a decade ago. The bottom line is, consumer tastes are shifting. People -- particularly westerners in Coke's biggest markets -- are drinking fewer and fewer of the beverages the company has built its business on. And while management has taken steps to broaden and deepen Coke's stable of brands, and the kinds of beverages it sells, it's no guarantee that even the deep-pocketed Coca-Cola will be able to establish itself in a changing consumer environment.
At the same time, the market has continued to pay a steep premium for Coke's stock. From an earnings valuation basis, Coke's shares are the most expensive today than they've been in the past decade:
And the competitive headwinds Coke faces today are even stronger than they were 10 years ago. Frankly, it's just hard to justify paying this kind of a premium for a company which is struggling with market share and finding new growth.
Berkshire is the better value today
Berkshire Hathaway, on the other hand, is trading at a far more reasonable valuation, even if its stock price is near all-time highs:
Book value -- a better valuation measure for a company with Berkshire's vast financial holdings, versus stand-alone earnings multiples -- also supports that Berkshire isn't anywhere near as expensive as Coca-Cola's shares:
At 1.5 times book value, it may not be dirt cheap, but it's not exactly overpriced either.
Valuation only part of what makes Berkshire the better buy
By almost every measure, Coke is an expensive stock today, while Berkshire is, if not cheap, more fairly valued. But the thing that makes Berkshire a better long-term investment, and more worthy of investor dollars at this point, is that the company is much better-positioned to grow its earnings going forward. While Coca-Cola is a focused company within the beverages business, Berkshire is a mix of industrial conglomerate, financial holding company, and insurance giant.
Berkshire Hathaway is one of America's largest renewable energy producers. Image source: Berkshire Hathaway Energy.
There's nearly always some area across those industries in which Warren Buffett, his two investing co-managers Ted Weschler and Todd Combs, or one of the managers of Berkshire's large industrial subsidiaries, can put the company's excess cash flows to work, growing profits. Frankly. Coca-Cola's management just doesn't have anywhere close to the same kind of optionality that Berkshire's does when it comes to putting capital to work.
As a matter of fact, Coke's best use of that cash today may be buying back the company's stock. But the fact that Coke shares are so expensive makes now a relatively bad time to be buying them back, when it comes to generating the best possible returns on capital on a per-share basis.
Don't let this argument for Coke muddy the water
A common argument for buying Coca-Cola today is that Buffett continues to hold shares in Berkshire's portfolio. Bottom line, this is a terrible reason for anyone to invest in Coke now. The reason Berkshire continues to hold Coke is in no small part tied to two things that outweigh any benefit of selling:
$560 million (and growing) in cash flows from annual dividends.
A likely$6 billion tax billon the profits from selling shares.
Coca-Cola remains one of the greatest companies in the world, and even with the headwinds it faces, it's not going anywhere anytime soon. And while that makes it worth holding for Berkshire, it doesn'tmean it's a stock you should buy today.
If it's new money you're investing today, Berkshire stock is a better value, and its business has a lot more ways to generate greater returns going forward.
10 stocks we like better than Coca-ColaWhen investing geniuses David and Tom Gardner have a stock tip, it can pay to listen. After all, the newsletter they have run for over a decade, Motley Fool Stock Advisor, has tripled the market.*
David and Tom just revealed what they believe are the 10 best stocks for investors to buy right now... and Coca-Cola wasn't one of them! That's right -- they think these 10 stocks are even better buys.
Click here to learn about these picks!
*Stock Advisor returns as of February 6, 2017
Jason Hall owns shares of Berkshire Hathaway (B shares) and Coca-Cola. The Motley Fool owns shares of and recommends Berkshire Hathaway (B shares). The Motley Fool recommends Coca-Cola. The Motley Fool has a disclosure policy.