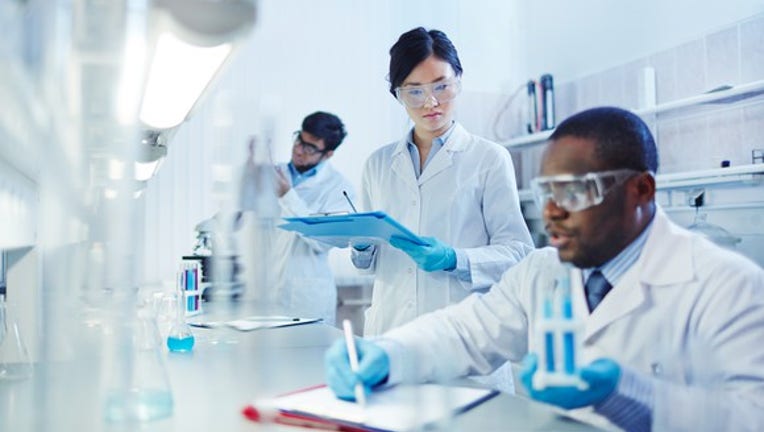 Bellicum Pharmaceuticals Inc. (NASDAQ: BLCM) and bluebird bio Inc. (NASDAQ: BLUE) occupy an interesting corner of the biotech industry. Both clinical-stage biotechs are developing cellular therapies for the treatment of blood disorders and cancer.
Neither has an approved product to sell, although candidates winding their way through development stages could generate billions. Let's see how the potential new therapies they have in development measure up to see which of these stocks is the better pick at the moment.
Image source: Getty Images.
Bellicum Pharmaceuticals Inc.: Under control
Bellicum's lead candidate, BPX-501, is a novel solution to a common problem. Stem-cell transplants can effectively treat a range of blood-based diseases, but using donor cells from a less-than-perfect match is so dangerous that the procedure is severely limited.
The most lethal complication that arises when transplanting stem cells from less than perfectly matched donors is graft-versus-host disease (GVHD), an immune-system attack on donor stem cells. Recipients typically undergo immune-cell depletion ahead of transplants to avoid GVHD, which presents complications of its own.
Bellicum's candidate involves modifying donor immune cells with a kill switch that healthcare providers can activate with simple administration of rimiducid. In an ongoing trial with 122 pediatric patients receiving partially matched donor stem-cell transplants, five cases of uncontrolled GVHD were resolved by activating the shut-off switch.
Bellicum has also begun human trials with BPX-601 for the treatment of inoperable pancreatic cancer, a disease with tremendous unmet need. The candidate involves modifying immune cells to attack tumors expressing a specific target on their surfaces. There are a handful of biotechs advancing chimeric antigen receptor modified T-cells (CAR-T) through clinical trials, but BPX-601 has a unique safety switch similar to BPX-501.
Image source: Getty Images.
Bellicum's controllable CAR-T technology could become all the rage. These experimental therapies have shown an ability to help patients who had failed numerous lines of treatment with existing drugs. However, some have proven too effective. Rapid cancer-cell destruction has been linked to severe, sometimes fatal, side effects.
bluebird bio Inc.: Another approach
bluebird bio's lead candidate could eventually compete with Bellicum's for patients with transfusion-dependent beta-thalassemia and severe sickle disease, two inherited disorders caused by faulty hemoglobin genes. Bluebird's LentiGlobin involves reintroducing a patient's own stem cells after they've been modified to produce functional hemoglobin. Perfectly matched stem cells present very little risk of GVHD, which could render Bellicum's lead candidate redundant.
If approved, annual LentiGlobin sales could eventually peak at around $1 billion for the treatment of beta-thalassemia and $3 billion in the larger sickle-cell indication. That makes it the company's most important clinical-stage asset, but it's not the only one with nine-figure annual sales potential.
Bluebird also boasts a CAR-T candidate for the treatment of multiple myeloma called bb2121 that could go on to generate about $3.6 billion in annual sales at its peak. Last December, Bluebird presented interim data from a small trial with patients who had relapsed following between five and 13 previous lines of treatment. Despite being so heavily pretreated, seven of nine evaluable patients' disease showed a response.
About a year ago, Celgene exercised an option to develop and possibly commercialize bb2121, and remarkable data suggests the big biotech made a smart decision. The agreement removes a great deal of risk for Bluebird while leaving it eligible for hefty milestone and royalty payments if it succeeds.
The better buy
LentiGlobin and BPX-501 are deep in uncharted waters, and CAR-T therapies are still experimental across the board. While the combination of safety and efficacy we've seen so far is highly encouraging, investors in either company need to brace themselves for regulatory uncertainty.
Should any or all of these biotechs' candidates earn approvals, their commercial viability is another big question mark. Cellular-based therapies present enormous challenges for patients and healthcare providers that you just don't see with simple pills or injections.
With a market cap of about $3.35 billion, Bluebird stock has a long way to fall if it runs into any surprise potholes on the way to Profit Town. Should disaster strike, Bellicum has a much lower perch to fall from, with a recent market cap of just $326 million.
In fact, the smaller company's stock is so cheap that I think it underestimates the safety switch technology's long-term potentialand makes the company a potential acquisition target. Add it all up, and Bellicum Pharmaceuticals looks the better buy right now.
10 stocks we like better than Bellicum PharmaceuticalsWhen investing geniuses David and Tom Gardner have a stock tip, it can pay to listen. After all, the newsletter they have run for over a decade, Motley Fool Stock Advisor, has tripled the market.*
David and Tom just revealed what they believe are the 10 best stocks for investors to buy right now... and Bellicum Pharmaceuticals wasn't one of them! That's right -- they think these 10 stocks are even better buys.
Click here to learn about these picks!
*Stock Advisor returns as of February 6, 2017
Cory Renauer has no position in any stocks mentioned. The Motley Fool owns shares of and recommends Bluebird Bio and Celgene. The Motley Fool has a disclosure policy.