Better Buy: Bed Bath & Beyond vs. Pier 1 Imports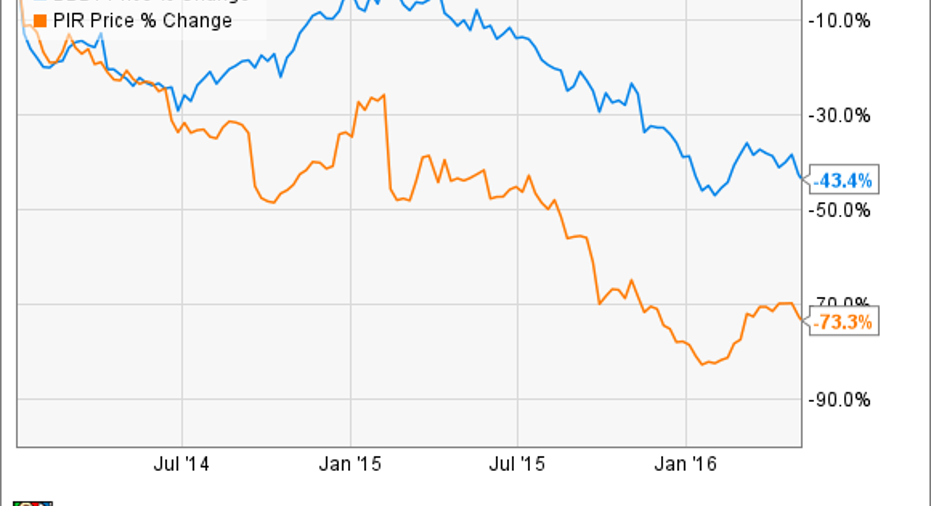 Home-goods and furnishing companies Bed Bath & Beyond and Pier 1 Imports have had a forgettable year. Beset by changes in customer shopping habits, both put in business results in 2015 that disappointed investors, and share prices sank.
With both companies recently reporting full fiscal-year results and providing guidance for the next 12 months, is a turnaround in sight? Which company is the better buy?
Previous-year highlights and next-year guidanceIn a year that saw American consumer spending rise 3%, Bed Bath & Beyond and Pier 1 both eked out less than average increases in sales. The really big point of concern for investors, though, was the flat profit growth for Bed Bath & Beyond and the huge drop in profit for Pier 1. The outlook for 2016 was soft as well. Bed Bath & Beyond's bull case only estimated 2% growth in revenue and profit. Pier 1 expects revenue to be flat over last year, with profit making up some, but not all of last year's decline. Here is a look at the numbers:
| Metric | Bed Bath & Beyond | Pier 1 Imports |
| --- | --- | --- |
| Revenue | $12.10 billion | $1.89 billion |
| % change over previous year | 1.9% | 0.5% |
| Net earnings per share | $5.10 | $0.37 |
| % change over previous year | 0.6% | (54.9%) |
| Next-year revenue guidance | $12.3 billion to $12.4 billion | $1.85 billion to $1.91 billion |
| Next-year earnings-per-share guidance | $4.79 to $5.22 | $0.42 to $0.50 |
Chart data sources: Bed Bath & Beyond and Pier 1 Imports full year fiscal reports, and Yahoo! Finance.
Based off one-year guidance, one might conclude Pier 1 is the better buy. After it got clobbered last year, the company could be a value, with profits expected to rebound a bit. However, Bed Bath & Beyond just announced its first-ever quarterly dividend payment to shareholders of $0.125, payable in July. The commencement of dividends is a testament to the company's solid cash flow situation and stable business model, despite the difficulties with the changing retail environment.
What is working for the two companies? What isn't working? Let's dig into operations to see what's going before deciding which is the better bet.
The bad newsBoth companies have a sizable physical footprint to manage. This footprint carries higher overhead than a Web-based retailer and has been a drag on profitability as more consumers opt for making purchases outside a physical store.
Image source: Bed Bath & Beyond.
Bed Bath & Beyond has over 1,500 stores nationwide, including the World Market, Christmas Tree Shop, and buybuy BABY chains. The large number of storefronts and the typical large square footage of those stores has created a notable debt and long-term lease load. Up until a few years ago, the company was also behind the curve with an online presence, not having mobile site integration or a strong e-commerce business. As a result, management has been investing heavily to transition business to a more modern format. This is the reason profit is expected to be flat in the next year, but management has stressed its belief that this will help the company remain financially strong long-term.
Pier 1 is in a similar boat. With just over 1,000 stores in operation, Pier 1 is finding that the overhead-heavy business model is struggling to keep foot traffic coming through the door, as many consumers switch to online shopping. Pier 1 has been closing more stores than it has been opening and undergone efforts tostreamline distribution and inventoryto cut costs. To play catch-up with the competition, the company has invested heavily in its online presence and a rewards program. While profits are expected to rebound, they will still have a long way to go to return to their former glory.
The good newsWhile the e-commerce investments have been a drag on short-term profitability, it's good news for investors that both companies have recognized what they need to do to get things back on an upward trajectory.
Bed Bath & Beyond has recognized that its large physical presence helps to strengthen brand awareness. The name of the game now is leveraging that awareness into allowing customers to shop on their own terms. The continuing buildout of online sales, in-store pickup, and expansion of same-day delivery in certain geographic markets should be a good use of that large store network. It's also positive that, while other retailers such as Pier 1 have had net store closings, Bed Bath & Beyond continues to look for ways to grow store count with small and specialty store concepts. I also want to reiterate the initiation of that quarterly dividend, as the company has stated its desire to diversify the return of value to shareholders beyond share buybacks. The board of directors seems to be confident in the ability of business cash generation to cover that payment going forward. The heavy investment into modernizing and streamlining operations is starting to pay off.
Image source: Pier 1 Imports.
While a shrinking business is never a good thing, Pier 1 seems to think that its store closings will help bottom-line profitability. Even with those store closures, revenue is expected to be flat, as online sales have been increasing at a fast pace. As stated in the company's end-of-year earnings call, this past year was the first one in which the company had full capability of selling product not just in stores, but online as well. Also noted was the increased competition of deep discount home-furnishing companies, but Pier 1's focus on specialty goods and products allow for the company to refocus in higher-profit areas. Management also believes that the bulk of investment needed to bring its distribution network up to speed and able to support online sales is complete, also adding to the rebound in profit.
The winner is ...Though Pier 1 has made great strides in the past couple of years to modernize business, the fact that it was and still is behind curve worries me. The alarming rate of store closures every year seems to indicate that the pain isn't over yet, as the company is still showing quite a bit of concern over cost control and savings. Bed Bath & Beyond, with its larger and more diversified physical footprint, seems to be better positioned for sustainable growth. The company has also made large investments into e-sales to leverage those physical assets, and management believes those investments will start to pay off in the next year with growing profits.
In this battle of the home furnishers, Bed Bath & Beyond gets my vote as the better buy.
The article Better Buy: Bed Bath & Beyond vs. Pier 1 Imports originally appeared on Fool.com.
Nicholas Rossolillo has no position in any stocks mentioned. The Motley Fool recommends Bed Bath & Beyond. Try any of our Foolish newsletter services free for 30 days. We Fools may not all hold the same opinions, but we all believe that considering a diverse range of insights makes us better investors. The Motley Fool has a disclosure policy.
Copyright 1995 - 2016 The Motley Fool, LLC. All rights reserved. The Motley Fool has a disclosure policy.