Better Buy: Baidu vs. Facebook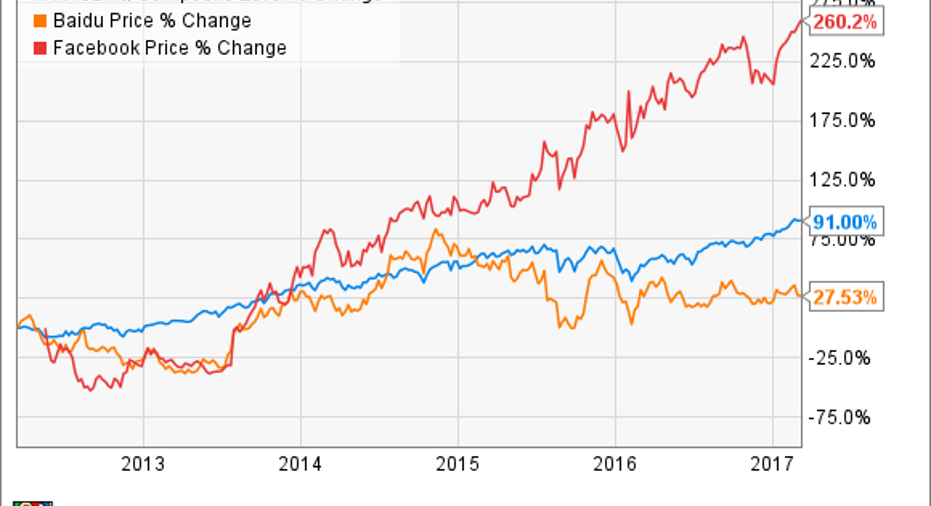 By nearly any measure, Baidu (NASDAQ: BIDU) and Facebook (NASDAQ: FB) are the two most successful companies in their respective categories.Interestingly, though Baidu stock has generated cumulative returns of over 1,300% since its 2005 IPO,, its shares have traded effectively sideways, while Facebook shares have simply trounced the market since the social network's 2012 public debut.
With Baidu shares seemingly snakebitten, and Facebook shares pushing all-time highs, which company's stock appears to be the better buy today? Let's attack this question by running both companies through a three-part analysis.
Financial fortitude
Turning to their liquidity and solvency outlooks, both companies appear to be in above-average financial shape. Here's a quick review of four important measurements of fiscal strength for Facebook and Baidu.
| Company | Cash and Investments | Debt | Cash From Operations | Current Ratio |
| --- | --- | --- | --- | --- |
| Baidu | $18.9 billion | $6.2 billion | $3.1 billion | 2.1 |
| Facebook | $29.5 billion | $0 | $16.1 billion | 11.9 |
Data sources: Yahoo! Finance, Baidu, and Facebook investor relations. N.B. Baidu's cash from ops were converted using a 1 yuan = $0.14.
As a quick bit of housekeeping, Baidu reports its financial data in its native currency, the Chinese yuan. Most financial sites convert these figures to U.S. dollars, but they can often prove inaccurate for one reason or another. To avoid this, I manually converted Baidu's performance from yuan to dollars, using the current exchange rate where 1.0 Chinese yuan equals $0.14 U.S. dollars. Importantly, the yuan/dollar exchange rate fluctuated a bit during Q4, so the Baidu numbers aren't perfect, but they're a very solid approximation of the company's current fiscal standing.
With that out of the way, Facebook clearly enjoys more financial resources than the Chinese tech giant, and it easily sweeps Baidu in all four categories depicted above. However, this should be viewed more as a function of Facebook's truly first-class profitability. (Current ratio measures a company's ability to pay what it owes. Higher current ratios tend to be better.)
The numbers are fairly conclusive in this regard, so we don't gain much by further analyzing them. Facebook beats Baidu in terms of their financial fortitude, but Baidu remains quite healthy in its own right.
Winner: Facebook.
Image source: Facebook.
Durable competitive advantages
In a word, Facebook's and Baidu's competitive advantages are immense. Both companies dominate their areas of the technology industry, though both certainly count plenty of competitors.
Facebook has capitalized impressively on the big-ticket promise it demonstrated during its 2012 IPO. Since then, the company has expanded its user base from the 845 million monthly active users (MAUs) to 1.86 billion in its most recent fiscal report. Building an incredibly lucrative advertising business upon this foundation would be impressive enough, but Facebook has also demonstrated a unique ability to anticipate coming trends in social media and technology more broadly.
This has allowed Facebook to implement what has arguably become the savviest acquisition strategy in all of technology over the last decade. It consolidated its stranglehold on social-media supremacy by buying potential rivals like Instagram, for which it paid $1 billion in 2012. Analysts suggested in early 2015 that Instagram was worth $37 billion. That value has assuredly increased since then.
The company also understands the importance of messaging services as an emerging platform for tech. This insight led Facebook to purchase Whatsapp and spin out its own Messenger platform into a stand-alone product. Each platform now sports over 1 billion users and has a number of interesting strategies in place to drive increased user adoption --and eventually, monetization. All of this is to say that Facebook's competitive moat is quite immense today.
Though it can be difficult to find precise, credible sources, it's generally agreed that Baidu controls the largest share of the Chinese search-engine market by a fairly wide margin. Like Facebook and Baidu's global corollary Alphabet, the company's lucrative core business has given Baidu a platform to invest heavily into emerging technologies in China.
This has taken a few forms. Notably, Baidu has spent lavishly in recent years to launch various "transaction services," which is really just a vague way of saying online businesses like online food-delivery services, online movie-ticket purchases, mobile payments, online maps, and more. Baidu has also been aggressively spending on longer-term growth markets like artificial intelligence, self-driving cars, and more.
Both Baidu and Facebook face ample competition, but both companies have demonstrated the ability to push past rising threats in the past. As such, we can confidently say that the two companies are equals in terms of their competitive advantages.
Winner: Tie.
Valuation
As you will see below, Facebook's and Baidu's valuations closely mirror one another. Here's how three of the most popular valuation metrics break down between the two tech giants.
Data source: Yahoo! Finance.
The two companies' metrics are similar enough not to provide much in the way of differentiation without really splitting hairs. Comparing their valuations to their expected growth doesn't help much, either. Analysts see both companies growing their sales in the 20%-30% range this year and next. They enjoy many long-term opportunities, as well. Therefore, let's call this one a tie and move on.
Winner: Tie.
And the winner is... Tie
Apologies if this conclusion seems wishy-washy, but Facebook and Baidu are two of the best growth stocks in tech today and my recommendation would be to own both. Facebook and Baidu are driving the ongoing technological shifts in their respective regions, and long-term investors stand to benefit mightily from their continued successes.
10 stocks we like better than FacebookWhen investing geniuses David and Tom Gardner have a stock tip, it can pay to listen. After all, the newsletter they have run for over a decade, Motley Fool Stock Advisor, has tripled the market.*
David and Tom just revealed what they believe are the 10 best stocks for investors to buy right now... and Facebook wasn't one of them! That's right -- they think these 10 stocks are even better buys.
Click here to learn about these picks!
*Stock Advisor returns as of February 6, 2017
Suzanne Frey, an executive at Alphabet, is a member of The Motley Fool's board of directors. Andrew Tonner owns shares of Baidu. The Motley Fool owns shares of and recommends GOOG, GOOGL, BIDU, and FB. The Motley Fool has a disclosure policy.