Better Buy: ARM Holdings PLC vs. Intel Corp.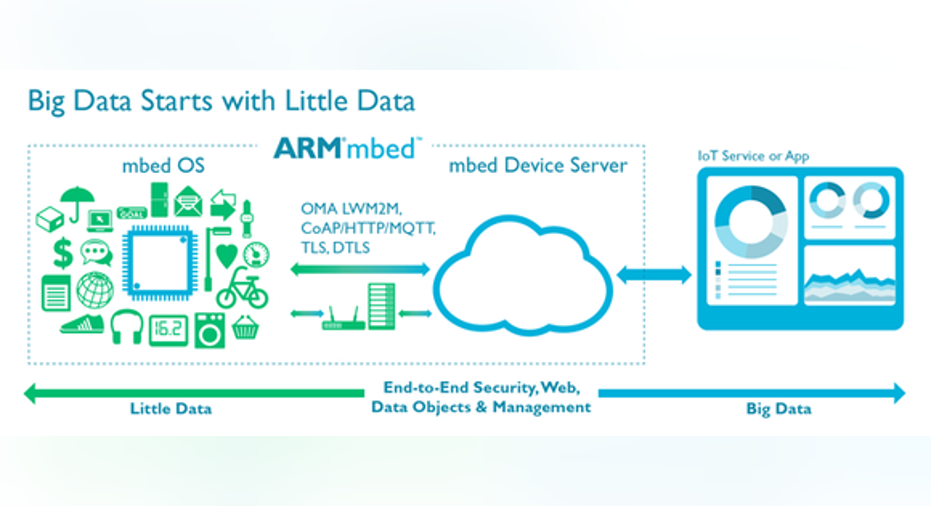 There are a lot of similarities between U.K.-based ARM Holdings and Intel . Both are in the midst of sweeping changes to their respective businesses. ARM CEO Simon Segars recognizes that with the inevitable slowing of smartphone sales, the time has come to shift his company's focus to new, burgeoning markets including the Internet of Things, virtual reality, and networking infrastructure as data shifts to the cloud.
Intel CEO Brian Krzanich is in a similar boat. Though Intel's mobile efforts didn't take hold (in contrast to ARM, where mobile is a mainstay of the business), its longtime dominant position in the PC market was like an albatross in a connected, on-the-go, data intensive world. The answer? Refocusing on cloud-based data centers and battling the likes of ARM for IoT-related market share -- both markets with limitless upside.
So, which is the better stock for you to buy now?
Image source: ARM Holdings.
The case for ARM Holdings
Unfortunately for ARM fans, it shares another trait with rival Intel: It can't seem to catch a break with investors. In its recent first-quarter release, ARM reported nearly across-the-board gains in revenue, earnings per share, and number of chips shipped by its royalty-paying partners -- despite a decline in smartphone sales. Yet its stock price has actually declined.
ARM's 11% year-to-date share price decline may scare off some investors, but it's actually made what was already a sound long-term growth investment that much more attractive. Revenue climbed 14% last quarter, EPS jumped 15%, and, despite Segars directing more investment into research and development to address new markets, expenses only increased 2%.
Those ARM bears who are still bemoaning the slowdown in smartphone sales should note that over half of its royalty payments last quarter -- and they grew by 15% -- were of the non-mobile variety. But Wall Street can't seem to shake off the notion that ARM is all about smartphones.
ARM also shared a couple more tidbits of interest to long-term investors in its report.
A whopping 4.1 billion ARM processor-based chips were shipped in Q1, up 10% year over year: not bad for a "smartphone-reliant" chip designer. As for ARM's VR ambitions, its Mali graphics processor is already making a dent in the fast-growing VR market; it inked deals topartner with 27 companies in Q1. As for IoT, big hitters including HP opted for ARM's IoT device platform during the quarter, among a laundry list of others.
Image source: Intel.
The case for Intel
It's been three years since Intel hired Brian Krzanich to replace longtime CEO Paul Otellini. When Krzanich took the top job, he made it clear that, in his view, Intel needed to transform itself from a PC dependent chip provider to one focused on cutting-edge new markets including IoT, the cloud, and mobile.
As last quarter demonstrated, Intel is beginning to make inroads in its key IoT and cloud data center chip sales. Total revenue climbed 7% to $13.7 billion in Q1, and it wasn't Intel's PC unit's meager 2% sales gain that drove the solid quarter; it was the 9% jump in data center results and the 22% improvement in its IoT unit. With each successive quarter, IoT and cloud-based data center revenues continue to make up larger portions of Intel's total sales. That's the good news.
The not-so-good news is that Intel has been making headlines for its plans to lay off as many as 12,000 employees, realign its management structure to better fit its new business direction, and give up its mobile ambitions. Those were all difficult, but necessary, decisions as Intel forges ahead into a cloud and IoT-driven future.
The real question is: What took so long? Krzanich had this transformation in mind for years, but apparently wasn't committed to doing what it took to make it happen until now -- including making tough choices about layoffs.
ARM, on the other hand, is well on its way to becoming a great deal more than the world's leading supplier of smartphone chip technologies. For that reason -- and despite the fact that its 1.5% dividend yield pales in comparison to Intel's 3.5% -- ARM edges out Intel as a better stock to buy now.
The article Better Buy: ARM Holdings PLC vs. Intel Corp. originally appeared on Fool.com.
Tim Brugger has no position in any stocks mentioned. The Motley Fool recommends Intel. Try any of our Foolish newsletter services free for 30 days. We Fools may not all hold the same opinions, but we all believe that considering a diverse range of insights makes us better investors. The Motley Fool has a disclosure policy.
Copyright 1995 - 2016 The Motley Fool, LLC. All rights reserved. The Motley Fool has a disclosure policy.