Better Buy: ARM Holdings plc or Qualcomm Inc?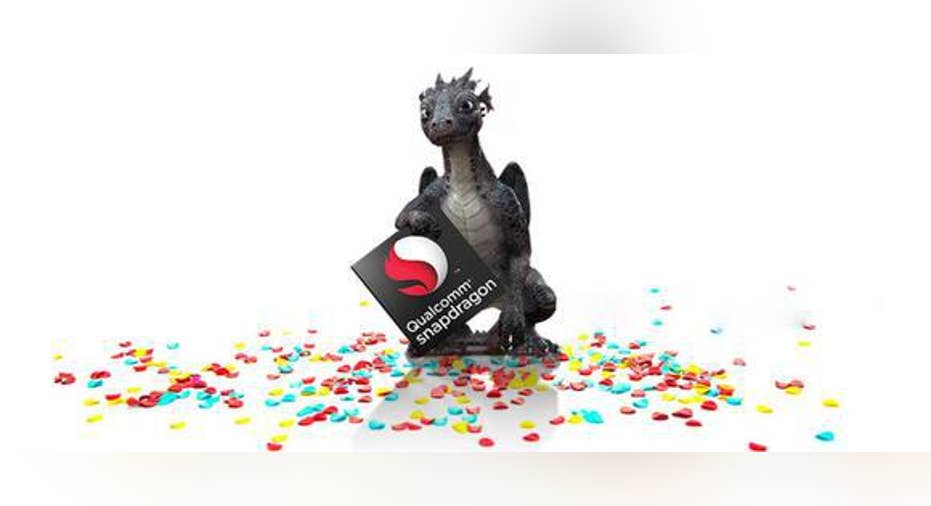 Over the past few years, chip designer ARM Holdings and chipmaker Qualcomm conquered the smartphone application processor market. ARM licensed its cheap, low-power chip designs to a wide variety of chipmakers, and Qualcomm emerged as the top maker of ARM-based chips. 95% of smartphones run on ARM designs today, and about half of those devices use Qualcomm processors.
Both companies clearly benefit from the growing usage of mobile devices, but is one stock better than the other? Let's compare their strengths, weaknesses, and valuations to decide.
Source: Qualcomm.
Qualcomm's strengths and weaknessesQualcomm has three core strengths. First, its app processors and wireless modems have a "best in breed" reputation, which helps it score major design wins. Second, it integrates its ARM-based processors, Adreno GPUs, and modems into single SoCs, which widens its chipmaking (QCT) business' moat against challengers in each category. Lastly, its 3G/4G patent licensing (QTL) business takes a $3 to $5 cut of the wholesale price of most smartphones sold worldwide.
However, Qualcomm's QCT business has been ceding market share to rivals like Taiwanese chipmaker MediaTek, which sells its app processors and modems at lower prices. Meanwhile, several major OEMs, including Samsungand Huawei, have started developing their own ARM-based chips to tighten up their supply chains and boost margins.
On the QTL front, Qualcomm's licensing fees have been criticized as being too high by major companies and regulators in its top three markets -- China, South Korea, and Taiwan. Qualcomm already agreed to lower those fees in China, and could be forced to do the same by new probes in South Korea and Taiwan. To make matters worse, many Chinese OEMs are underreporting smartphone shipments to pay Qualcomm lower licensing fees, which forced the chipmaker to aggressively pursue new licensing agreements. Due to those challenges, Qualcomm's total sales fell 19% annually to $5.8 billion last quarter, and its non-GAAP net income declined 35% to $2.3 billion, or $0.97 per share. Those numbers look bleak, but they still beat analyst estimates onthe top and bottom lines.
ARM's strengths and weaknessesARM can be considered a more diversified play on the mobile market, since it collects licensing and royalty fees from a wide range of chipmakers. It generates licensing fees by signing with new chipmakers, and collects royalties from existing ones. ARM offers five main types of licenses -- "classic" ARM (older chipsets), Cortex-A (application processors), Cortex-R (real-time processors), Cortex-M (microcontroller/Internet of Things processors), and Mali GPUs.
Source: ARM Holdings.
Its 64-bit Cortex-A licenses have the highest margins, while its "classic" ARM licenses have much lower margins. As for last quarter, 38% of ARM's cumulative licenses have been for classic ARM designs, 27% were for Cortex-M, 18% were for Cortex-A, 10% were for Mali, and just 5% were for Cortex-R. New Cortex-A and Cortex-M licenses accounted for over 70% of ARM's new licenses last quarter, indicating that demand remains strong in the high-end smartphone, connected car, and Internet of Things markets.
ARM's top line growth usually alternates between licensing and royalty growth. When a new manufacturing process starts being used, licensing revenues generally rise faster. When OEMs are waiting for that new process (like the current gap between 20mm and 10nm/7nm licenses), licensing revenues fall as royalties pick up the slack.
That's why ARM's licensing revenue fell 2% annually to $158.5 million last quarter as royalty revenues surged 31% to $217 million. Total sales rose 14% annually to $408 million, beating estimates byalmost $10 million. ARM's earnings rose 14% to $0.37 per share, missing estimates by a penny because rising shipments of 64-bit and multi-core chips didn't fully offset its decline in licensing fees.
Forecasts, valuations, and dividendsQualcomm's future looks murky, but new licensing agreements in China, its expansion into new markets like connected cars and data centers, and new Snapdragon processors could get its growth back on track. ARM's sales and earnings growth are expected to improve once the transition to 10nm/7nm licenses completes, and demand for Cortex-M designs could be boosted by higher sales of connected cars, wearables, and other Internet of Things devices.
With those catalysts factored in, analysts expect Qualcomm and ARM to respectively post 11% and 17% annual earnings growth over the next five years. Those forecasts give Qualcomm and ARM respective 5-year PEG ratios of 1.1 and 1.6. While neither PEG ratio has fallen below the "undervalued" threshold of 1, Qualcomm looks cheaper than ARM based on its forward earnings growth potential. Qualcomm's forward annual dividend yield of 4.1% is also much higher than ARM's 1.1% yield.
The winner: QualcommARM Holdings still looks like a solid play on mobile devices, but I think that Qualcomm's cheaper valuation, higher dividend, and expansion into new chipmaking markets makes it a slightly better play at current prices. However, investors should dig deeper into both stocks to see which one is better suited for their long-term investing goals.
The article Better Buy: ARM Holdings plc or Qualcomm Inc? originally appeared on Fool.com.
Leo Sun owns shares of Qualcomm. The Motley Fool owns shares of and recommends Qualcomm. Try any of our Foolish newsletter services free for 30 days. We Fools may not all hold the same opinions, but we all believe that considering a diverse range of insights makes us better investors. The Motley Fool has a disclosure policy.
Copyright 1995 - 2016 The Motley Fool, LLC. All rights reserved. The Motley Fool has a disclosure policy.